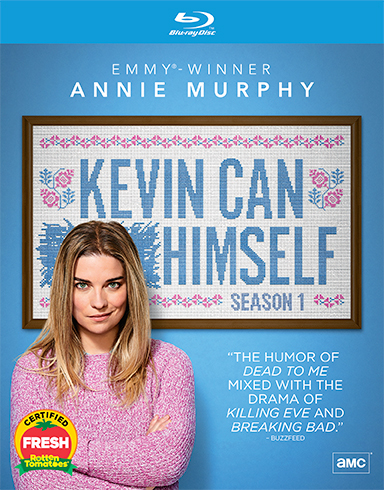 Hey, friends! Barbarella here with two Blu-rays of Kevin Can F**k Himself, Season One to give away. The series about a prototypical sitcom wife who realizes she needs to escape her restrictive life married to self-obsessed Kevin, originally aired on AMC and will be available on DVD and Blu-ray on November 16, 2021. Both include A Look at the Series, Meet the Characters, and Making of the Show as bonus features.
The dark comedy stars Annie Murphy (Schitt's Creek) and shows the reality behind the laugh track and brightly-lit sitcom set. If you are interested in winning a Blu-ray, please email me at aicn-barbarella@hotmail.com with Oh Kevin! in the subject line.
In the body of the email, please include your name and mailing address (US only, no PO Boxes) and why you want to win the first season of Kevin Can F**k Himself. The deadline for this contest is noon CST on November 15. I'm looking forward to reading the entries!
Here's the trailer.
Barbarella out!