"Fifteen years ago, today, you led us out of the darkness. You commanded the greatest rescue armada in history. Then... the unimaginable. What did that cost you? Your faith? Your faith in... us? Your faith in yourself? Tell us... why did you leave Starfleet, Admiral?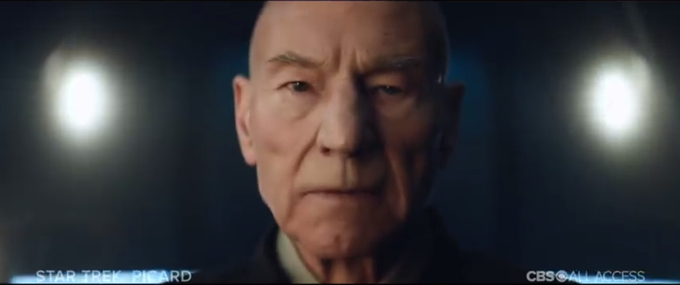 That's a hell of a setup, and it immediately starts STAR TREK: PICARD with a bunch of open questions. What was the threat he commanded the fleet against? Who was he rescuing? What happened to the rest of the Enterprise crew after he was promoted to Admiral? Will we see ANYONE else from STAR TREK: THE NEXT GENERATION? Maybe they all died and that's what broke him? We'll know soon enough, since the series will likely premiere by fall. PICARD will star Patrick Stewart, returning in the titular role, along with Alison Pill, Michelle Hurd, Evan Evagora, Isa Briones, Santiago Cabrera, and Harry Treadaway, and will air exclusively on CBS ALL ACCESS in the US.
The teaser shows him tending a vineyard, so it's presumed (at least by me) that he has returned to the family vineyard in France to run it (recall that in Generations, his brother, Robert, and nephew, René, were killed in a house fire, leaving the vineyard without a Picard to run it). If the show's timeline runs parallel to realtime, the armada incident would have taken place about two years after the events of STAR TREK: NEMESIS.


That's about all the speculation I want to do for now, but I'm VERY EXCITED about this series, and can't wait for more details to emerge as the release nears. Check out the teaser below!



That's it for now, so until next time,
Keep it, geek!
Oh, and, umm... Make it so!


Benny No-Good