Hey, friends. Barbarella here. Have you just been dying to watch something goofy and fun? Well, The Buddy Games: Spring Awakening will be in select theaters May 19, 2023 and on digital June 2, 2023. If you haven't seen the first one, you'd miss some of the references, but it's not the kind of movie where knowing the backstory actually matters all that much. I mean, you would miss some bits and probably wouldn't fully grasp the depth of these relationships, but I'm not sure how much that would detract from the experience.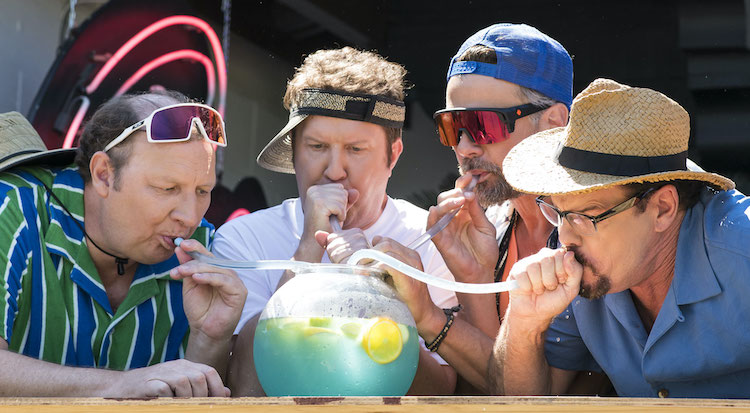 When a group of guys set out to honor a lost friend, they find themselves in the middle of Spring Break and must pit their old-school ways against today's youthful tactics. In the film, visuals that could very well have been yanked from a pubescent boy's imagination coalesce with bits ranging from crass to clever, senseless to relevant in a movie that spends much of its time on the shallower side.
Starring Dan Bakkedahl (Veep), Kevin Dillon (Entourage), Josh Duhamel (Transformers Franchise), James Roday Rodriguez (Psych), and Nick Swardson (Grandma's Boy), it includes a lot of ridiculousness, but still, Gabe McKinley and Rachael Thoele's script offers my single favorite comedic line in a movie so far this year. Some viewers may find some of the material offensive, but I'm pretty sure if you're one of our regular readers, you probably won't have an issue.
Despite the fact I keep tripping over my tongue, I have a blast chatting with actors Dan Bakkedahl, Kevin Dillon, and actor/director Josh Duhamel. Keeping the movie's tone in mind, I avoid asking any hard-hitting or technical questions, like I usually do (not). Check it out!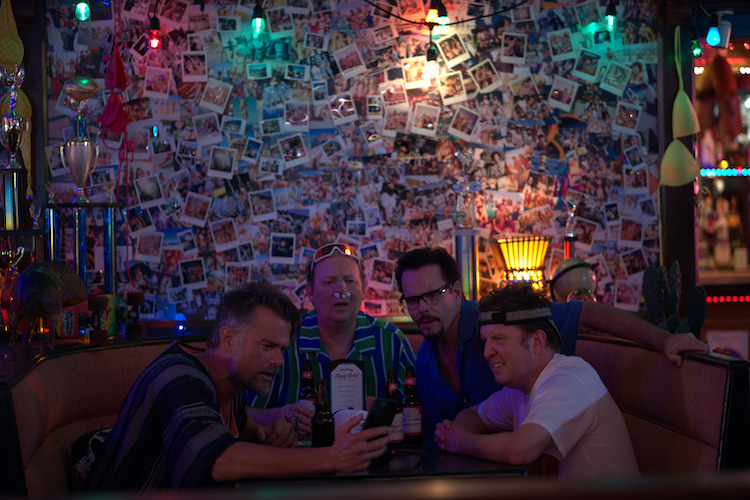 Barbara: With so many fun personalities on set, the question that's in the forefront of my mind is who got the most laughs behind the scenes?
Josh: Oh man, it starts with an N.
Kevin: That's what I was going to say.
Josh: Nick [Swardson] is always doing something that is completely offensive. He's like a rabid squirrel. It's like we're always trying to catch a rabid squirrel. He's also really invested in this. He's been a huge help to me. He's always, even on days he's not working, he's there to sort of punch things up and give ideas.
I couldn't have asked for a better group of guys to make this, because the truth is, my first time out, the first Buddy Games, I'd never directed anything, and I needed guys like this to help me get through it. This time around, we had that much better of a rapport just because we knew each other that much better, and so it was just like hopping back on the bicycle and going for it again. The movie is just meant to be fun; it's not meant to be taken too seriously. It is about friendship and how important those friendships become as you get older, but I mean, Kevin, tell her.
Kevin: About what?
Josh: About how great was it working.
Kevin: It was great, 'cause (indicating Josh) he's an actor.
Josh: Am I though?
Kevin: He's a great actor; he knows about acting. He's great in the edit, by the way. I love my cut. A lot of times you see the movie, and you're like, "What? I know I had a better take than that!" All my good takes were in there, and a couple good reaction shots, too. I really appreciate that.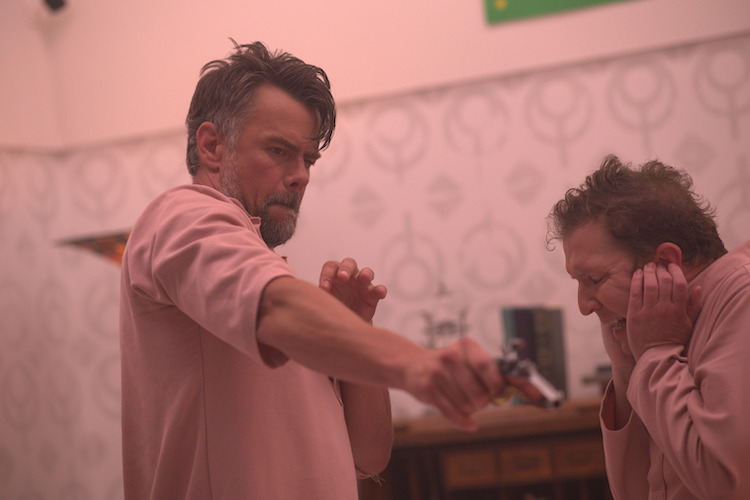 Josh: You're welcome. I told him I was gonna make him shine. He didn't have enough to do in the first one, so I said, "This time we're gonna make you shine."
Kevin: Yeah. Yeah.
Barbara: Are any of you method actors?
Kevin: Not me.
Josh: I think I have my moments where I have to put the headphones on and disappear. The scene where I'm crying at the beginning, I wanted real tears. I didn't want to fake that, so I did have to go sit alone for twenty minutes to get sad.
Kevin: We all do that a little bit, too, and sometimes you'll take these things home with you, like Platoon. I remember coming back; I was still like this sick, crazy character. It took a long time for it to go away, but I didn't really do it on purpose. It just kind of kind of comes with you sometimes.
Josh: Yep.
Barbara: We meet some interesting characters throughout this. If they did a spinoff show on any of those characters, on which one would you want to guest star?
Dan: I'd want to see the Party Marty show.
Josh: Yeah, I'd want to see Zane's world.
Dan: Oh yeah. That's a great idea.
Josh: I want to make a cameo in Zane's world.
Kevin: Maybe Nick 'cause he's just so out there. He's just so fun to watch, anything with Nick.
Josh: Or Uncle Tommy, I'd like to go back to Texas with Uncle Tommy.
Barbara: [In the movie, a woman gives them names she conjures from the moon] Josh, what moon name would you give Kevin?
Josh: Mudflap.
Kevin: I know where that's coming from. A piece of my nose, a flap of my nose got cut off when we were wrestling in the mud on the first movie. Mudflap, that's good!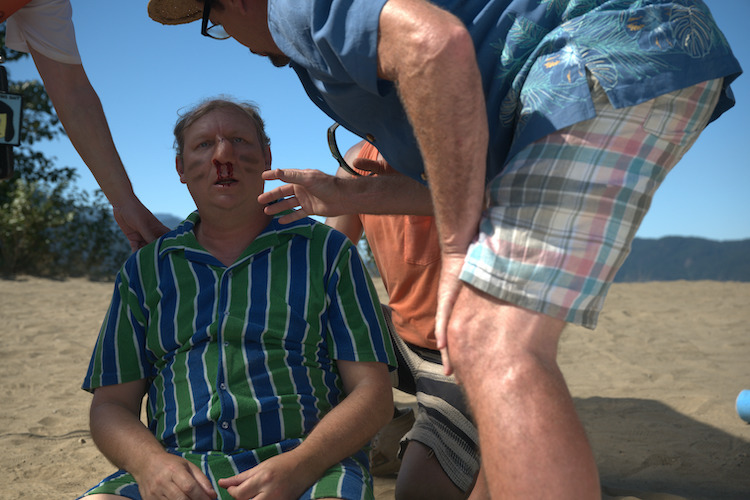 Barbara: Kevin, what moon name would you give Josh?
Kevin: Oh, what would I give to Josh? Boy Wonder. I mean, the guy's like Superman. I mean, this guy, anything you need him to do, he can do. He's just a sick athlete.
Josh: Yeah, right. That water obstacle course he's doing, I wouldn't make it through it, let alone make it through it several times.
Kevin: The way he throws the urn - he played college football - he threw that college urn, hit me in the face with it, it came in so hot. But yeah, the guy is just a great athlete.
Josh: That is very generous.
Barbara: Dan, what moon name would you give yourself?
Dan: Oh, Lust For Life. No. I don't know. I think Swollen Tick was pretty accurate. It's hard to beat that. A swollen tick is very happy; it's full of blood.
Josh: Gargamel
Dan: (laughs) Gargamel was my favorite burn on the film. I laughed to tears when I saw that.
If you want to hear more burns or just escape into a comedic romp, The Buddy Games: Spring Awakening will be in theaters Friday, May 19, 2023 and on digital June 2, 2023.