Hey, friends! Barbarella here. Paint starring Owen Wilson as a public access show host, similar to Bob Ross in many ways, is now in theaters. The film may be the best non-rom-com rom-com I've ever seen, bridging a comedy about ego with a sweet love story. When PBS Burlington tries to up its viewership by bringing in a hot new painter, it threatens Carl Nargle's comfortable top celebrity status. His blend of massive ego and deep insecurity creates a conflicted character that Owen Wilson flawlessly explores. I came for the afro, but I stayed for the humor, story, and classic music.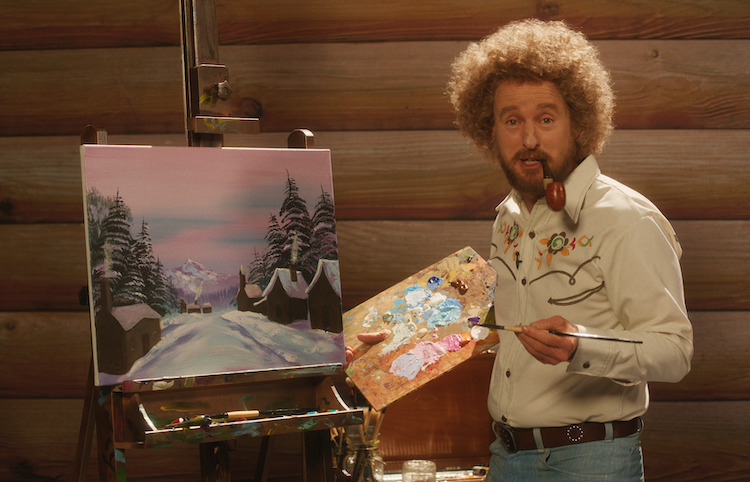 I had the opportunity to sit down with writer and director Brit McAdams to pick his brain about writing and some of the film's choices. Check it out!
I'm fascinated by the whole writing process. I'm actually working on a screenplay, and it's one of those things where I write, and then I just can't look at it for a long time, then I kind of go back to it. Paint's screenplay took something like thirteen years. What were the obstacles that you encountered as you were working through this and how did you handle them?
"I wrote it in 2010, and it got on the Black List, which is a list of highly regarded, unproduced screenplays, and that happened really quickly. We got green lit, and we got a whole bunch of money. I did a lot of dancing. When getting that news, I ran across the Santa Monica promenade and hugged my good friend, Scott Beehner. Bought a round of shots for the bar, which is my only time doing that. The thing you need to know about that is people buy them back for you, which I did not know. I didn't think it was going to evolve into that.
"So, everything was great, and then it just spent a little bit over a decade falling apart; just things come together and fall apart, and you sort of have to create a whole company to make a movie. The good thing for me was that I got better as a writer and as a director over that time, and the script got much, much better. The world changed with "me too," and me being at my age, it gave me a chance to look at the world differently and understand my place in the world, and the script, ultimately, got a lot better for it, so that was the gift of failure. Yeah, for the struggles of writing, I'm sorry; it's terrible. It's just terrible. If you're stuck, I think, a lot of times it's because each character doesn't have a want, so make sure each character has a want, something they want and also something holding them back. When I get stuck I'm like, "Oh, I don't have clearly enough defined characters and that's what's hurting me.""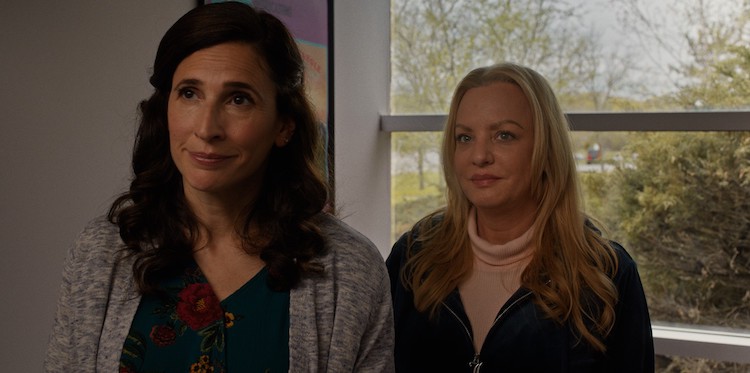 Awesome. I appreciate the suggestion that's very helpful.
"Good luck. It's terrible. It's terrible."
I'm my own worst critic. I think that a lot of people kind of are. Are you very hard on yourself?
"Yeah, I typically hate myself. I think that's part of it. You go back, and you read something, and you're like "Geez, this is terrible." You think it's done, and then you go back, and you're like "This is absolutely terrible." That's just part of the process, I think. Fortunately, that's one of things that's great that it took Paint this long because it has gotten better, and I really do love the film. I'm proud of it. It got to a really good place that it wouldn't have. But yeah, self-loathing, that's the engine that drives writing."
When you were writing, did you already have Owen Wilson pictured as that character, or when did he get involved in this?
"He's been involved for about the last five years or so. The thing about Owen, as the script has evolved, he brought out really the heart of this character. He really is someone who is so grounded and so easily hurt, and you can feel him being hurt. He's got this thing or he can go really cocky and confident, but he can really be hurt, and I think that is really the gift that he brought to this as an actor. The other thing that he brought to it is, I mean, you talk about struggling with writing, he's an Oscar-nominated writer, so to have him come on board and be able to talk through the script with him, it just got exponentially better because of that. He's such a good writer, and he's such a smart person. It was really good to talk through the whole script with him, not just his part, but he just had a really good take on everything. With his time with Wes Anderson and writing…Wes Anderson has characters you don't see anywhere else, so with Owen writing with him, especially the beginning, that's something where for Owen, if It feels written, Owen's going to push back a little bit, which is great. I think we have really unique characters in this film, and Owen's contribution, not just as Carl Nargle, the lead, but as an executive producer, and just a collaborator, he really could bring out the best in everyone."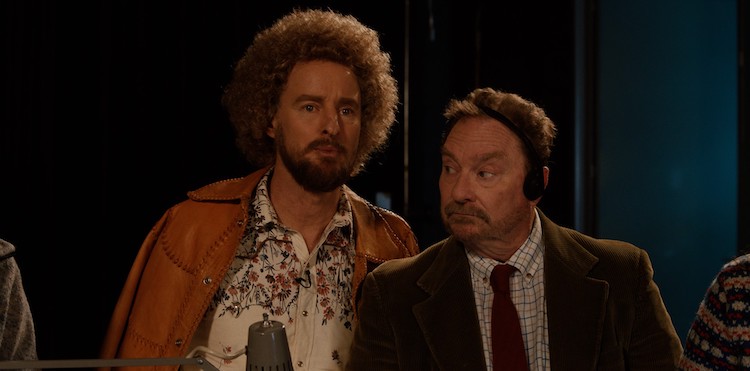 And he's great in the movie. I can't imagine anybody else in that role now that I've seen him do it, you know?
"Yeah, me too. He just embodies it. He is Carl Nargle. He really likes being Carl Nargle. I think, Owen really likes the hair and the beard the clothes. Yeah, I think Owen is just the perfect person for it in every way."
The name, Carl Nargle, where did that come from? That's just such a fantastic name.
"Thank you very much. I love that name. One of my college friends is Marty Nagel. We played football together, and one of the guys who played football with us would call him Nargle. He had sort of a Pennsylvania rrrgle. He would call him Nargle, and then another friend of mine – this is such a dumb story, but it's the truth – we were in a spin class together when we were in our twenties. We had been out a long time the night before, and we had name tags on, and he had put on a name tag that said "Carl." He was in the back of the class, with the spin instructor really pushing Carl to be his best, and that's not his name at all, so it was those two people combined. It was two of my oldest friends. I really do like having the names of people be friends of mine, and Carl Nargle just kind of works really well."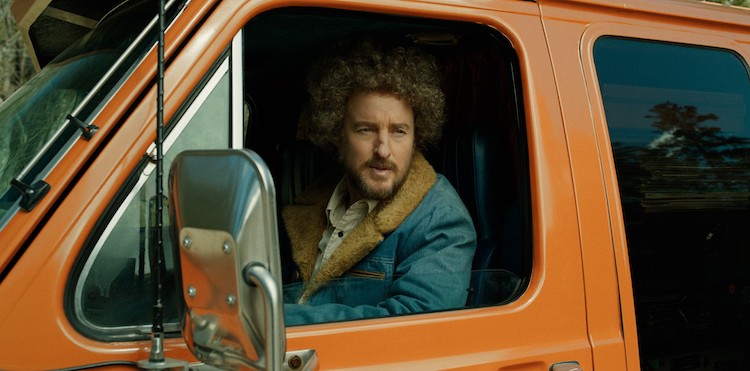 It does. Obviously, the character was kind of based off of Bob Ross. Was the Vermont connection because of Bob Ross or was that because you had family there? Why'd you choose Burlington?
"One of the things I like about the character: Carl Nargle is trapped in the past, so he's had the number one painting show on PBS Burlington in Vermont for twenty-two years, and he's never had a reason to change. Some of that's good, and some of that's not. In terms of his idea of being a gentleman is to hold the door for a woman but not treat her as equal, and so he sort of has to evolve beyond that. One of the reasons I really like Vermont for this film is it's where my sister lives, and I grew up. I spent a lot of time there as a kid, but Vermont, for better or worse, is in some ways trapped in the past. It sounds worse than it is, because there are some really good things there. I mean, there are no billboards on highways there; it's bucolic and beautiful. I like the way Vermont sort of symbolized that attitude of we've got it figured out, and we look great, so why would we change? I really like Vermont. It's a place I know and a place I love, and so it just felt like the perfect place for Carl Nargle to be and to be sort of the biggest fish in the smallest of ponds."
I also love the barbershop scenes. Are those based on any barbershop experiences you've had?
"Absolutely not. Absolutely not. I really like the barbershop scenes, too. In terms of talking about Owen's influence, I would say his biggest influence on the script was the barbershop, which initially had been a mean place as opposed to a warm, welcoming place for him. It had been much more of those guys in the barbershop sort of making fun of him, and Owen's take on it was he gets his teeth kicked in for most of the film. Can this place be a good place for him? That really changed the tone of the script in a lot of ways. That's his safe place. For the hair, I really like the idea of understanding where his hair came from. It needed to be a place in the film because it serves a number of purposes for him."
If you could sport an afro would you?
"If I could, you know, I guess I would dye it, a big gray Afro. I might be single quickly. I would love to try it out. I mean, maybe I could just do a tight perm and just grow into it. You know, we all need to evolve. I'll check back in with you in about a year."
I love afros. My hair is just super thin, and it doesn't do anything, so I wish I could get it to poof out. Could we talk a little bit about the music? How did the songs get chosen for this?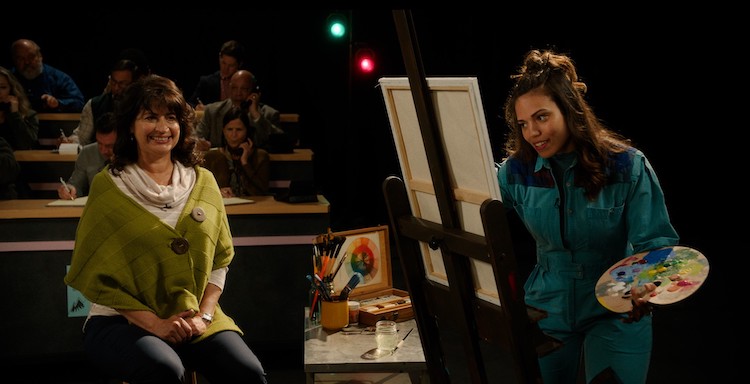 "Oh yeah, I love the music so much. Carl Nargle is trapped in the past, and in a lot of ways his music is also, so we have a lot of songs from the 70's and really big hit songs that we're just so lucky to have in the film. Mike Turner is our music supervisor. He just did a great job. It's a tricky thing when you don't have unlimited funds to pick your music, and that's just the truth of moviemaking. The amazing thing to me was that we got really lucky with the music we were able to get.
"Part of it is when I was a kid, we had a ski house in Vermont that we built ourselves. We spent a whole summer there listening to one radio station, and they had about a three-hour loop, so you knew where you were in the day. We would do sand, sand, stain, sand, stain, polyurethane, sand, polyurethane, polyurethane, it was like seven layers. It was insane. My mom and sister and I just had so much wood, just endlessly [sanding], and this radio station was on a loop, so there were a lot of songs in there that were playing, and that was, in a lot of ways, the beginning of the music for this film, because that, for me, was just a wonderful, horrible time in my life of doing a lot of sanding.
"The other big reason is there obviously is a Bob Ross reference, but there's also a Gordon Lightfoot one. When we were looking at what Carl would look like and who he would be, Gordon Lightfoot really came back as someone who just had a real style. We have a Gordon Lightfoot song ("If I could read your mind") in the film, which I can't believe we got, which is amazing, and in a lot of ways, the heart of the film. Also, a really fun thing for me is that Gordon Lightfoot is now on Facebook saying that the character is maybe more based on him than Bob Ross. Just that Gordon Lightfoot is aware of this film makes me so happy."
Paint is now playing in theaters. Check out the trailer!