Barbarella here and feeling happy after spending some time with Harley Quinn (Margot Robbie) in BIRDS OF PREY (AND THE FANTABULOUS EMANCIPATION OF ONE HARLEY QUINN). Breaking up is hard to do, and Harley Quinn deals in her own way after breaking up with the Joker. I find some of her actions provide a bit of catharsis for my own past relationship conclusions. I mean, who hasn't fantasized about unleashing some sort of destruction over a broken heart? Fantasizing about it is fine; but as Harley Quinn realizes, acting on it can cause all kinds of unwanted consequences. Harley Quinn's form of closure alerts Gotham City to her newfound relationship status, drawing out her enemies for some payback.
Director Cathy Yan successfully blends energy and character in this chaotically charming adventure with the newly single Harley Quinn. After being the one redeeming quality in SUICIDE SQUAD, Margot Robbie again owns the screen here with her psychotic effervescence as the lead. Harley Quinn may be sans a man, but Christina Hodson's script brings her some female cohorts who've had their own disappointments with the male gender. Jurnee Smollett-Bell plays Black Canary, a singer who has some extra talents and eyes for the powerful Roman Sionis, played by Ewan McGregor in an accent that feels odd to me. Maybe he's not originally from Gotham. Rosie Perez plays Renee Montoya, a former police detective who rocks a particularly humorous t-shirt. My favorite of her gal pals is a socially awkward character whose nickname everyone seems to get wrong. Played by Mary Elizabeth Winstead she garners the most laughs aside from Harley Quinn. You may recognize the actor as Ramona Flowers from SCOTT PILGRIM VS THE WORLD. Ellen Jay Basco rounds out the ladies as teenager Cassandra Cain, who finds herself in a precarious situation.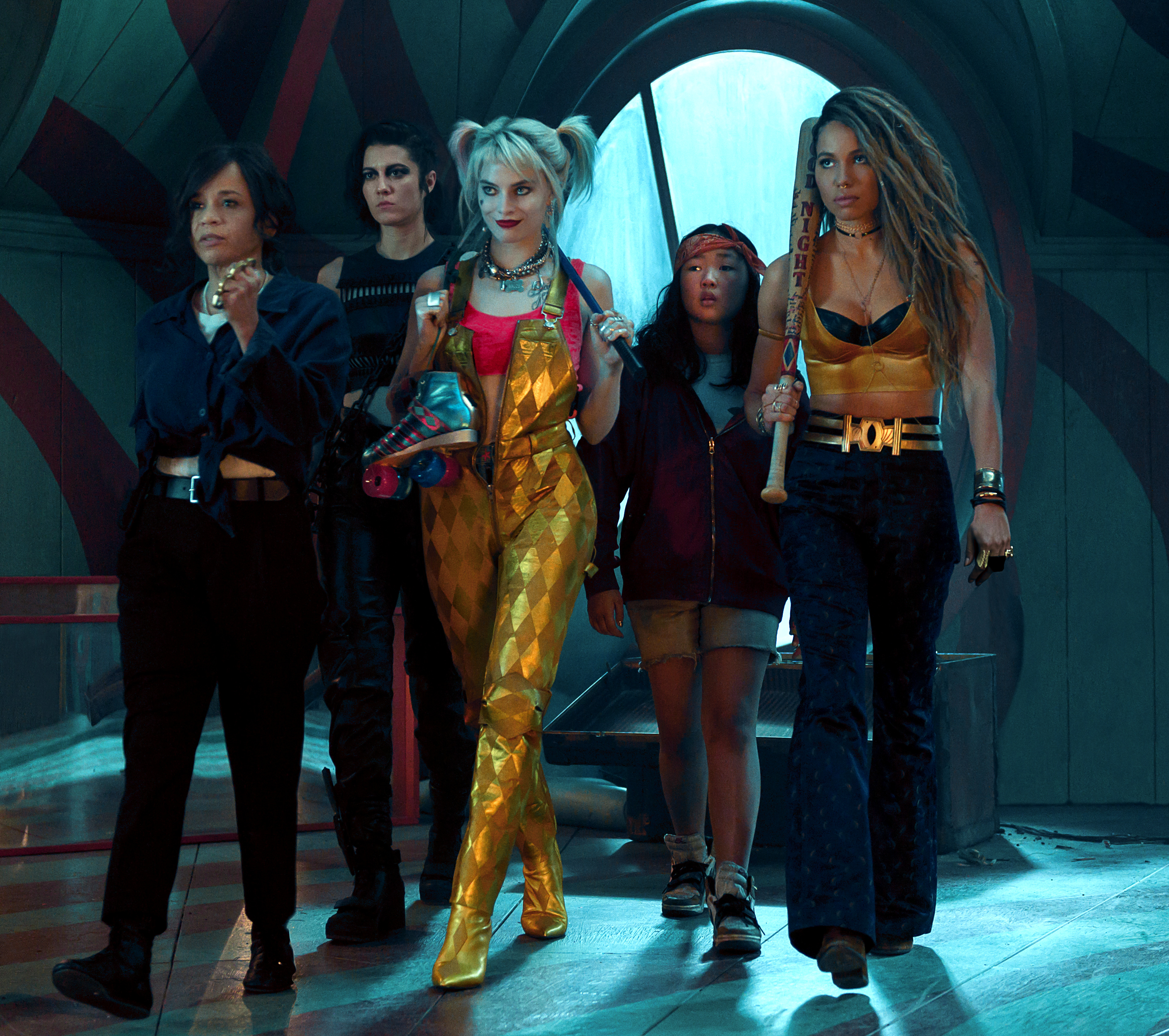 Aside from delivering the most cohesive feminine action group I've seen on screen lately, BIRDS OF PREY offers some great visuals as well. I believe fight choreography deserves to be seen, and so many times filmmakers make the decision to over-edit action sequences because allegedly that makes them feel faster and more exciting. I disagree. For me, it feels like cheating, and I wonder if those hired to take on the roles were unable to perform the action at all. Thankfully, BIRDS OF PREY lets us see all the glorious action, and it is something to behold. Props to everyone who worked to make that happen.
Cinematographer Matthew Libatique (BLACK SWAN) provides gorgeous visual contrast as well. Vibrant colors pop against the backdrop of a grayish Gotham. Everything about Harley Quinn feels exuberant. Her wardrobe and makeup, even the weapons she uses, create striking images.
The pacing falters a bit near the middle, with backstories told through a series of flashbacks. Yet, it's nothing that's particularly bothersome. I think I only noticed it because the majority of the film moves at such a rapid velocity.
Song choices feel spot on, as well. Joan Jett & the Blackheart's "I Hate Myself for Loving You" and Heart's "Barracuda" may be a bit too perfect. While JOKER left audiences somewhat solemn, BIRDS OF PREY revitalizes audiences, particularly women. This is the film you want to see if you're spending too much time thinking about the last person who broke your heart. I think it'd also be the perfect date movie as it should appeal to any gender identity. It's about independence and insanity. Comprised of highly entertaining performances, an amusing script, exhilarating choreography, even a fantastic use of glitter, BIRDS OF PREY is one of the most fun times you'll have watching a DC film.