Greetings Primates!


This is Evil Ash checking into AICN as a CONTRIBUTOR for the first time. As a LONG time reader and sometimes commenter, it's an honor and a privilege. I am hopeful that this site will be restored to the glory days of yore, where the talkbacks were legendary and filled with vitriol! Let's get right into it, shall we?
The topic at hand is "Bill and Ted Face the Music" which is currently in post-production. Alex Winter and Keanu Reeves are back as Bill S. Preston, Esq. and Ted Theodore Logan III, respectively. Also returning are franchise screenwriters Chris Matheson and Ed Solomon. Alas, my favorite part of the original 1989 movie - George Carlin's Rufus - will not be back (Carlin passed away in 2008). However, I'm reading that his absence in the newest installment will serve as one of the centerpieces of the film and will most definitely be addressed.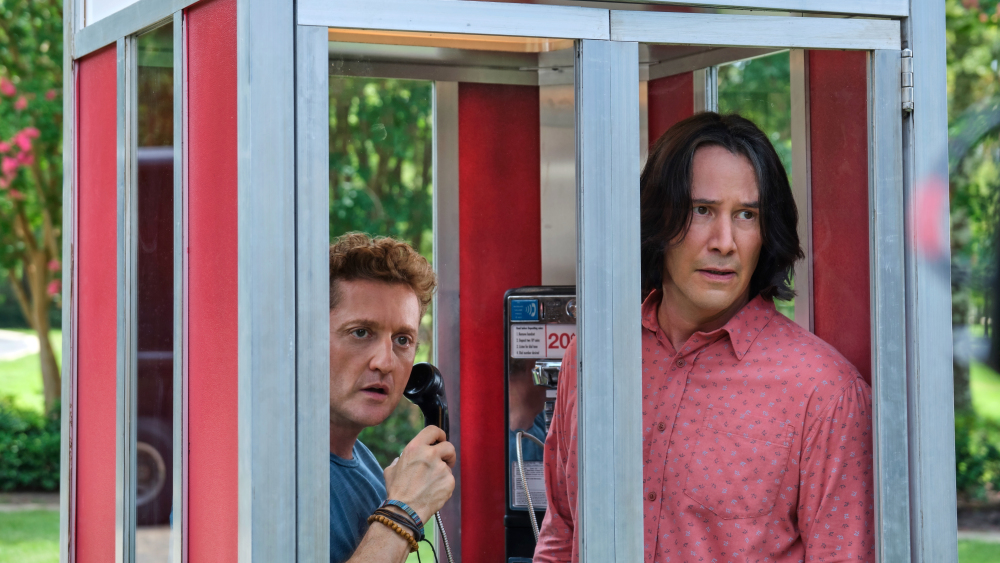 Now, for those of you (like myself) who were teens or 20-somethings when the original came out, this movie was instantly quotable ("Strange things are afoot at the Circle-K") and instantly fun. Critics simply didn't understand it, and most wrote it off as low brow humor for the masses. Sure, there was plenty of crude humor that likely wouldn't play well in today's "woke" culture. However, the one thing that the original film got VERY right was the underlying theme of friendship and how it could, essentially, rewrite history. I am hopeful that this newest installment will revisit these themes.
My only concern with this latest chapter is Keanu Reeves portrayal as Ted. It's been a LONG time since Reeves portrayed such a dim-witted simpleton on screen. Combine that with the Keanusannce that is in full force and effect and the near mythological gravitas that Reeves seems to bring to nearly every performance, and I'm not sure that he can pull this type of regression off. Or, for that matter, if his fans will WANT to see him portraying this type of character again. Regardless, I'm excited for this flashback to my teenaged years, are you??
"Bill and Ted Face the Music" is scheduled to be released on August 21, 2020 by Orion Pictures through United Artists in the US and co-stars William Sadler (returning as Grim Reaper!), Brigette Lundy-Paine, Samara Weaving, Anthony Carrigan and Kid Cudi as himself. It's being helmed by Dean Parisot and produced by Steven Soderbergh.
Sound off talkbackers and let me know what you think!!
Until next time...
Hugh "Evil Ash" Feinberg