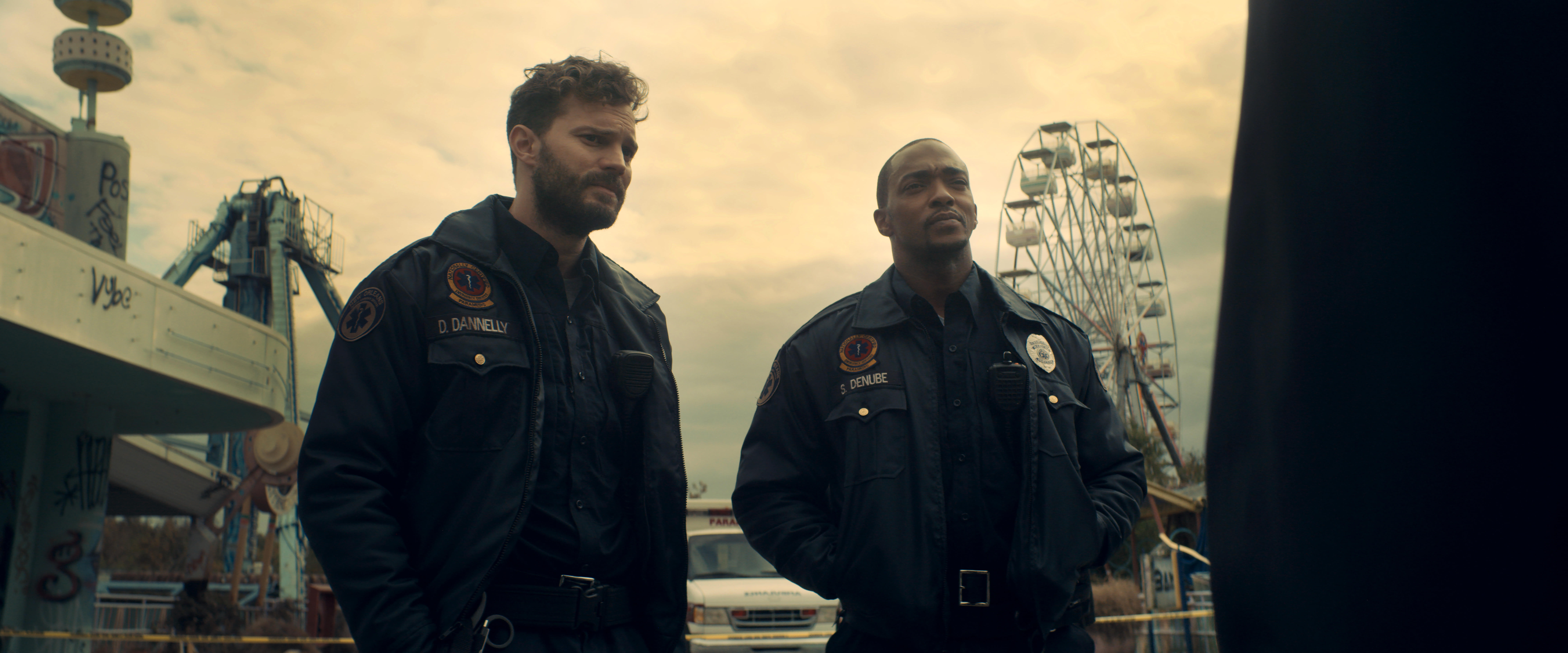 Hey friends! Barbarella here contemplating some fun films I saw at a recent festival here in Austin. One of my favorites that probably won't get the publicity it deserves is SYNCHRONIC.
Justin Benson and Aaron Moorhead's SYNCHRONIC departs from the typical genre fare by setting up a scenario that allows it to go into the bizarre in a way that seems somewhat logical, through narcotics.
The cleverly written film stars Anthony Mackie (THE HURT LOCKER, CAPTAIN AMERICA) and Jamie Dornan (THE FALL) as two New Orleans' EMT's who get dispatched to some bizarre scenes, all involving a new designer drug called "Synchronic."
From the cinematography to the score, I love what Justin and Aaron do here. The film sets up the mystery early on and allows you to explore with the cast. I refuse to reveal too much about the story because SYNCHRONIC's reveals are part of what make this film so captivating and entertaining. Knowing too much going in will likely spoil some of the magic for viewers. Suffice it to say that the drug has some trippy effects, and things get weirder the more Steve and Dennis encounter scenes involving the dangerous substance.
As much as I enjoy the film, it's not without some minor flaws. The first that irritates me has to do with paramedic procedures. Full disclosure: I am not, nor have I ever been, a first responder. I do watch a fair amount of procedural shows, which in my mind makes me an expert, of sorts (giggle). I'm of the opinion that through watching shows like Live Rescue and Live PD, I've developed a pretty solid understanding of how things are done. I'm pretty sure in one scene, real EMTs would have taken a certain person to the hospital. Because they didn't, I find myself fixated on that even after the film has moved on to the next scene. I know, it's a small thing, but I can't help that I want things to feel at least somewhat realistic and that just didn't feel right to me.
Luckily, once the story gets past the initial set-up, we don't really see many more actions that make me pause and wonder. My only other concern, and again, it's not anything that detracts a ton from my film-watching experience, is the explanation as to why the drug has the effects it does. Too often filmmakers try to explain things that either don't need to be explained or cannot be explained without sounding nonsensical. I think SYNCHRONIC doesn't need the rationale behind how the drug works the way it does. Not only that, but the explanation given doesn't exactly pass muster. I would have preferred that it had simply been left out. Less is sometimes more, and I feel like including a substandard explanation is akin to Spielberg including footage of the fake-looking shark in the water throughout JAWS. The better option would be to hint at or imply something. Spielberg uses music and shark-POV camera work to represent the shark because he realizes early on that the footage doesn't look believable enough. I wish Justin Benson had found a way to create an idea of what it could be, but not to provide the explanation he does because it just doesn't feel believable enough to me. Having said that, I do appreciate that he has at least put some thought into it, and actually comes up with something that ties into other parts of the storyline. While not a huge issue for me, the explanation is simply something I could've done without.
One thing I'm gleeful to have not been without is Anthony Mackie as Steve. His enticing performance makes me wonder why he doesn't play more lead roles. He's compelling to watch and just does beautiful work here.
While not everything in the film proves ground-breaking, SYNCHRONIC offers plenty of unique ideas. It's fun, mysterious, and fresh, just the way genre should be.
Barbarella
aka Barbara Kennedy