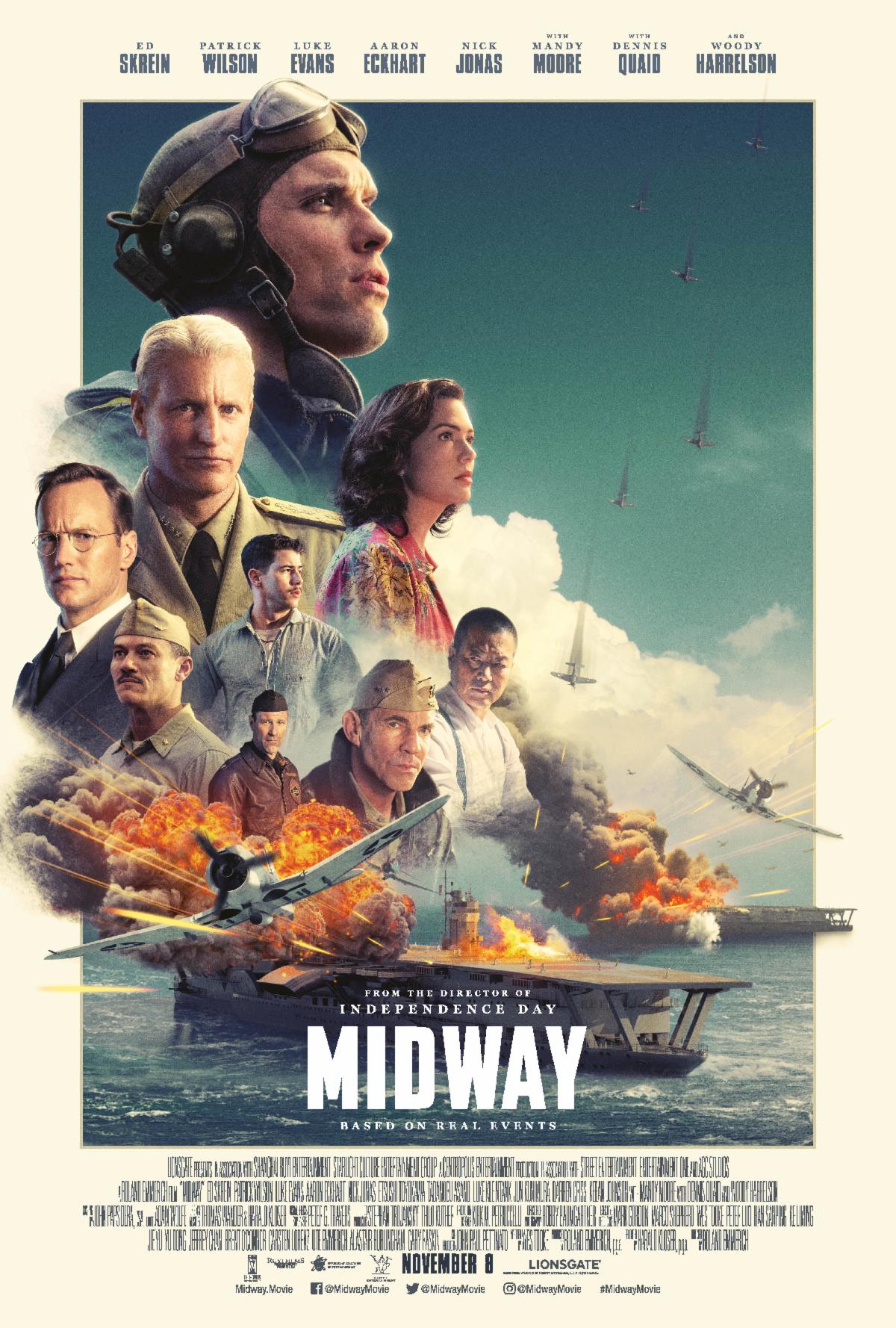 When I first saw the trailer for MIDWAY, I feared it would be another PEARL HARBOR fiasco. Not the 1941 Pearl Harbor fiasco, but the 2001 cinematic one. I still struggle trying to get my head around how they were able to take an inherently interesting and emotionally potent story and make it into something so lackluster and unimpressive. I go into MIDWAY expecting to hate it because the trailer reminds me so much of that mess, but I'm happy to report that even though it does cover some similar events, it's a very different thing. Thankfully, I find it generally exciting and interesting. Like PEARL HARBOR, though, I wish it has more of an emotional charge to it. Only one scene activates my tear ducts, and surprisingly, it isn't a scene involving any of the main protagonists.
Ed Skrein plays Richard "Dick" Best, the young ace who isn't afraid of taking risks. Game of Thrones fans may recognize the actor as the original Daario Naharis, although it wouldn't be surprising if they didn't. He was replaced by Michiel Huisman after only a few episodes. As the cocky pilot, Dick, he initially feels very two-dimensional, but over time develops an extra layer or so. Once the layers form, I find him somewhat more sympathetic and interesting. Although I do appreciate the evolution of his character, he still doesn't elicit a whole ton of emotional investment for me. I'm not sure how much of that is writing and how much is performance, but it's certainly a blend of both.
I prefer Woody Harrelson's contained performance as Admiral Nimitz. After so recently seeing him as the over-the-top Tallahassee in ZOMBIELAND: DOUBLE TAP, I really appreciate the shift. I cannot speak to the accuracy of the film's depiction or Woody Harrelson's performance of the Admiral, but I find him fascinating. I've driven past the Admiral Nimitz State Historic Site in Fredericksburg, Texas a number of times on day trips, and only vaguely wondered who he was. After seeing MIDWAY, I'm so intrigued by the man, that I feel it warrants a special trip to the site and museum to learn more about him.
Speaking of visiting museums, I once visited the USS Midway Museum in San Diego, so I was eager to see how the movie handles the aircraft carrier. I recall while listening to the audio tour, being struck by just how dangerous taking off and landing on a carrier could be. I appreciate the movie showing a variety of scenarios that not only illustrate these dangers, but also elevate the tension nicely.
Sometimes places and vessels can feel like another character in a film. While I expected the USS Midway to feel the same, I really don't get that sense here. Rather, the film focuses more on the Battle of Midway than the actual carrier. This saddens me a little, but I understand those decisions. It's certainly more exciting to watch planes flying around in dogfights than to spend too much time onboard a floating runway. However, maybe if more time had been spent on the vessel, we could've gathered additional insight into the pilots and sailors onboard, deepening our emotional engagement. This could have been an incredibly powerful film if only the characters had more dimension.
While some better decisions could have been made in regards to character development, I do love many of the choices Writer Wes Tooke and Director Roland Emmerich make here. For starters, I find much of the story interesting, particularly how many different people had roles to play in this. Also, the visual effects impress during the exciting battle scenes, and the film provides many heart-racing moments. Perhaps my favorite aspect of the film is that it conveys different sides of the story. It's rare for war movies to humanize the opposing side, but this film does that. The Japanese perspective during the aftermath of Pearl Harbor is one I never considered before, and I find that inclusion particularly absorbing. I also like seeing the intelligence officials' involvement, even though with Patrick Wilson (THE CONJURING) playing Layton, I kind of want a ghost to show up.
Overall, I enjoy the film's inclusion of multiple perspectives and its visual effects during the action sequences. I also appreciate hearing more of the story than I previously knew, and learning a little about some of those people involved who later became heroes. I just wish the film's emotional strike could have matched its visual one. Still, it's not a bad way to spend some time this Veteran's Day Weekend.
Barbara Kennedy
aka Barbarella