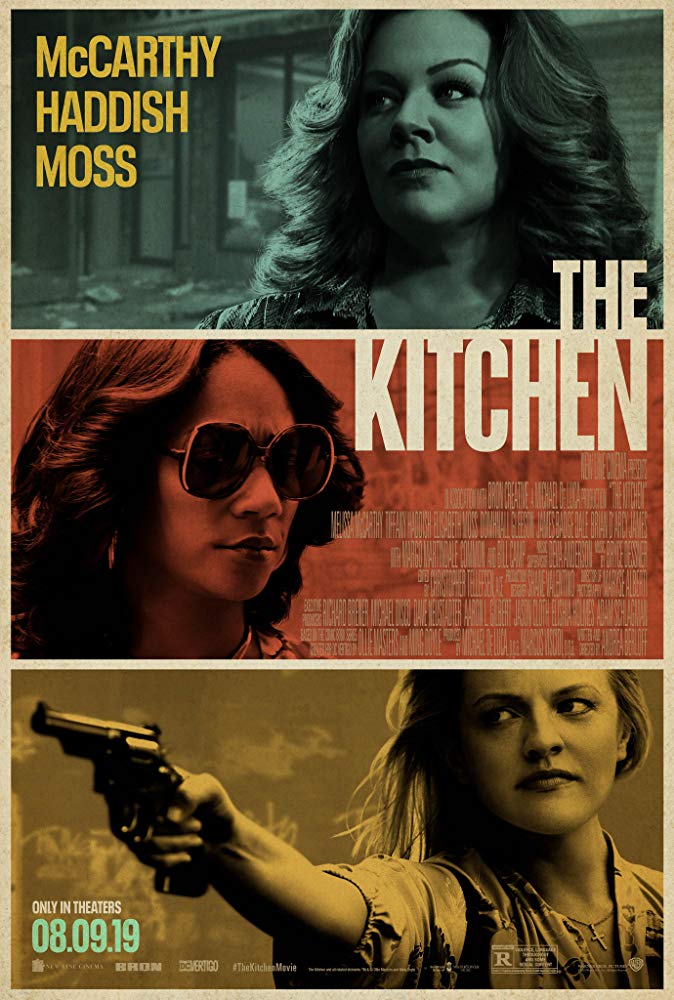 Hey y'all! Barbarella here pondering exactly how long it's been since I've seen a solidly good mobster film. The answer is too long. Luckily, THE KITCHEN delivers the goods. Even though it stars Melissa McCarthy (BRIDESMAIDS) and Tiffany Haddish (GIRL'S TRIP), this film is definitely not a comedy. If you go in expecting to laugh until your sides split, you are going to be in for a real shock. Instead, it's a dark, gritty tale immersed in the world of the Irish Mob. The kitchen from the title is another way of referring to Hell's Kitchen. Elisabeth Moss (THE HANDMAID'S TALE) rounds out the leading ladies, and these three women command the screen.
I never would have imagined Melissa McCarthy would transition so effectively from the comic-relief character to an emotionally complex, leading dramatic character, but she does. Melissa McCarthy rocks the roll of Kathy, a mother who realizes, when her husband gets locked up, that the mob isn't going to take care of her and her kids as much as she'd expected. She has to make some difficult choices, and in doing so, proves her grit. It makes me wonder what would happen if she clashed with the Italian Mob. In fact, I would love to see her go head to head with Edie Falco, an Irish mob wife versus an Italian mob wife. How awesome would that be? Who do you think would win? My money's on Edie Falco, but I think it would be quite a close match.
Tiffany Haddish also departs from the lighthearted, comedic roles and tackles Ruby, a wife who doesn't necessarily seem to be on the same page with everyone else. But my favorite role gets brought to life by Golden Globe Winner Elisabeth Moss. As Claire, she so eloquently captures the complexity of a woman who's going through an awakening of sorts. While the role of Claire could so easily be over-acted, Elisabeth Moss keeps herself reined in just the right amount. Both the way the character is written and Elisabeth Moss' performance teeter on that fine line between what is not enough and what is too much. She hits the sweet spot and plays it perfectly.
Claire would not have evolved in the same way had Gabriel O'Malley not re-entered her life. Domnhall Gleeson (EX MACHINA) charms as Gabriel, the mobster who probably shouldn't elicit the feelings in me that he does. It seems I'm never attracted to normal guys. I love every scene involving the two of them together and really wish they both had more screen time. This role makes me want to demand more roles for Domnhall Gleeson. He's wonderful!
Lately, there seems to be a push to create more films with primarily female casts or leads. Sometimes the writing falters and instead of empowering women, which is allegedly the goal, these films elicit negative responses from any gender watching. But this film portrays women as the complex, dynamic people they are. They are both strong and vulnerable. THE KITCHEN essentially takes women out of the kitchen (yeah, I said that), and drops them into the world of criminal enterprise.
While some of the plot points are reminiscent of other films you may have seen, even perhaps very recently, it's still entertaining, and I'd argue so much better than at least one recent film you might be recalling. While it may not fall into the same category as THE GODFATHER or GOODFELLAS, it hits almost all the notes I want from a mob movie, and I loved it.
Barbarella
aka Barbara Kennedy