Hey everyone! Barbarella here. I'm back from a weekend in Nashville, Tennessee where I attended the third annual Con of Thrones, a convention for Game of Thrones' fans. This year's convention attracted people from as far away as the UK and Sweden. Some chose to make the journey to meet some of the attending guests from the Emmy award-winning series, including Nicolaj Coster-Waldau (Jamie Lannister), Jerome Flynn (Bronn), Hannah Murray (Gilly), and Miltos Yerolemou (Serio Forel). Both Hannah and Miltos have attended the Con previously, so they must've enjoyed themselves enough to return. Fans were definitely delighted to have them back.
For the third year in a row, Miltos Yerolemou taught water-dancing to eager participants, booking up every session well before the Con. In one panel, he mentioned his goal to create a multi-day program on water-dance training, where attendees would spend five to ten days learning the techniques of fighting like Arya and the First Sword of Braavos. How awesome would that be? Let's hope it happens. He also stated that he would keep returning to the Con as long as he was invited. Rumor has it, the Con will be back, so start saving up for next year, and remember to book your water-dancing classes early. They fill up quickly. Everybody loves Miltos, and what's not to love? He's wonderful!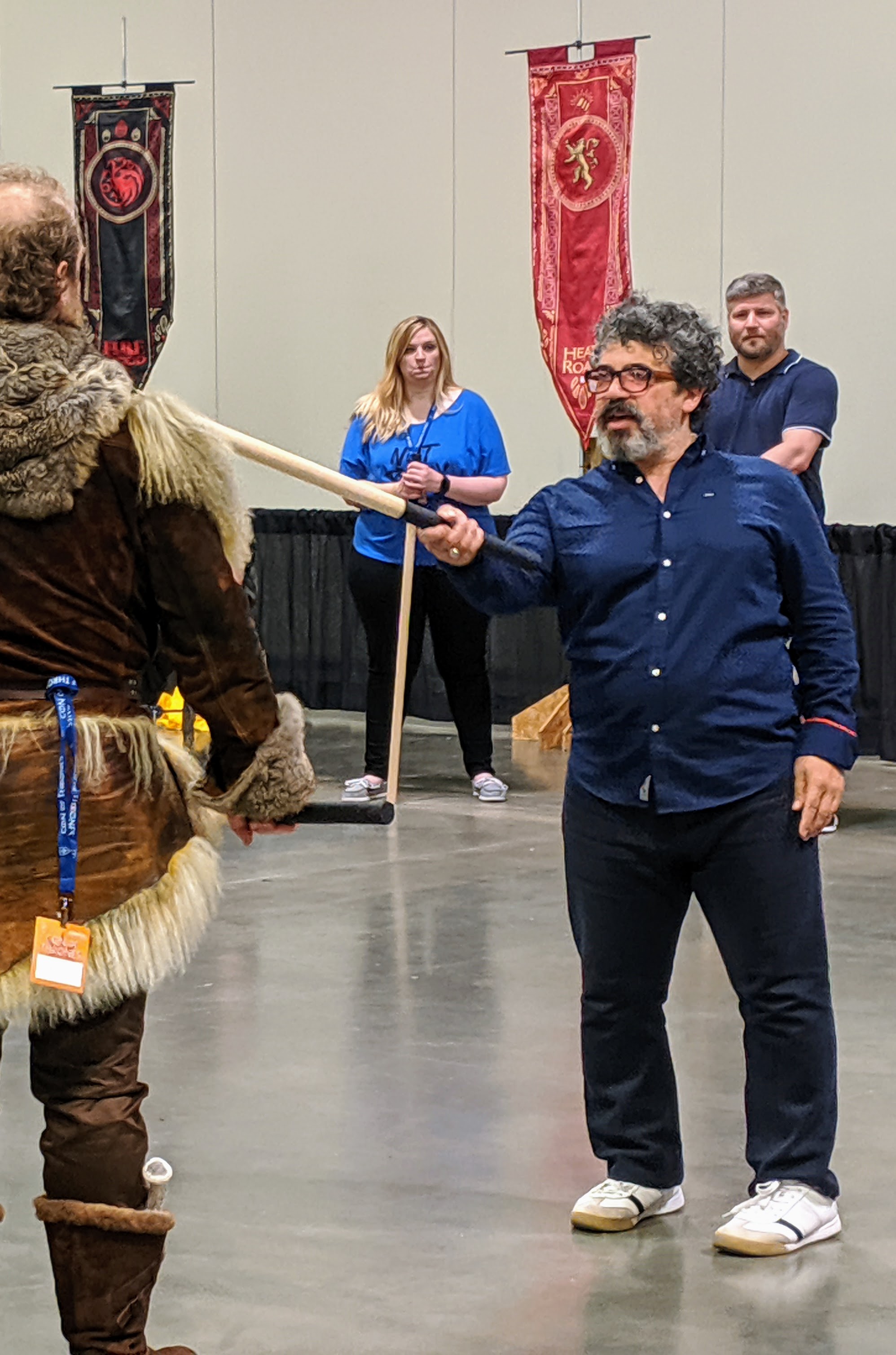 Photo credit: Allen Cross
In her spotlight panel, Hannah Murray talked about the hi-tech socks that kept her feet warm and dry during filming in the frigid temperatures, and that they may have found their way home with her. She often does independent films that don't have budgets for fancy socks, so it seemed like a good idea to keep them. She also mentioned CHARLIE SAYS, a film currently on Amazon Prime about Charles Manson starring her as Leslie and Matt Smith as Charles Manson.
During a Small Council panel with all the show's stars, Jerome Flynn (Bronn) relayed the story of how he actually was the first to fall through the Moon Door at the Eyrie because the floors were slick with wax. At his own spotlight panel, he talked about the director telling him to have fun with the last take of a scene with actor Daniel Portman (Podrick), so he did. He grabbed Podrick's balls during the scene, and poor Daniel had no idea it was about to happen, so his reaction was 100% real yet still in character. Jerome thought it was hilarious, especially since that was the take that they ended up using. Check out the scene.
Jerome also mentioned being in the pilot of "The Dark Tower" series. He didn't mention a specific character, but he did state he always wanted to play a cowboy. Hopefully the series gets picked up. I would love to see it or anything else he's in, for that matter.
Nicolaj wouldn't reveal any current or future projects, but he was charming and witty during all his panels. I especially loved his interaction with audience members who posed questions, particularly when the questions were somewhat odd. He bantered a little, but was never mean or condescending about it. He also shared a comical story about when someone asked him why he stopped dyeing his hair. He revealed that he never dyed it. "It's just age."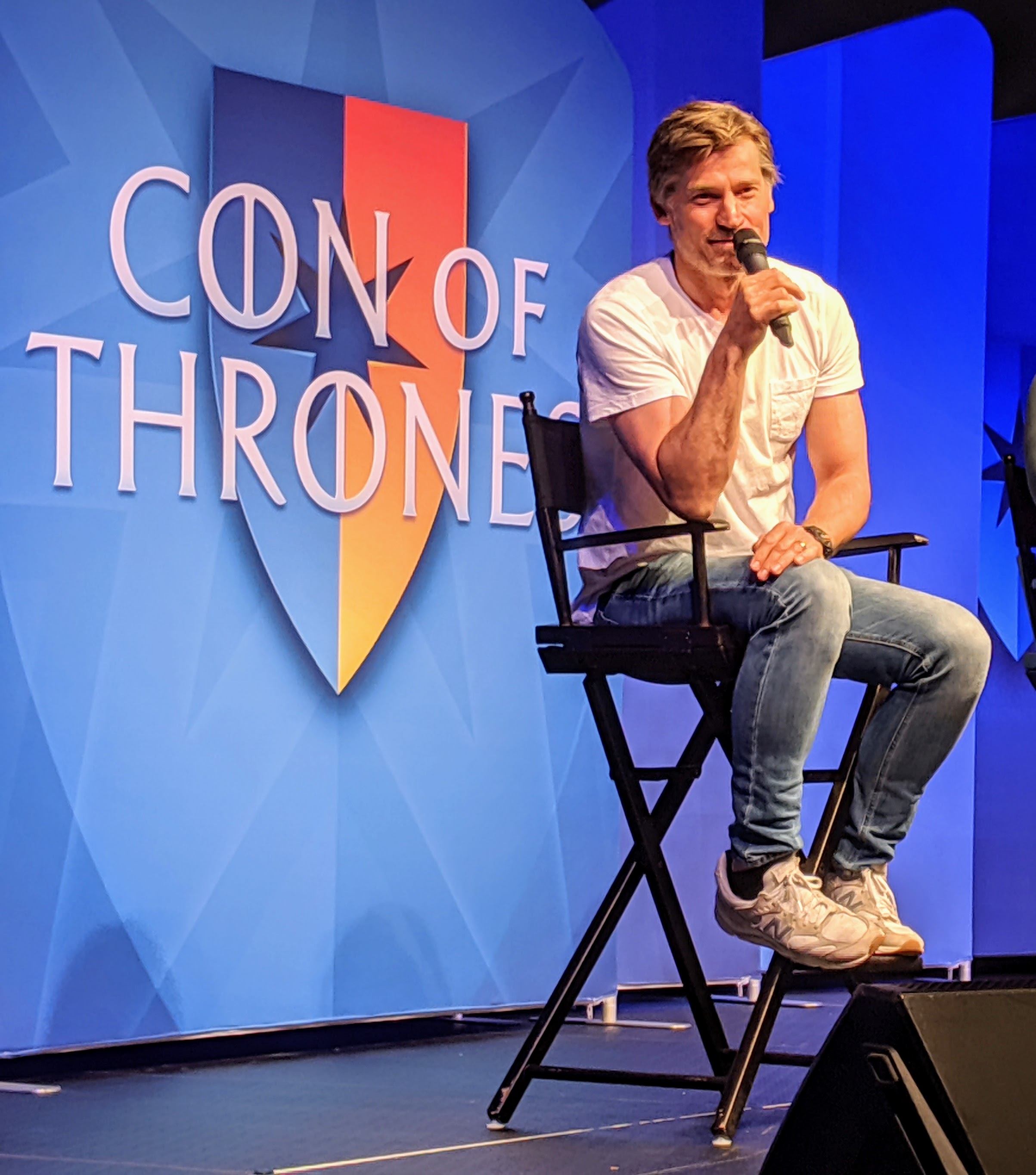 Photo credit: Allen Cross
One of the surprises of the event was the hilarity of the Wolf and the Crows,three extras from the series who shared stories from the set. Using a fundraiser, money was earned to bring Andrew McClay, Bobby Marno, and Brendan 'Hammer' McGivern to Nashville for the event. Northern Irishman Andrew McClay had us in stitches as he recounted hilarious stories, including the time Kristofer Hivju (Tormund) was erroneously ordered into the body pit during the filming of the "Battle of the Bastards." The animated storyteller should be at every Game of Thrones convention everywhere. I would hope they would be invited back, as they proved super popular with the fans, even when they emphatically argued with those who didn't love the final season during their panel "Learn to Love Season 8 with the Wolf and the Crows."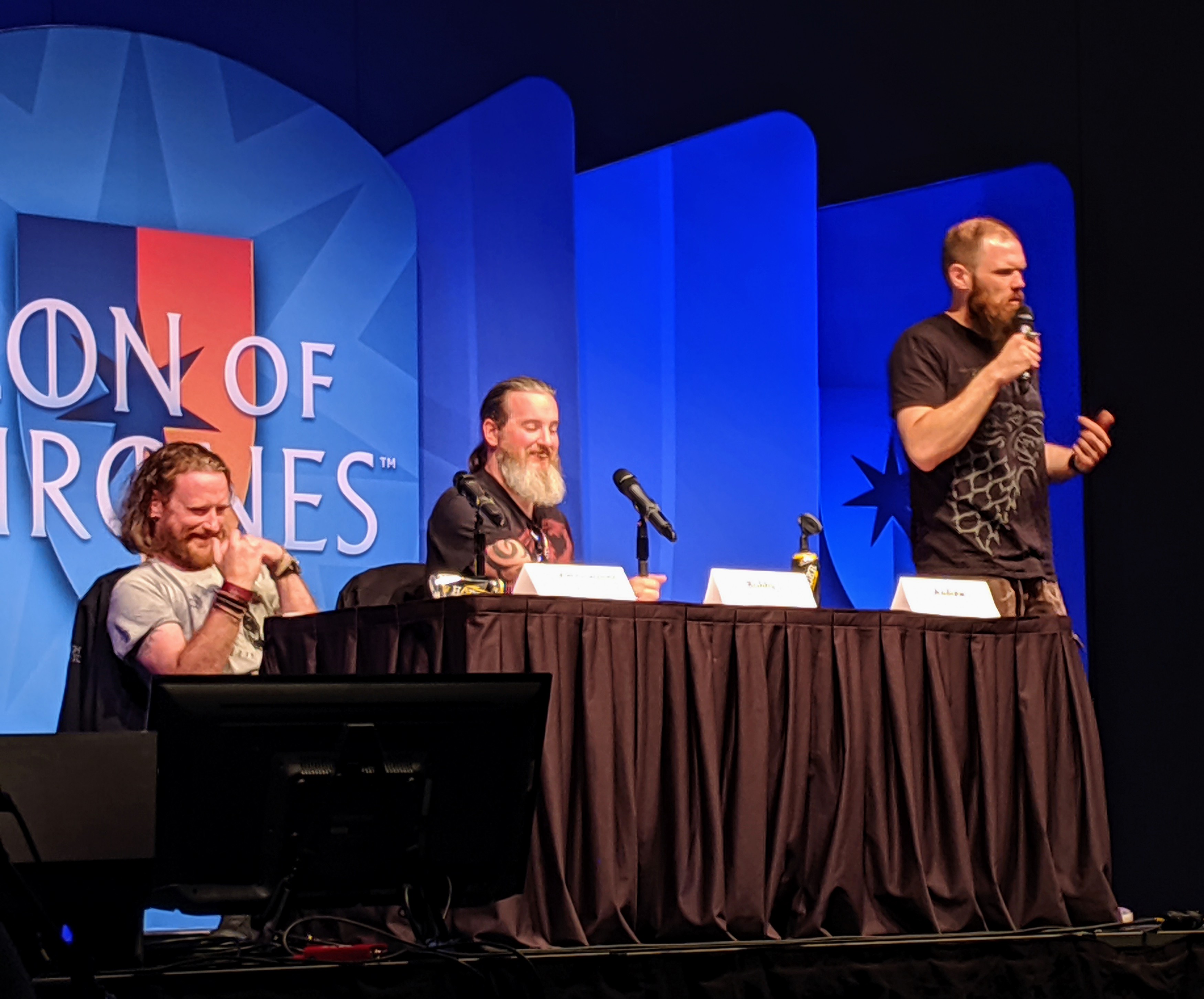 Photo credit: Allen Cross
It's not just about celebrity guests and panels, though. One of my favorite things about this convention is the level of cosplay here. I'm amazed at the creativity, amount of work, and attention to detail that goes into the costumes. Everyone from Jon Snow to Ghost made appearances. There were Dothraki warriors, Margaery getting consumed by Wildfire, a dog dressed as Drogon, a few Weirwoods, a bunch of Sansas, and a wine-drinking Cersei Lannister carrying a jar of Wildfire. She pretty much won the night when she sang Ace of Base's "All That She Wants" at karaoke. If you aren't familiar with the song, all that she wants is another baby. Too perfect!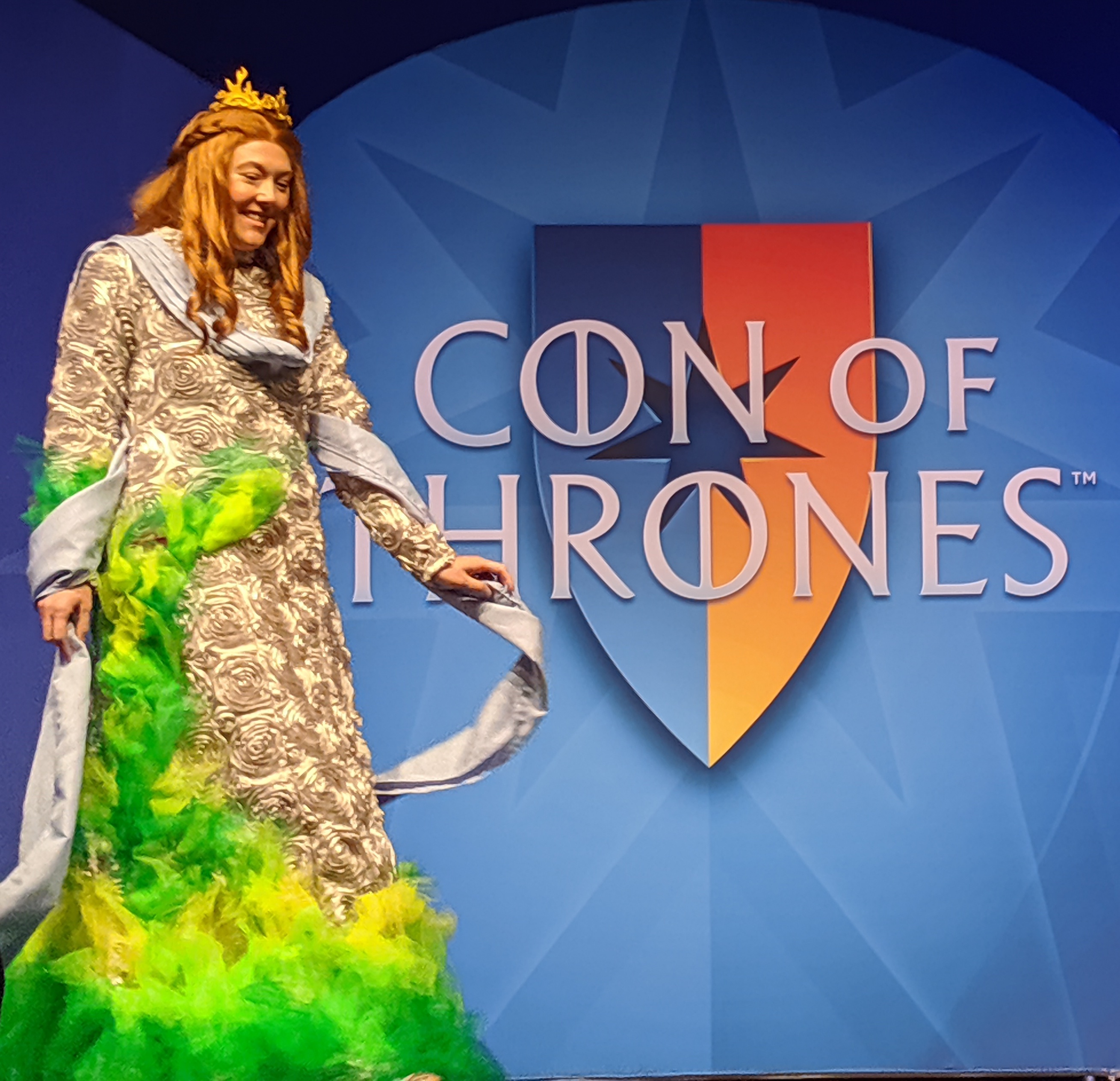 Photo credit: Allen Cross
Also, at karaoke, two other cosplayers took themed approaches to their song choices. Daenerys Targaryen sang Adele's "Set Fire to the Rain" and Tormund closed out the night with "Wild Thing." I was impressed at the caliber of performers at karaoke. Apparently, there is a correlation between being a great singer and being a Game of Thrones' fan. Who knew?
Like the show, I was sad when it ended. I'm looking forward to reuniting with all the crazy, beautiful, talented fans of the epic series next year. I can't wait to see more costumes, more panels, and meet more of the wonderful cast and crew who brought us such an amazing series.
Barbarella out!