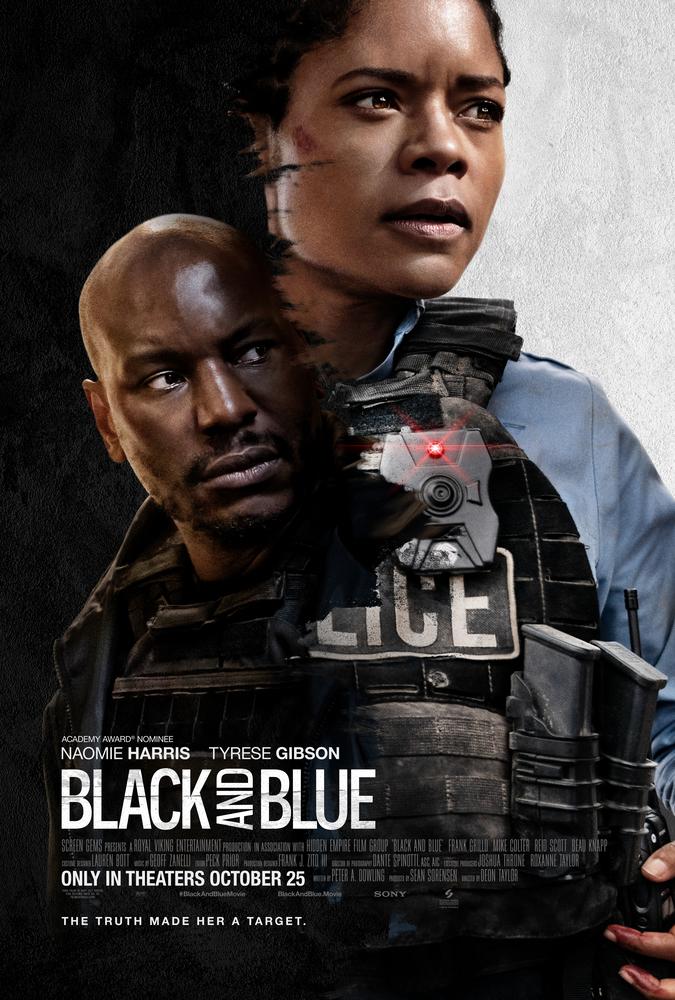 Coming out this weekend, BLACK AND BLUE is a cop thriller that's somewhat fun to experience, but it's no BLINDSPOTTING. Seriously, if you haven't seen that film starring Daveed Diggs as a man on probation just trying to stay out, stop reading this and go watch it right now. It makes a much stronger social commentary and feels far more realistic than anything you'll see in BLACK AND BLUE.
Having said that, I don't dislike BLACK AND BLUE. We get to see Dan Egan…er…I mean Reid Scott play a far less obnoxious character than Dan (from HBO's Veep). Naomie Harris, Mike Colter, and Frank Grillo keep one engaged in their characters' plights, although the script hinders them somewhat. Perhaps the smartest choices made here involve the cinematography. The mostly gray New Orleans with pops of colorful graffiti make for an atmospheric backdrop to the storyline. Ah, but the storyline is where the problems lie.
Rookie police officer, Alicia West (Naomie Harris), returns to her old neighborhood of New Orleans, where the cops are crooked and her childhood friends now see her as the enemy. With characters making statements along the lines of "You're not black, you're blue," the message of the film is clear. Police and African Americans are in conflict with each other here in the Big Easy.
We've seen a lot of films echoing this idea thematically, perhaps spurred by the rise of internet videos showing police engaging in everything from questionable behavior to downright abuses of power. In some cases, these videos don't show the full story, so they may not be exactly what they appear, but in other cases, maybe they are. I personally have a great deal of respect for law enforcement as a whole, but I do not discount those who express a different point of view. I wholeheartedly believe that one of the most beautiful elements of cinema is its ability to allow us to enter the mindset of different people with different perspectives and let us walk a mile in someone else's shoes.
I'm grateful movies that take a hard look at police corruption and brutality exist, but sometimes I feel like every film involving police is consistently so negative in its portrayal of law enforcement that it exacerbates the growing discord between communities and those who have vowed to protect them. BLACK AND BLUE follows suit. Cops are bad. The neighborhoods are bad. Bad things are bound to happen. Of course, we have some protagonists in the story who are trying to do the right thing, although some of their choices maintain a sufficient distance from any logical thought.
One of my biggest gripes with films about law enforcement, aside from the fact that most show police as two-dimensional thugs, is that police procedures are so inaccurately represented. BLACK AND BLUE is no different in that regard. I'm no law enforcement expert, but even I know that while holding a suspect at gunpoint, a real cop would never tell that suspect to empty out his own pockets. Never. Ever. Ever. Any police officer attempting to watch this film would likely get frustrated by how wrong just about every aspect of the job is portrayed.
On the flip side, there are some people who may find this film incredibly gratifying. Despite its problematic stereotypes and limited depth, the fast-pacing allows the energy level to stay elevated, which should keep viewers alert. If you aren't looking for a deeply insightful film about policing and racism, then BLACK AND BLUE just might provide a nice escape from reality.


Barbara Kennedy
aka Barbarella