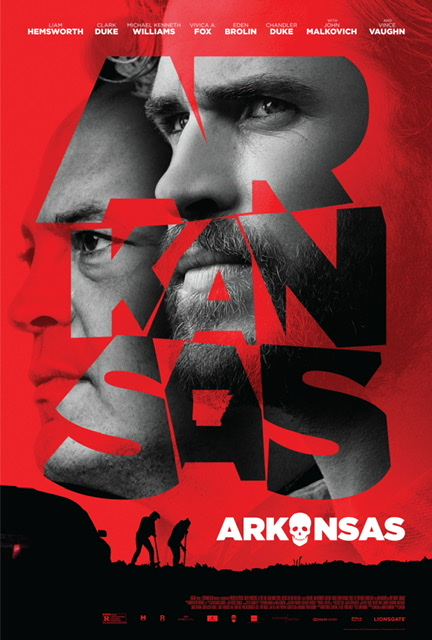 Once upon a time before covid-19 and depressing daily White House updates were even a thing, I was supposed to interview director Clark Duke at SXSW in support of his directorial debut, ARKANSAS. You may remember Duke as the glasses-wearing smart ass from HOT TUB TIME MACHINE and the KICK-ASS franchise, but it turns out that the wise-cracking actor has also been channeling his talents into an opus all his own. Since the cancellation of SX- and, well, the entire world- my interview hopes disintegrated and I was left wondering about the fate of the promising feature.
Thank goodness Lionsgate has announced that they will be releasing ARKANSAS (initially slated for a 5/1 theatrical outing) on Apple, Amazon, On Demand platforms and Blu-ray and DVD on May 5! The dark comedy features a crazy cool cast that includes Duke as well as Liam Hemsworth, Vince Vaughn, Michael Kenneth Williams, Vivica A. Fox, and John freaking Malkovich.
Duke co-penned ARKANSAS with first-time screenwriter Andrew Boonkrong. Here's the synopsis:
Kyle (Liam Hemsworth) and Swin (Clark Duke) live by the orders of an Arkansas-based drug kingpin named Frog (Vince Vaughn), whom they've never met. Posing as junior park rangers by day, they operate as low-level drug couriers by night under the watchful eye of Frog'
s
proxies (John Malkovich and Vivica A. Fox). Swin then settles into his day job by taking up a relationship with Johnna (Eden Brolin) against orders to blend in while Kyle continues to question his night job by trying to figure out who Frog really is. Their world is then upended after one too many inept decisions, and Kyle, Swin, and Johnna find themselves directly in Frog'
s
crosshairs, who mistakenly sees them as a threat to his empire. Based on John Brandon'
s
best-selling book of the same name, ARKANSAS weaves together three decades of Deep South drug trafficking to explore the cycle of violence that turns young men into criminals, and old men into legends.
AICN has an exclusive clip from ARKANSAS featuring Duke, Vince Vaughn, and Liam Hemsworth right here!
I don't know about you guys, but to me ARKANSAS looks like the perfect antidote to the quarantine blahs. Plus, I'm always excited to see an actor that I admire getting a chance to show his stuff behind the camera as well. Be on the lookout for ARKANSAS when it opens on 5/5!