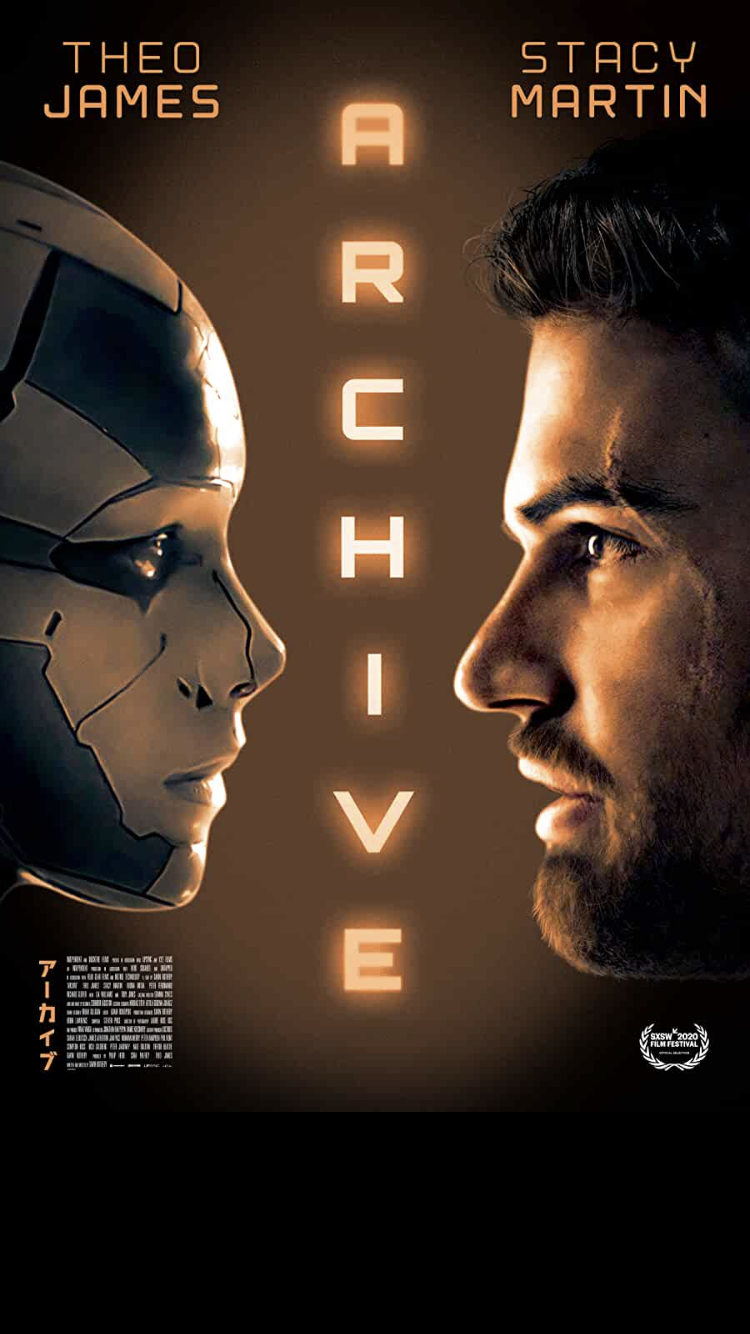 When the world got canceled back in March, so did my chance to see the new sci-fi thinker ARCHIVE at the SXSW Film Festival. I was even more bummed because I was scheduled to interview first-time director Gavin Rothery. Luckily, the stars eventually aligned, and I got a chance to check out a screener of ARCHIVE (not nearly as cool as a big screen fest screening, but I'll take it!) and reschedule my sit down with Rothery (over the phone instead of in person, but I'll take it!).
In ARCHIVE a grieving scientist busies himself in a secluded laboratory putting the final touches on his AI masterpiece while also nearing the inevitable expiration of an interactive digital archive of his late wife.
ARCHIVE is a fascinating and visually slick
combination of two high concepts themes. Exploring classic tropes like old vs new or now vs then, Gavin Rothery's feature directorial debut subtly echoes canon mad scientist favorites like BRIDE OF FRANKENSTEIN with the futuristic dread and modern aesthetic of EX MACHINA.
ARCHIVE stars Theo James (DIVERGENT, LYING AND STEALING), Stacy Martin (VOX LUX, NYMPHOMANIAC VOL I & II), Rhonda Mitra (SWEET HOME ALABAMA, "Boston Legal"), and Toby Jones (TINKER TAILOR SOLDIER SPY, THE HUNGER GAMES).
I dug the hell out of it, so I was delighted when offered a chance to interview Rothery and pick his brain about some of the standout aspects of the film. I hope you enjoy our chat!
Annette Kellerman:
Hey, Gavin. How are you today?
Gavin Rothery:
Hi, Rebecca. I'm good. How are you doing? You all right?
Kellerman:
I'm doing great. I'm down here in Texas, enjoying a hot summer and not going anywhere! I was originally supposed to see ARCHIVE at South by Southwest, so I was super bummed that that didn't happen. I'm sure you were extraordinarily bummed.
Rothery:
Yeah, that was pretty sad.
Kellerman:
How does a filmmaker navigate the current terrain trying to promote this film you've worked so hard on with all these new circumstances?
Rothery:
I think I try not to worry about it. I can't complain too much. I got the film finished and it's about to be released. From my perspective, really, it's all happy to ... We were supposed to have a theatrical release in the U.S. That was supposed to kick it all off with coming out South by and all that would have been wonderful, but it just didn't happen. The whole pandemic thing kicked in and it is what it is. At the end of the day, if the film's released on a streaming service, it's its own thing. It's become its own thing and I can't complain about that because it's not fair to go to the cinema then that's just what that is. I don't want people to sit and watch a film and feel unfair.
So, the plus side of it, is that we're in the year 2020, everybody at home has got massive TVs, really nice speakers, comfortable sofas and a fridge full of nice snacks. So as far as a night at the movies goes, it's like people have got pretty good set ups at home now. And we're also in that interesting time where television and film have been merging closer and closer over the last few years and now more than ever. It's just the way the world is right now. I've been an aspiring filmmaker for a long time and now I actually am a filmmaker and I was all set for theatrical release in the U.S., which is a dream. And now I'm not getting that. So, there's a little bit of my filmmaking ego that's like, "Ah."
Kellerman:
Of course.
Rothery:
But like I say, I got a film made. There are plenty of productions out there that just got shut down. And a lot of those aren't going to be coming back. So I can't complain.
Kellerman:
Yeah. I hear you. And that's the right attitude. And you're right about all the streaming platforms and badass home theater set ups. Film fans are much more savvy about seeking out content. So I'm excited to promote this film.
Rothery:
Cool.
Kellerman:
This is your feature directorial debut- and you wrote it too.
Rothery:
Yeah.
Kellerman:
What was your inspiration? I mean, clearly there's AI movies out there, but you're sort of hitting two very high concept ideas with AI and this idea of the "archive" concept. What was your inspiration for such a complex story?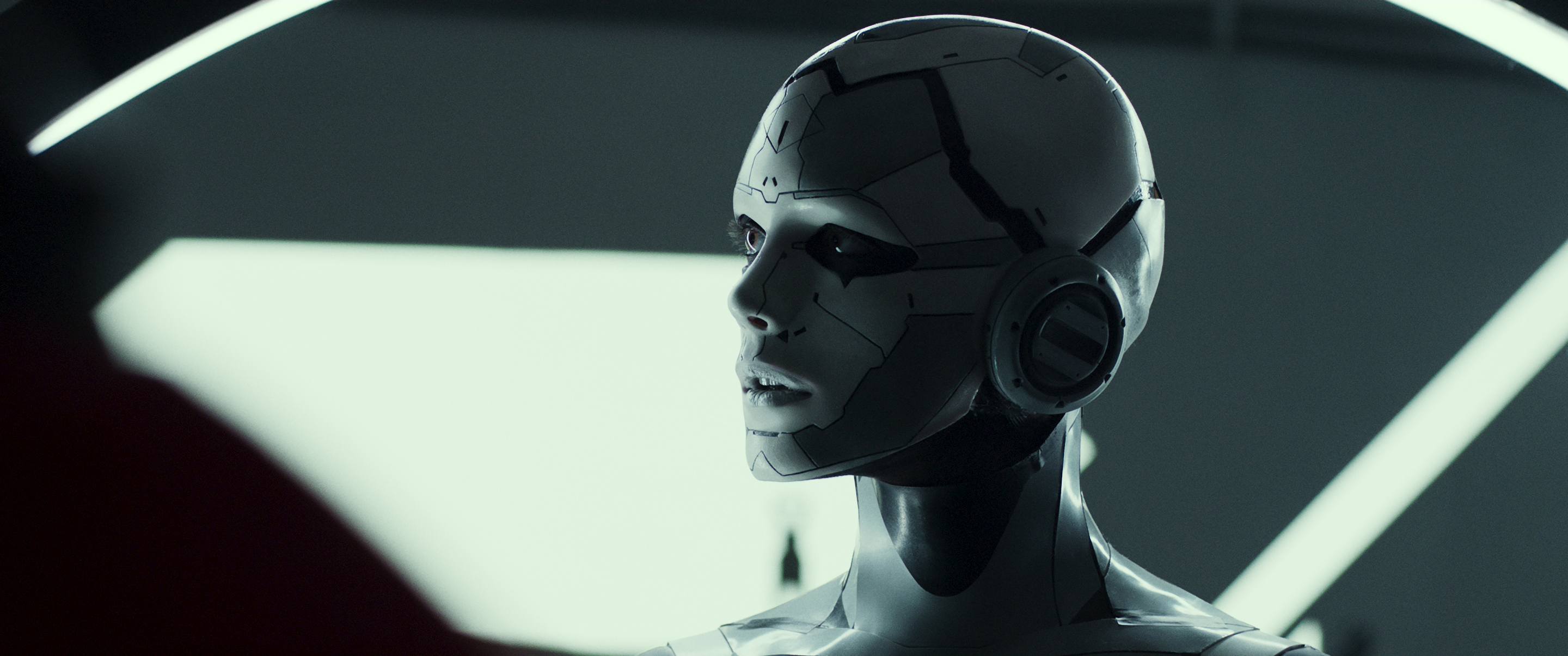 Rothery:
It all really comes from me just being an idiot and trying to do things that are probably a little bit harder than they should be. So it's like, "Let's tackle more than those high concepts together." What happened was it all comes from an idea I had. I had a weird weekend in 2011 and I had an unfortunate weekend while living in Wales. Both my computers died at the same time...
Kellerman:
Oh, no.
Rothery:
And it was a real problem for me and I lost a ton of data. It took me about two weeks to get things sorted out. I had to get drives recovered and all kinds of stuff. A real bad situation. And whilst that was going going on, that all happened in the middle of the big flood plain. So, I was doing a bunch of domestic goods chores whilst all of that happened.
Mentally, I was like, "Oh my God." I was in a bit of a funk, not good. I had the idea of an AI, as soon as it becomes sentient, self aware, it realizes it's own situation and just kills itself. The original idea I had was this story of somebody who was trying to keep this thing alive long enough to find out why it wants it to die. That was the original nugget of an idea. That was back in 2011. I always liked films that have got stakes I can get some kind of a handle on it.
And there's so many films that are all about saving the Earth. If you look at Transformers 2, I know that Transformers 2 really sticks in my mind, because that was out about the same time. And I remember thinking the stakes of it are, there's a guy who's going out with Megan Fox, his best friend, the robot in space, and he's trying to stop some other robots in space blowing up the moon. And it's like, "That means nothing to me." I can't get on board with any of that. So I wanted something that's got stakes that I can get. I don't want to watch a film that I hate. And the stakes are so real, you're on the train, off you go. I like films that do supply that.
So as far as the things of the film go, I wanted to wrap it around love and death. Love, death, and loss. And then try and come up with some stakes that are a reflection in those things. And then see why that comes out of the story. And that, if you look, will be coming out quite quickly. So I had the story worth telling at 2011 and I then tried to team up with ... I tried a few different writers to try and team up with, because I've never written a script. I mean, it's the script. So I thought the deal is, I know exactly what I want this thing to be. So I'm going to sit down with a writer and I'm going to tell them what I want my script to be.
It wasn't coming in right. It got to the point where I spent like three or four years, going into explicit detail about what I wanted the story to be. I had like ... it was like a four page treatment. I had written all the stuff, I know exactly what I want it to be. I can see it in my head because I've written it. And then I've got the visuals already supporting it in my head. And he felt so frustrated and so I felt then I would make a go for myself. So I felt I'll start it and hopefully I'll be able to find a writer who's better than me that I can trust that can finish it. But until that point, I am going to keep moving with it because then I know something's happening, I'm not just waiting for people. I just spent nearly four years waiting for people and I've just had enough of it, so yes. All of a sudden I'm a film writer and I've written a script.
Kellerman:
Ha! So it happened organically, I guess. That's what people say, right?
Rothery:
Yeah.
Kellerman:
Organically.
Rothery:
Yeah. I think the thing is with these smaller films, there's always a story about how it came about. It's not like you're in a studio thing where there's a producer, somebody on the desk smoking a big cigar, picking people out of a ... putting them together and all these kind of stuff. It didn't really work like that.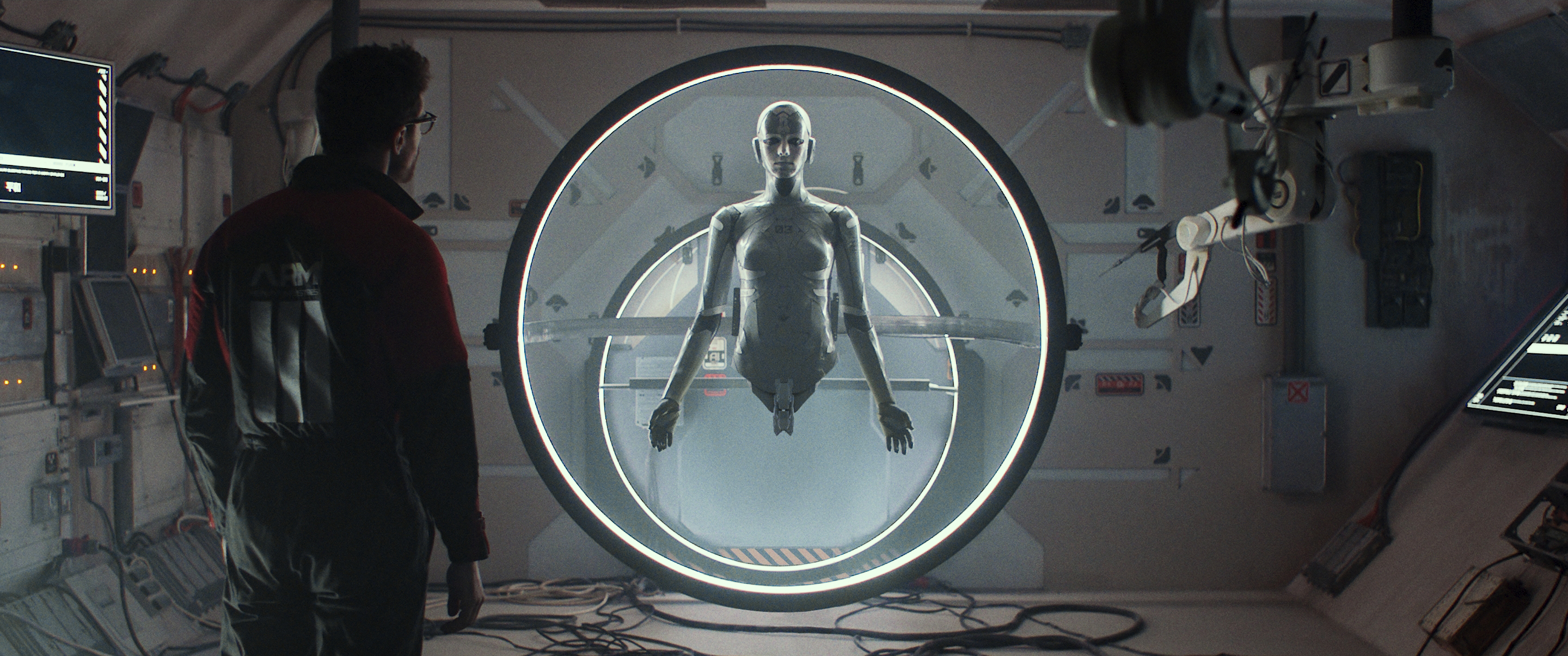 Kellerman:
Can you talk about the production design? I love it. You incorporate such a mix of tech and nature, a mix of old and new. Then also a nearly seamless use of like CGI and practical. I love how there's sort of old tech, new tech. Can you just kind of dive into some of the production design choices that you made and the reasons behind them?
Rothery:
Yeah. A lot of it really is me doing the stuff that I like, so a lot of it is me following my nose. We had a tiny budget for this film, and it's all about picking your battles. When you've got a small budget, you've got to define what you're going to spend your money on. And this is something that ... I love these kind of challenges as a filmmaker. It's like having some resource and thinking of another best way to deploy it.
That kind of challenge, somehow can really kind of get my teeth into. It's like a prize thing. It's like, "I can do this. We can come up with the most effective spend and max out what we can possibly achieve with this amount of money." And it was really cool. I was working with Independent. A producer- Philip Herd- he was just super supportive. Philip and Cora Palfrey from Independent, worked out to be super supportive. We've known each other for quite a long time, by this point, and we all have each other's trust. So, it was really cool just being able to actually get into this whole problem solving businesses, what we do when we're actually on the set, because there's a lot of stuff that I wanted in there that I couldn't-
it's the only thing that takes the wheel off the wagon. But I had to think around it. I got a real beam up on it whenever something has to change because it's inevitable and I'm not going to spit the dummy out about it. If something has to change, it has to. People change. But I always have a real thing about, like I have to somehow figure out a way to make it better, to make the change better. Every room has to be better, full of change. It can't ever be just a clear compromise where it's gotten a little bit worse because of it.
Because if you bit into that once, that will happen 200 times and you get this illusion and you can't have it. Here's where I see this still. I still see myself as like a bounty up against that erosion and the way that I get around that is by thinking and coming up with so much, which is an improvement, somehow, on the original. There's examples in the film.
There's some locations that we couldn't afford to build sets for. So I just shot that stuff in the set we already had and ended up improving the story. So that's not what we were going for in that, it's just thinking around problems.
Kellerman:
Right. Sometimes happenstance can actually improve the overall quality. I have to ask you about how the most sympathetic character in the whole movie is a robot named J-2. Can you talk a little bit about the most emotional and sympathetic character not even being human and how you were able to achieve that with basically a hunk of junk?
Rothery:
Well, that was something that I consciously set out to do with a filmmaking challenge. I did actually have that on my list, thinking I can pull it off, it'll be awesome. But to be honest, there's two ways that I really did that, there's Theo James and Steven Price. Steven Price uses beautiful, beautiful music. And if you look at it too, what you'll find is because she doesn't really have anywhere that you can read any emotion from.
What you'll find is that Theo's doing that work, so when Theo's talking to her and you're just seeing her face as a reaction, what the scene is a bounce from what Theo is doing. So most of J-2's performance, in that regard, comes from Theo. We had an actor in there and she was great. She moved this thing brilliantly. But a lot of the heavy acting actually comes from Theo, bouncing off a box.
Kellerman:
Oh, that's so fascinating.
Rothery:
It's like a little magic trick. I'm glad it worked out!
Kellerman:
It worked.
I was like crying for this robot. It was awesome.
Rothery:
That's actually Theo Jame's doing. Well, it's not quite that. Adam Biskupski did the edit. He did some wonderful work. It is a combination, but a lot of what you take away from J-2 comes from Theo.
I'm glad you asked that question!
Kellerman:
I'm glad I asked that question because I'm like, "How did he do that? How am I crying over a robot?" Your trickery! You directors and your smoke and mirrors!
Rothery:
That's my job and I got to get inside your head and mess with it.
Kellerman:
Yes! Well, listen, I guess they're probably going to kick me off because I just passed the 15 minute mark. So I better say goodbye, but thank you so much for taking time to chat with me today!
Rothery:
Thank you, Becca. I really appreciate it!
And there you have it! It turns out that on top of making a kickass little movie, Rothery is also a super cool guy. I definitely recommend checking out ARCHIVE when Vertical Entertainment releases the film in Virtual Cinema Screenings, On Demand, and Digital on 7/10!
Rebecca Elliott
aka Annette Kellerman