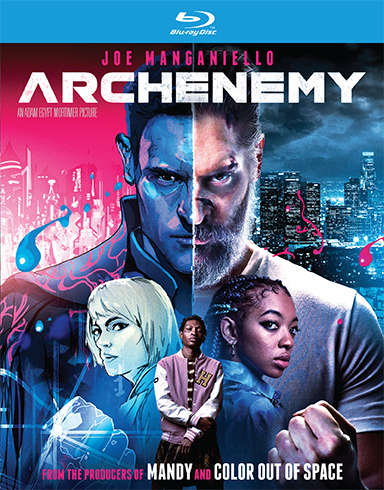 Who wants to see the producers of MANDY and COLOR OUT OF SPACE take their turn in the superhero genre? Me! Me!

To celebrate RLJE's 2/16 DVD and Blu-ray release of Adam Egypt Mortimer's latest effort ARCHENEMY, AICN is giving away Blus to 3 lucky winners!
ARCHENEMY follows "Max Fist (Joe Manganiello) is a local drunk who claims to be a superhero from the planet Chromium. He tells anyone who will listen that he was pulled into a wormhole, falling through time and space, and dropped to earth without any of his powers. No one pays any attention to Max except a teenager named Hamster (Skylan Brooks) who can't get enough of Max's stories. When Hamster and his sister (Zolee Griggs) get in trouble with a vicious drug syndicate led by The Manager (Glenn Howerton), Max takes to the streets as a brutal vigilante hellbent on proving himself as the hero no one believes him to be."
Joe Manganiello stars alongside Skylan Brooks, Zolee Griggs, Paul Scherr, Amy Seimetz, and Glenn Howerton.
Check out the trailer!
This one looks like a blast! Who doesn't love a good story about a down-and-out superhero who teams up with a couple kids to kick some ass? If you'd like to check out ARCHENEMY and own a Blu-ray copy for your own library, email me at annetteaicn@gmail with the subject line I WANT TO BE ANNETTE's ARCHENEMY! Please include your mailing address in the email. Continental U.S. residents only. Winners will be chosen randomly by 2/10 at noon. Good luck!
Cheers!
Rebecca Elliott
aka Annette Kellerman