I simply cannot start this review without a little context, so feel free to scroll down if you'd rather not hear about one of the most epic cinematic gatherings. If you'd like to indulge me, then gather round kids for a bit of story time...

The year was 1998, and my bestest movie nerd friend in geek-starved central Oklahoma called me up one fateful January day and said, "Do you know what we're missing seven hours south right now? We're missing QT 2." I had read the coverage of the first Quentin Tarantino fest on AICN the year before and knew that he was talking about the fest where QT curated a line-up of vintage films from his personal collection. So what did we do? We got in the car and headed south, that's what we did!

We arrived in Austin just in time to buy tickets to the "All Night Exploitation Fest" at the Dobie Theater (before the fest eventually took up residence at the original Alamo Drafthouse.) While we were waiting for the first screening we met some of the old school writers from the site- Johnny Wad, Copernicus, Quint, and of course the headgeek himself Harry. That night we were treated to a peculiar and highly entertaining line up including POLICEWOMAN, EAGER BEAVERS, and the ridiculous GHETTO FREAKS.

What truly blew my 21 year old mind was that in between movies at the small venue, Quentin would hang out in the lobby area and just shoot the shit with everyone. By the end of that 12 hours of bliss, I was convinced that I had to move to the Texas capital as soon as I graduated from college the following year. Which I did.

As a newly minted resident of Austin, I was able to completely dive into the next festival, QT 3- which had moved to the Drafthouse. This was back before the Alamo Drafthouse was the first-run franchise juggernaut it is today. Back then it was a one screen vintage film grindhouse where the theater's founders Tim League would sell you a ticket at the bottom of the stairs that led up to the lobby, and his fellow founder and wife, Karrie, would tear your ticket when you got to the top. Every night Quentin would delight the packed audience with themed line-ups including such gems as MOTHER JUGS AND SPEED, MIGHTY PEKING MAN, ZULU DAWN, TORSO, BLOOD SPATTERED BRIDE, FREEBIE AND THE BEAN...I could go on and on, but Wikipedia has the full line up if you wanna check it out.

While some of the films he screened are considered bonafide classics, the weirder and more obscure flicks were always held in equal esteem as their more respected counterparts. Quentin rejected the whole, "it's so bad it's good" rationale. To him they were all worthy of our adoration.

By the time QT 4 (known as QT Quatro), 5, and 6 came around, it was not uncommon to see other famous directors and celebrities getting into the fun of the quirky little fest. I still pinch myself when I recall being in a convo circle in the lobby between films with QT, Richard Linklater, Robert Rodriguez, Mike Judge, and Guillermo Del Toro. Just chatting about film. No one bugging them for autographs or photos. I mean, WUT?! Aside from that total insanity, other luminaries like Robert Forster (whose cult favorite ALLIGATOR screened at QT 3) or RZA (who would go on to create the epic score for KILL BILL: Vol 1) would also casually hang in the shadows of the theater. When Quentin screened 3 episodes of 70s television favorite KUNG FU, none other than Caine himself, David Carradine, sat in the lobby waxing philosophical with AICN's Massawyrm until the wee hours of the morning.

Needless to say, it was a magical time. By the time QT hosted the "Best Of QT Fest" and the three day mini-fest "Last Night At The Alamo" to commemorate the closing of the original location the weird little fest was becoming quite the Austin film geek institution. Little did we know that with the end of the original Alamo location, we would also be saying goodbye to QT Fest as well. Though Tarantino now owns and programs films at the New Beverly Cinema in Los Angeles, his last hurrah in Austin definitely marked the end of an era. Sigh.

So why am I telling you all of this as a prologue to my review of ONCE UPON A TIME IN HOLLYWOOD? Because the ninth film by one of our most revered directors is a perfect glimpse into those glory days of the QT Fests.

The film follows Rick Dalton (Leonardo DiCaprio), an aging working actor in 60s TV and film. Dalton's trusted stunt double/best friend Cliff Booth (Brad Pitt) is always at the ready to take the falls for him whether it be on or off screen.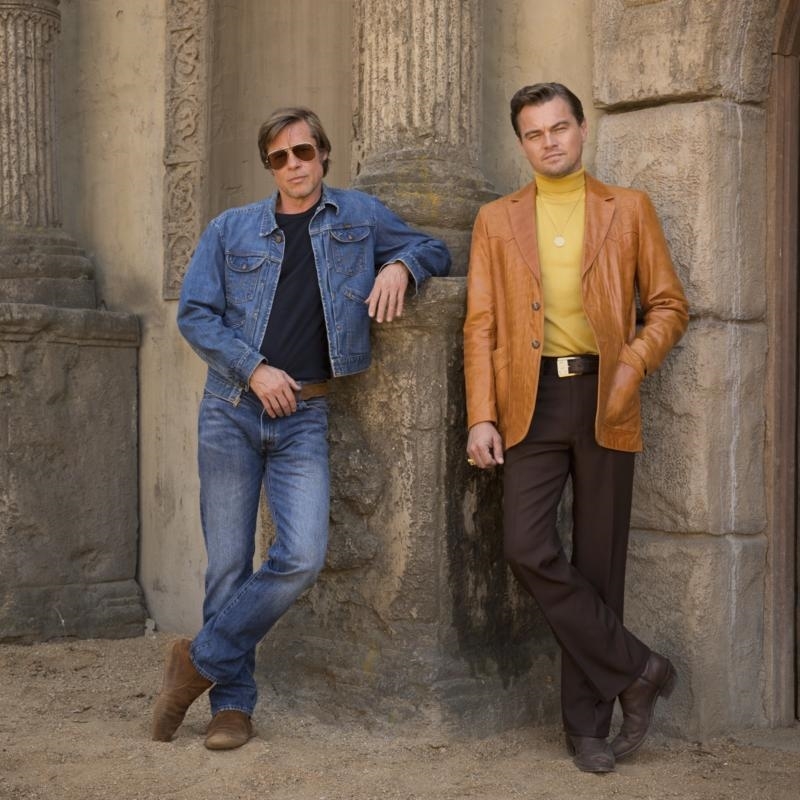 Dalton, a prolific but solidly B-level actor, finds himself facing the same bad guy roles and perhaps a bit less appeal as his years and lifestyle are starting to show around the edges of an otherwise debonair facade.

In a parallel storyline, the hippie culture (that old Hollywood "men's men" like Dalton and Booth despise) is taking over pop culture, fashion, and entertainment, and Charles Manson and his family of waifs are an new and ever-growing mysterious presence around town.

As in many of Tarantino's film's, a third narrative emerges- this time following ingenue Sharon Tate (Margot Robbie)- a neighbor of none other than Rick Dalton. The actress is currently basking in the success of her charming turn in the Dean Martin romp THE WRECKING CREW. Life is grand for Tate, and even though we all know where this is going, seeing life from the perspective of a 60s starlet is mesmerizing. The way the storylines eventually intersect is incredibly satisfying, but it's each character's journeys that prove to be the most intriguing aspect.

DiCaprio turns in yet another incredibly intense and nuanced performance. Between his real-time conflicts and the endless flashbacks to roles in Dalton's varied career, DiCaprio's chops are on full display across a litany of genres. It is so much fun watching him chew up the screen and spit it out.

Brad Pitt gets to take on the ultimate cool guy role as badass stunt double Cliff Booth. His laid back demeanor and no nonsense logic serve him and his talented charge well, and Pitt's subtle machismo in this particular role feels like the stuff of legends.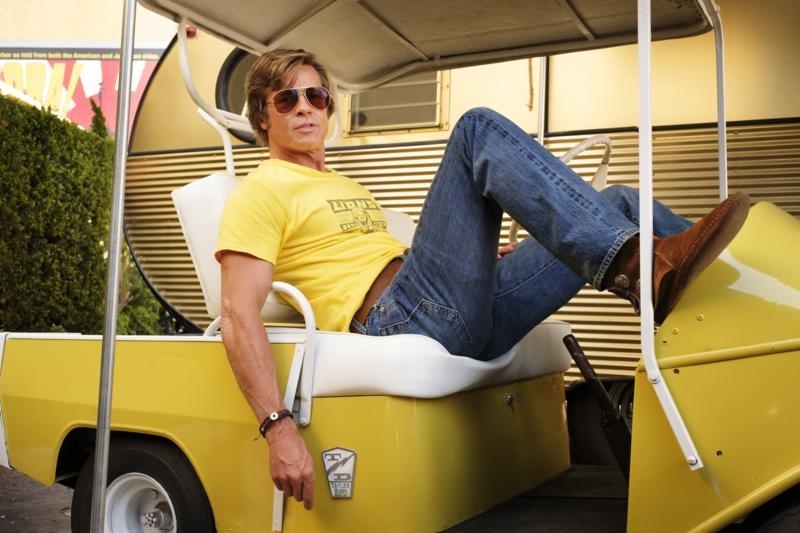 Margot Robbie is as vibrant and terrific as ever as the late Sharon Tate. The joie de vivre she imbues in her portrayal provides a much needed ray of sunshine across the hard worn landscape of behind the scenes Hollywood life.
For me, ONCE UPON A TIME IN HOLLYWOOD is an absolute home run. It hits all the right feels as far as delicious nostalgia along with the never-ending film, television, and pop culture references. But I wonder how more casual fans will digest all the cinephile fodder. It's like READY PLAYER ONE for the 20th mid century- which I totally mean in a good way.

The film is practically overflowing with nods to the Tarantino's favorites from any and every genre. It's what he got to do on a limited basis with the GRINDHOUSE trailers, but this time he gets an entire film to pack in every reference he ever wanted to make to his beloved vintage shows and films. Nearly every scene has either a background marquis proclaiming the latest Hollywood romp, a film-within-a-film (some real-life, some QT concocted), mock up adventure TV shows of the era...even variety shows gets some love in Tarantino's epic love letter to old school Hollywood.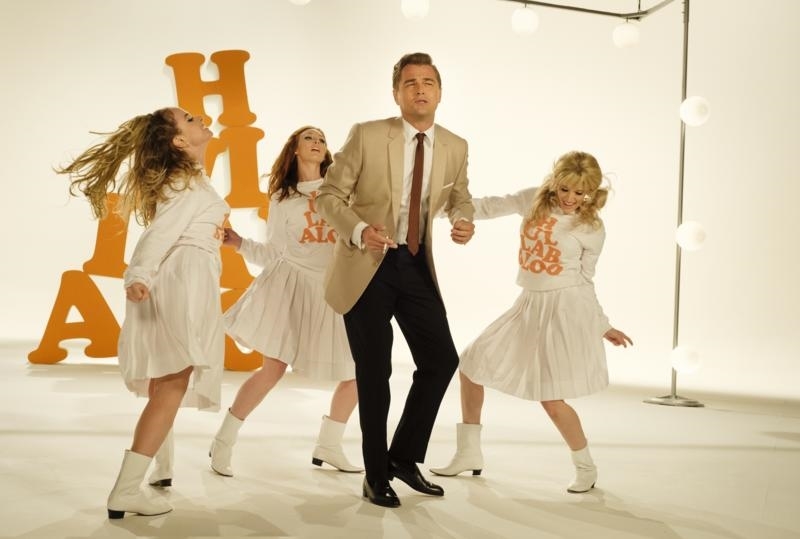 Obviously anyone who considers him or herself to be a movie fan will be heading to the theater this weekend for Tarantino's latest masterpiece. I feel so lucky to have had a peek into the director's treasure trove of inspiration at his festivals all those years ago, and with ONCE UPON A TIME IN HOLLYWOOD I was transported back there for a little while.
Rebecca Elliott
Aka Annette Kellerman