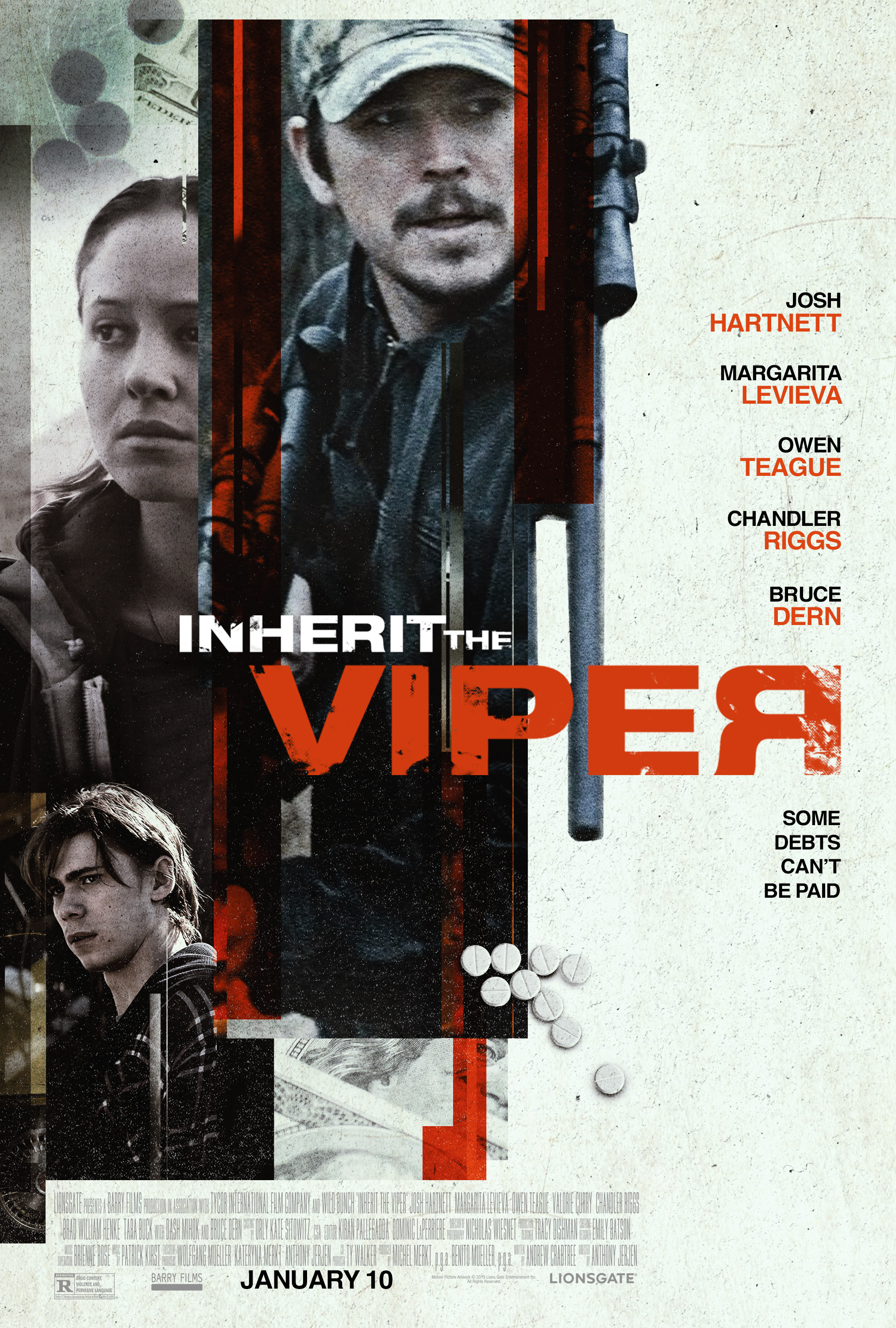 On January 10, Lionsgate released the crime/thriller INHERIT THE VIPER in theaters, on demand and digital. The Appalachia drama stars Josh Hartnett ("Penny Dreadful", THE VIRGIN SUICIDES) and Margarita Levieva ("The Deuce", ADVENTURELAND) as Kip and Josie, a brother and sister who are caught up in the opioid crisis. Only in this tale, the siblings are on the dealing side of the equation. As Kip works to distance himself from the family business, Josie's tactics become more questionable and the duo find themselves in deeper than they ever intended.
In addition to Hartnett and Levieva, the film also features Owen Teague (IT, "Bloodline), Chandler Riggs ("The Walking Dead", "A Million Little Things"), Dash Mihok (THE DAY AFTER TOMORROW, "Ray Donovan"), Tara Buck ("True Blood", "Ray Donovan"), and the legendary Bruce Dern (NEBRASKA, ONCE UPON A TIME IN HOLLYWOOD).
This week I had the opportunity to talk with Chandler Riggs about his experience on INHERIT THE VIPER, his first role after his departure from his famous role as Carl on THE WALKING DEAD. Check out our chat about his transition into grown up roles, branching out from the heavy drama, and mullets. Enjoy!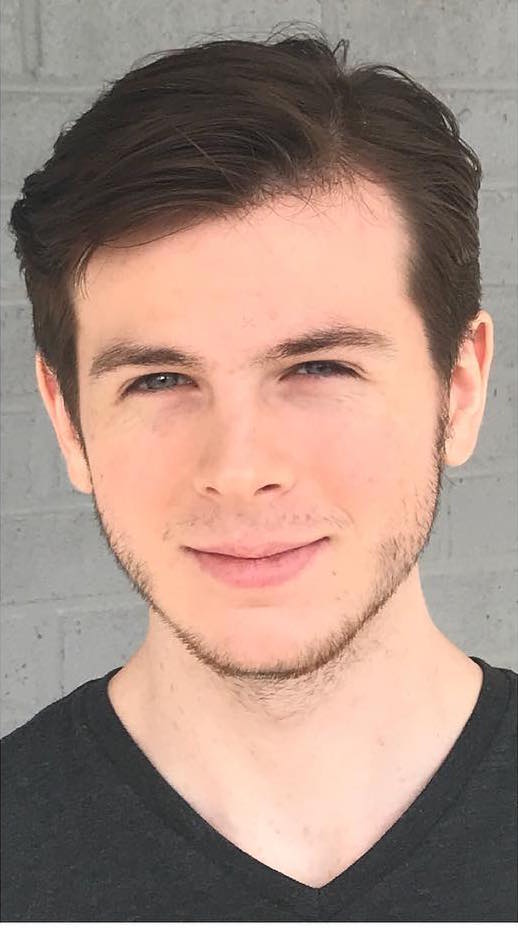 Annette Kellerman:
Hi Chandler. How are you doing today?

Chandler Riggs:
Hey there Rebecca. How are you?

Kellerman:
I am all right. Just wrapping up a busy day and I'm excited to talk to you about INHERIT THE VIPER.

Riggs:
Yeah, yeah perfect.

Kellerman:
The film is set within the context of the whole opioid crisis, but instead of showing it from the perspective of the victims INHERIT THE VIPER is told from the other side of the equation. Can you talk a little bit about finding the humanity in a group of characters that are on the other side of that equation.

Riggs:
So honestly when I got the script I read it and I thought it was just super, super cool. I mean like you're saying, it's just a completely different perspective than anything we've seen from the public eye and I hopped on Skype with the directors, and they were super, super stoked about it. Just seeing how excited they were and seeing a role like Cooper who didn't really try to get mixed up in all this and then just ended up on the wrong side of the tracks. I don't know. It's just what you were saying. It's cool to see the other side of it.

Kellerman:
I mean obviously there's victims on both sides- the people that get caught up in that world of dealing are also kind of at a dead end that they can't get out of either. And then of course characters like your own that sort of get caught up in that, in that world by just happenstance. It's such a bittersweet tale. I don't want to get into spoilers, but did you do a lot of research or any kind of research on just like the effects of these drugs or also just in general, the whole rust belt kind of area where the story takes place. What kind of research went into your preparation?

Riggs:
Well fortunately the scripts really outlined specifically as far as what it was doing to my character in the scene that you're talking about. It was just written really clearly. I had very clear instructions, but I remember I got onto the set and we did a couple of rehearsals and they're like, "You need to tone it down a lot," and I was like, "Oh, okay." I went way overboard with the effects of it, but it was-

Kellerman:
I guess you'd rather be overboard than... I guess I'd rather somebody tell me that I had to dial it back then dial it up though.

Riggs:
100% percent, for sure. But it was definitely something I hadn't done on the screen before. I was really excited to jump into that, and because I knew it was such a big, a huge part of the story for everyone, even just to get to do that scene... I remember the day before I was just so, so stoked to go and do that scene because it just wasn't anything I'd ever done before.

Kellerman:
I mean it's definitely a turning point for the characters in the film for sure, but again, I don't want to get too spoiler-y. On a different note, you've been on one of the most popular television shows of all time for your entire childhood practically. Can you talk a bit about what it's like going from a character that you got to develop over several years versus a character that you have to kind of distill within just a couple of weeks?

Riggs:
It's interesting, kind of especially with INHERIT THE VIPER because that was the first thing that I did after "The Walking Dead" and jumped right into a role like that. It wasn't... I don't know. I think it really helps that it was a completely different environment. The sets were nothing like I'd ever been a part of before. The cast wasn't anything else I had been part of before. So it was just a completely new environment and all of us were kind of in the same boat. We were all just kind of there after doing other projects. This was just another, another movie and I think all of us just being in the same boat and everyone being on the same page of knowing exactly what's going to happen with the story... It's how the arc we need to build for each character. Versus being on a television show, you do each episode and you kind of just hope that what you're doing is kind of leading in the right direction for the next episode. So it was nice having that defined start and end that we could all kind of collectively work towards, and I think it was a lot easier than I was expecting. I think the hardest part about it was having them put my hair into a mullet for sure. I was not looking forward to that.

Kellerman:
Not your look? I don't know. The mullet's coming back. I've seen some pretty tragic hipster mullets!

Riggs:
I walked in the trailer and they're like, "So we're thinking of doing a mullet." I was like, "Oh no, please," and I was very excited after I wrapped that film to go get my hair cut.

Kellerman:
No more party in the back. No thank you.

Riggs:
Exactly.

Kellerman:
You're also in a unique position because even though the role you're most known for, Carl, is a kid and you pretty much grew up on screen playing him, it was very grown up subject matter. Even so, would you consider this to be your first adult role? Can you talk a bit about that transition? Did you feel you were maybe treated more like an adult onset now that it was a whole new game?

Riggs:
Definitely. I mean it was the first time that I would say that I felt like a real actor. I was in Alabama staying in a hotel where I didn't know anyone and it was nice. Just constantly working and it was great. It was nice even working 14 hour days and really just feeling like you're a part of something. It's nice to do that because on Walking Dead, I'm still at home. I still went to school, I still had my friends, and it was just like I was going to work. On INHERIT THE VIPER, I definitely was not treated like a kid. They worked me as many hours as they wanted, no schooling, none of that nonsense. It was very different for sure. It's just been very adult, and I like it. It's nice.

Kellerman:
It seems like it's been a pretty seamless transition for you too. You've also worked with all these incredible directors over the years, but I guess Anthony, this is his first feature I believe? How was it working with a first time feature director?

Riggs:
It was Anthony and [producer] Benito Mueller. Both of them were kind of tag team directing... I mean I don't think both of them are listed as directors, but it was great because they were completely on the same page and they were both super excited about the film and it was cool. It didn't feel like it was unprofessional or anything so I don't know, it was nice. I liked it a lot. It's always great working with new directors, whether they're first time directors or if they've been in it for a really long time, every director brings some sort of creative spark to the table that you don't think of. So it's great getting to work with new people for sure.

Kellerman: So what kind of roles are you looking for now that you are all grown up and out there, off The Walking Dead leash so to speak? INHERIT THE VIPER is pretty heavy subject matter too, so are you sticking with drama or are you kind of trying to branch out into a... Is a slapstick comedy coming up next? What's going on with your choices of roles these days?

Riggs: I've honestly been auditioning for kind of everything that comes my way from football jock to small, skinny kids that you meet, whatever. So I've been kind of really all over the place in terms of roles of going elsewhere, but it'd be great to land... I mean drama is so much fun even when theres this really heavy material. It's just fun to work with something to play around with when you're in it. I don't know. I mean maybe something like sci-fi, that would be cool. I mean the show that I've been working on, The Little Things, there's a bit of comedy here and there and it's so much fun, but I'm so bad at it because I break in every take because I just because I haven't dealt with comedy before. It's really hard to be professional, very jokey. So I'm working on that for sure, but it'd be nice to bridge into sci-fi or or comedy or something.

Kellerman:
So just personally in your down time, what kind of shows or films are you into lately? Or are you more into books? Are you into genre stuff since you were in that world for so long? Obviously are very well acquainted with the convention world and all that. What shows do you watch whenever you have down time?

Riggs:
I really liked a lot of the psychological thriller type films. My favorite show is "Mister Robot", but I also like superhero stuff. Another one of my favorite shows is "The Flash" so I'm kind of all over the place in that sense. So I try to keep up with all of the current things that they're constantly coming out with. There's so much content.

Kellerman:
So much.

Riggs:
I thought "You" on Netflix was a great example of something I really like. It's kind of the general consensus that everybody likes that show. But I don't know, I kind of just bounce around watching everything and at the moment I'm getting caught up on all of the classic, great films that have really shaped the film industry because I'm the most uncultured actor that you will ever talk to. It's just I haven't seen all of these classic film that everyone else watches in film school. I just haven't seen them. So I'm trying to go back and watch and kind of culture myself about references that other actors talk to me about films on set.

Kellerman:
Totally, good for you. I mean you're still young. You have a lot of time and even at my ripe old age, somebody will bring up a movie and I'm like, "I have actually never seen that," and it's just we can't watch it all. We just can't, but that's really cool that you're making that effort because it is important to understand those references, especially when you're in the business it's important to have that general education. Well I think our 15 minutes is up so I should let you go, but thank you so much for getting with me today and talking about the film. I'm really excited for everyone to see it and I can't wait to get the word out.

Riggs:
For sure, it's going to be great. Thank you.

Kellerman:
Thanks Chandler. Have a great day.
I hope you enjoyed our talk as much as I did. Despite spending a good portion of his childhood starring on one of the most popular TV series ever, Riggs really seems like a genuinely earnest and sincere young man who has remained amazingly unjaded. You can check out Riggs' first "grown up" roll today- Lionsgate released INHERIT THE VIPER in theaters, on demand and digital on January 10!
Rebecca Elliott
aka Annette Kellerman