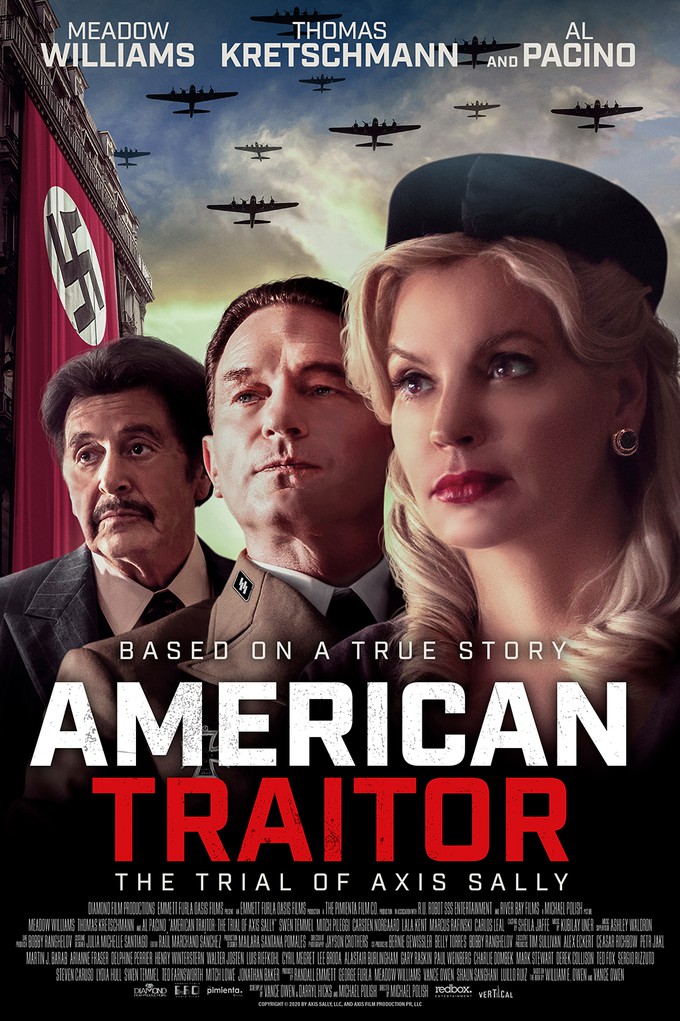 Hey folks, Harry here... I don't know about you, but I've enjoyed Michael Polish's films, THE ASTRONAUT FARMER & FORCE OF NATURE, so when I watched this trailer and saw his name come up as director... I took note, and so should you. AXIS SALLY in real life was Mildred Gillers, who broadcast really demoralizing radio broadcasts to get inside the heads of our troops at war against the Nazis. At the end of the war she was brought to trial and (spoilers) convicted of TREASON. I remember that much from High School History class. That said, that's all I know. So gosh, let's look at the trailer...
Looks interesting. If you had your eyes connected to your brain, you probably saw X-FILES' Skinner aka Mitch Pileggi in there. Of course you noticed Al Pacino! And the ship captain from Peter Jackson's KING KONG, Thomas Kretschmann was there. But I didn't particularly recognize Meadow Williams, who is playing the titular loathed lady.
The movie is not a streaming service title - instead it'll be hitting MOVIE THEATERS - which the CDC says is ok for those of us that have had our Vaccine shots, so long as we wear masks for the screening. Those of you without shots... you can see the film on VOD the same day though, which is in time for MEMORIAL DAY weekend on May 28th!