Hey, friends! Barbarella here to share a conversation I had with GREAT WHITE star Aaron Jakubenko. The Australian actor traversed back to the land down under for the project, which filmed in and around Brisbane. With better than average CGI sharks, GREAT WHITE opened yesterday in theaters, VOD and Digital and also stars Katrina Bowden, Kimie Tsukakoshi, Tim Kano, and Te Kohe TuhakaI. Watching the movie just makes me want to visit the gorgeous area. I'd consider watching it theatrically just to feel like I'm escaping into that paradise by experiencing it on a larger scale. I mean the waters are absolutely gorgeous! But for the characters in GREAT WHITE, this paradise turns into a nightmare when they become stranded miles from shore with apex predators lurking in the waters below.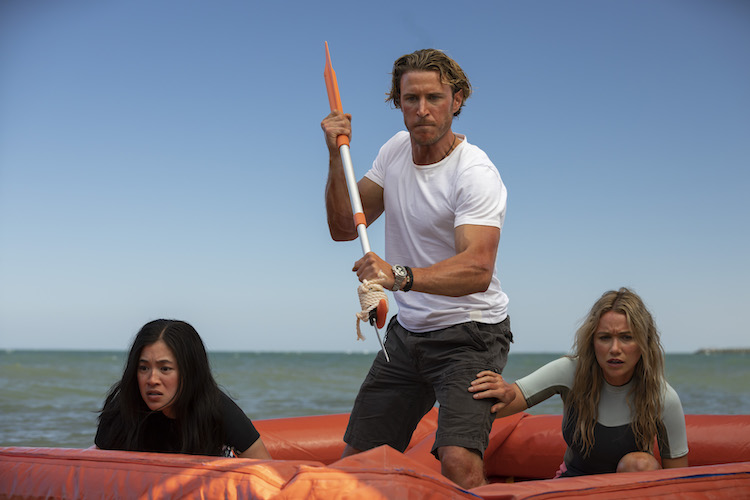 I caught up with Aaron while he was in London where his girlfriend was doing a television show. Because I l wanted to know exactly where to find those gorgeous waters, my first question for the actor was obviously to get that information.
Where exactly was GREAT WHITE filmed?
"It was filmed in Brisbane, along the Redlands coast and a couple of different locations. We had a local beach there. We had a shed with a tank. We had an aviation pool. We had a prawn farm that we filmed at, which was hilarious because there were jellyfish just floating by everywhere. It was quite funny, but my absolute favorite location I've ever filmed at was on Peel Island. That was a really beautiful island that was just so quiet and just gorgeous. It had crystal clear water, and that's the iconic beach that you see in that opening of the film."
Yeah, Australia is just so beautiful. I want to go there all the time. How much time was actually spent in the water or on the water?
"We were on the water in different locations most of the time. We were in the raft floating, just sort of bobbing about for 70% of the film, so that was an experience. In the water, not as much for me. I think our whole last week was in the water, but I was maybe above it sort of reaching in certain points or whatever. It was a mixture. Some waters were freezing. Some were nice and warm. Some would sting your eyes like crazy because it's chlorine, and you couldn't even see two feet in front of you. Others were just crystal-clear paradise. It was a really nice mix, and I actually did love working with the water. For me, the water felt like another character. When you're sitting out in the raft, and then watching it on screen, seeing that water just shimmering, that ocean just shimmering, that surface that you know is full of life, it felt like another character. It was a joy to work with."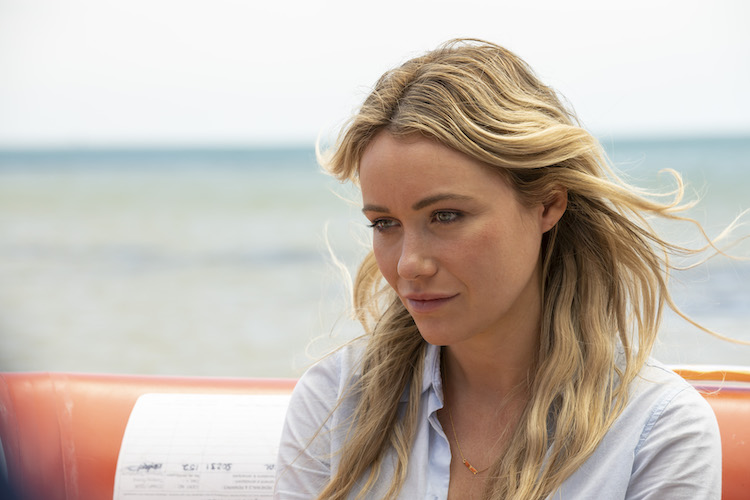 If you had to be stuck in a raft with one of the cast or crew members, with whom would you want to be stuck and why?
"Look, if I was stuck in a raft, I would probably trust Te Kohe with his survival skills, and he would also make me laugh all the time. So, I think that would be a perfect mix for survival. He'd keep me sane, and he would figure out all the water-saving devices and things like that because he's a legend with that stuff."
What do you admire most about each of your co-stars?
"Katrina...her willingness to jump in. She's so dedicated. She's really, really powerful like that, really hungry. She really wants to make the film as good as it could be. I think to have a lead like that is just a real gift. That was great.
"Te Kohe is just hilarious. He reminds me that it's beautiful to have balance. He would make me laugh so much, and he was just such a good guy.
"Timmy was just a sweetheart and a really, really good guy. So, it was interesting seeing him [as the character] bump heads with Charlie and Joji. It was really nice to be able to have someone that I trusted to do that. He was just a really giving guy.
"Kimie was just a charm. She was one of the sweetest people I've met, really dedicated to the film and a really hard worker. We did some swim training at the start, and she went from holding her breath for not too long to then beating us all. She was just an animal. She was amazing and a real trooper."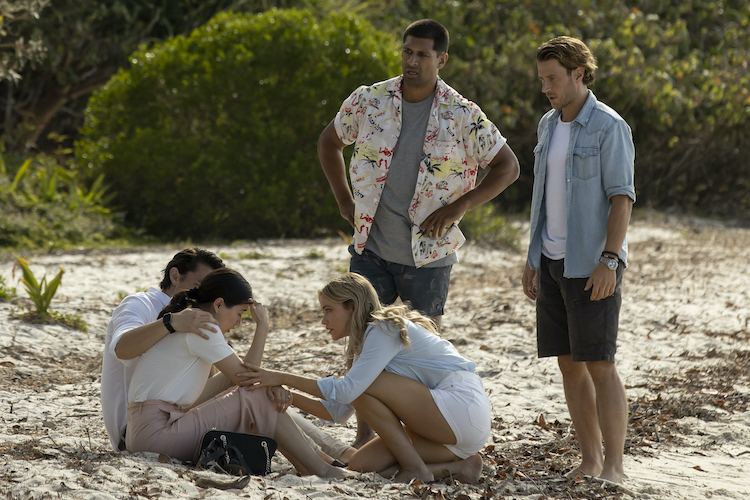 What was your opinion about great white sharks before you did this movie, and then did working on the film change that at all?
"I've always loved sharks. I think they're beautiful, intelligent creatures that often get sort of a bad rap. I was unsure at that start if [the film] would deter people from loving sharks. I was hoping that it didn't push people away too much, but at the same time, it was a fun film. I think it was a great experience.
"My love for sharks definitely deepened. I didn't understand how important their life is for our existence. They really hold the balance of the oceans in quite a big way. Being sort of where they are on the chain is pivotal to the health of the ocean, and therefore to our health as humans, as well. I didn't respect that enough, and I'm so grateful that this film and my longing to learn more about them brought that up. It's probably one of my favorite things that I've taken away from that, just my sheer love for them and the knowledge that I gained from it."
What was the most memorable day on set and why?
"The plane sank. For real. It's an old plane that wasn't a prop plane; it was a real plane, but it was hard to get it floating again and everything like that. These things are heavy.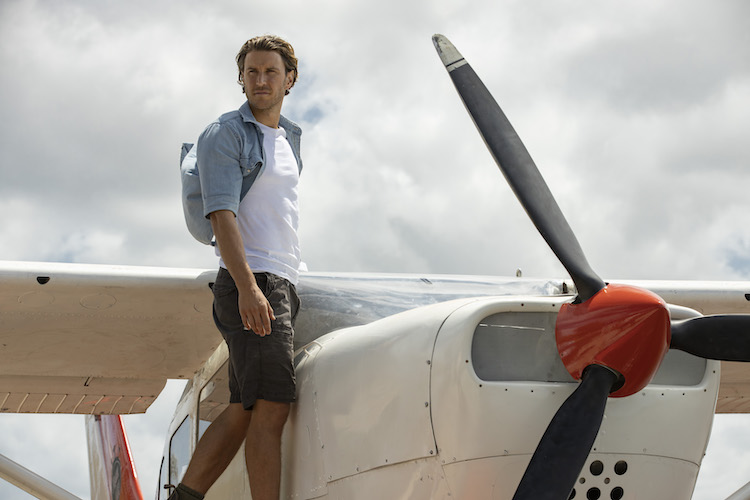 "We were constantly surrounded by safety teams because there is always a risk associated with [being on the water]. At one point we were all sitting on a plane, and it was really in the ocean. It wasn't that deep, so it wasn't that frightening, but it was crazy. It just started to sink. As soon as it started to sink, it was going and fast. It was actually sinking really quickly. By the time anyone noticed, we're all screaming; people are jumping off the thing. We're helping each other. The dive team and the actual safety team are helping us all jump off.
"It became this really hilarious moment that honestly I'll never forget. [It was a] pain in the ass for the shooting schedule, because that was first thing in the morning and we were about to shoot all day on it, so I think we basically lost a day. We had to quickly figure out something else to do. It was a bit of a nightmare for the schedule, but a hilarious memory to take away…and I will say I chose Te Kohe for the raft. He was the first person to jump off the plane. Maybe I should choose someone else."
Did your dog Elton get to visit you at all during the shoot?
"No, he didn't. He was in LA, or actually, he was in Rhode Island. He travels with us whenever we can bring him anywhere. He's a little rescue pup, so he has separation anxiety so any time we can keep him with us, we do. He's in London with us right now because my girlfriend's filming here for a year on a show. We feel fortunate that he's able to come with us, but he wasn't able to join me in Australia. Five weeks was just a bit too short for that."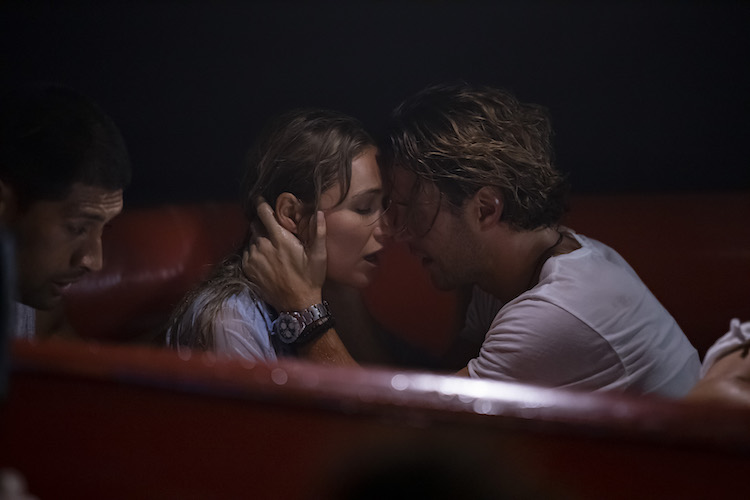 In GREAT WHITE, things go wrong on this vacation. Have you ever had anything go wrong while you're on vacation? And if so, what happened?
"This is not a fun story, but we were in Morocco and there was an accident with a moped, two people on it. Everyone survived, but there was a lot of blood, and I had a first aid kit. My girlfriend's really quick thinking and said, "Go get the first aid kit." I ran back to the car, and I grabbed the first aid kit, but because I did that, they all thought I was a doctor. That immediately became way too much pressure for me to take on. We wrapped him up and there was a pretty serious head injury, so we drove them straight to the hospital and let the experts take care of that, but I tell you what, being in that moment just really made me respect our first responders so much more than I had. It's quite serious stuff."
What was your best vacation and what made it so great?
"I love traveling – big, overseas trips, but also just walking out into your backyard, not like your direct backyard, as fun as that could be, but going into your local native forest, if you're fortunate enough to have them nearby, is one of my favorite things to do. I love camping. I love hiking. I love all of that. We're big back-country campers. My girlfriend did a show in Rhode Island. We live in LA so I got to do two cross-country road trips, and that was amazing."
"The second one we got to take a few weeks. We just took in every different national park and area that we could, and I'll never forget kayaking in Paige, Arizona at Lower Antelope Canyon as the sun went down, and then we're pitching a tent and there's no one around. It was really magical."
What would be your dream location to film?
"To be honest, Peel Island was stunning. It is hard to top that. It was a pristine beach along the Redlands coast. That was really amazing.
"I was in SPARTACUS. and then I did the show ROMAN EMPIRE, so I really formed quite a strong connection to Ancient Rome. I had someone reach out to me with some ancient Roman coins, and that got me really excited. Having a coin from 2,000 years ago with Commodus' face on it was wild because he was a character I played. For me, I've still yet to go to Rome, Italy, so that would be the dream, for sure."
What is your biggest irrational fear?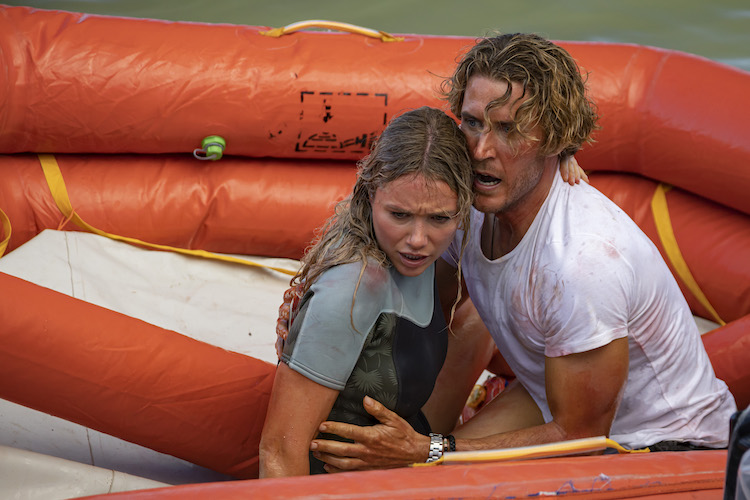 "I'm not scared of much in life. My girlfriend laughs at me, because I actually love jumping out of planes. I'd swim with sharks. I'd do it all. Spiders...I grew up in Australia. I had a Brown Snake in my bedroom once in Australia. I woke up, and I've got this snake that would kill you in five or ten minutes sitting at the foot of my bed. You know? That stuff doesn't bother me. Give me a needle, and I hate it. I don't know what it is. I'm actually really scared of needles. I hate them."
What eventually got you interested in acting?
"I never thought I'd be an actor. I love building and construction. I still do. I'm planning a renovation for a house at the moment. It's one of my favorite things I've ever done. I really love the building trade, but I fractured my back. So I thought, "You know what? I got to take a break from this."
"I loved films. I grew up loving films, so I thought, "You know what? That'd be a great way to make some money doing some background, extra work. Walk behind Nicholas Cage and get paid for it. That sounds awesome." That was one of the first jobs in the industry that I did, but then I started to fall in love with it. I started to see behind the scenes. It probably was a big passion of mine that I didn't realize at the time, but it kind of slowly grew.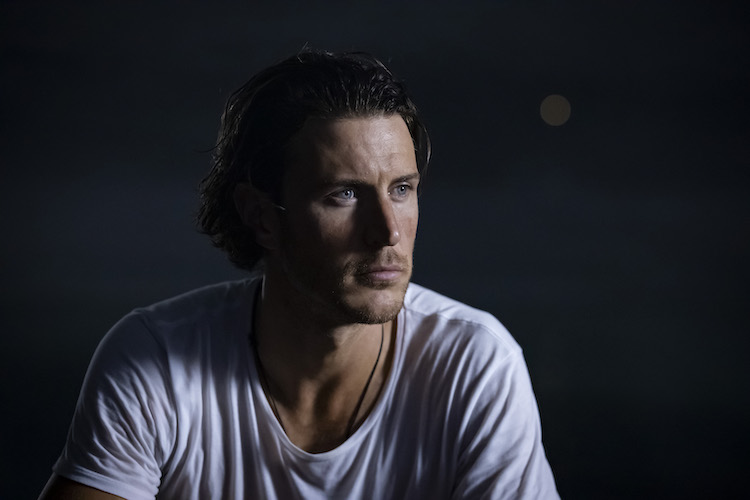 "Mel Gibson has a scene in THE PATRIOT, just after his son in that dies. I'll never forget that moment, just seeing this actor, who's really fantastic in his craft, tell a story in such a closeup. I was like, "Wow, that's incredible. I want to learn how to do that. I love that. I love that he moved me." I loved the storytellers, directors, make-up, everyone. They moved me in this moment. I believed that he was losing his son, and ever since then, I couldn't put the books down. I went to classes. I got so passionate about it, and I fell in love with the art of acting."
If you're interested in seeing Aaron Jakubenko living out his acting dream in GREAT WHITE it's out now in theaters and On Demand and Digital. Check out the trailer.