Howdy, y'all!
McEric here with some news and a brief review of the new film A CLEAR SHOT, starring Mario Van Peebles, released this past Tuesday on DVD, Blu-Ray, and Digital. The film, written and directed by Nick Leisure, is inspired by the true story of the largest hostage siege negotiation ever attempted in the United States. Check out the trailer:
Mario Van Peebles (NEW JACK CITY, SOLO) shines in his role as Sacramento PD Negotiator Rick Gomez, and holds the screen with gravitas and grace. His character is one of deep flaws and unflappable integrity. He's made mistakes in his past but strives to be better, and as this hostage situation plays out, he finds that notion tested by both the assailants and the other officers on the scene.
As a writer and director, Nick Leisure shows great promise with this film. The script is solid (depsite a few holes and a severely misplaced flirtatious subplot) and the film is well-photographed, edited, and scored. I'm interested to see more of his work in the future. Having no previous exposure to the real-life Good Guys Electronics Store hold-up in 1991, I viewed this film not knowing what the outcome of the situation would be. I can't be sure if that is to its (or my) detriment or not, but it kept me tuned in to the end to find out.
The best performances in the film come from the lead "antagonists." Four Vietnamese brothers who quickly find themselves in over their heads when their plan for some quick cash turns into a hostage negotiation. Tony Dew, Kevin Bach, Hao Do, and Dang Tran all play their roles perfectly, and add a level of sympathy to the young men who perpetuated this horrible act. We are treated to their journey towards that fateful day with a few flashback sequences that show the poverty and oppression that drove them towards criminal opportunity and ultimately made monsters of them.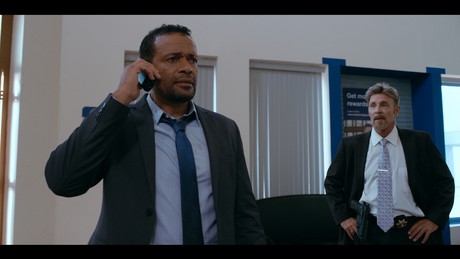 All in all, I found the film to have surprising little tension for what turned out to be such a lasting incident. The first two-thirds of the movie drug on and failed to capture any immediacy or elicit any stakes in the viewer. Again, I didn't know how it would end; I might've been more invested if I had. A great deal of the acting is sub-par, much of the action and effects are shown-off screen to minimize the budget, and, in my opinon, there was a missed opportunity in creating sympathy and connection with the hostages that contributed to the lack of stakes. Important moments, like the aftermath of store employee Shawn, played by Mandela Van Peebles (JIGSAW), being released by the gunmen after shooting him in the leg, are absent, while several small moments that didn't offer much in terms of character or tension-building were included. The film clocks in under 90 minutes yet still seems to run long, and the action sequences are few and mostly don't pay off. The ending is a gut-punch, but anyone with prior knowledge of the historical event will be ready to take that punch.
That said, I do see potential in Nick Leisure as a director, and it was great to see Mario on screen again. If you're an appreciator of "Based on a True Story" pics or the hostage negotiation scene, you'd do well to enjoy A CLEAR SHOT.
A CLEAR SHOT is available now on DVD, Blu-Ray, and Digital.
Until next time, stay safe and stay sane.
-McEric, aka Eric McClanahan-