Howdy do, everyone, Papa Vinyard here.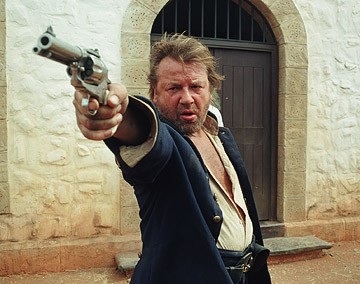 Pierre Morel's THE GUNMAN is shaping up quite nicely. After news that Javier Bardem and Idris Elba were joining Sean Penn on the upcoming action-thriller, now Deadline has word that Ray Winstone has signed on as well. He will be playing the mentor to Sean Penn's assassin, who must help him out when the disgraced former spook gets into hot water overseas.
Winstone is a super-reliable British actor, who's thrown down his tough-guy mettle in movies like SEXY BEAST, 44 INCH CHEST, THE PROPOSITION, and THE DEPARTED. Morel has lined up this cast with some talented, transnational badasses, and every bit of casting news I hear about this film just revs me up more and more. The idea of Penn and Winstone throwing down against Bardem and Elba is already a great action movie setup. Let's just hope the final product is more TAKEN than FROM PARIS WITH LOVE.
-Vincent Zahedi
"Papa Vinyard"
vincentzahedi@gmail.com
Follow Me On Twitter