Howdy do, everyone, Papa Vinyard here.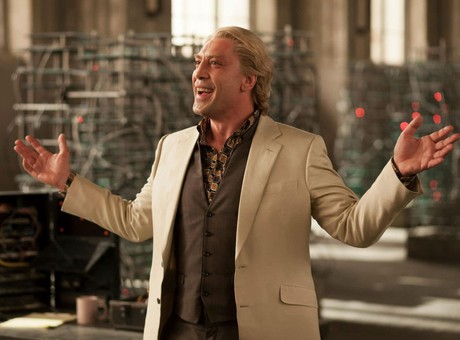 Javier Bardem almost got himself a Best Supporting Actor nom for his super-memorable Bond villain in SKYFALL, elevating his already not-insignificant star-status to an all-time high. Now, Deadline reports that he has locked down two upcoming roles that seem right in his comfort zone of playing enigmatic, intense figures. The first is in the new J.C. Chandor (MARGIN CALL, ALL IS LOST) film, A MOST VIOLENT YEAR, which has gotten some residual buzz after ALL IS LOST had a strong opening at Cannes. Secondly is Pierre Morel's THE GUNMAN, which will pitt him against Sean Penn's lead as a shady businessman.
I'm not the world's biggest Bardem fan, but I dig him in pulpy stuff which Morel's film, given his repertoire and that title, could certainly be. I thought MARGIN CALL was a great showcase for its acting talent, and I've heard ALL IS LOST makes the one-man-show for Robert Redford absolutely riveting, so it'll be interesting to see what Chandor does with Bardem. It's just nice to see the actor getting more mainstream parts, despite the language barrier and his own personal tendencies toward the obscure and the bizarre.
-Vincent Zahedi
"Papa Vinyard"
vincentzahedi@gmail.com
Follow Me On Twitter