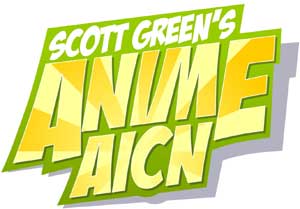 Logo handmade by
Bannister
Column by
Scott Green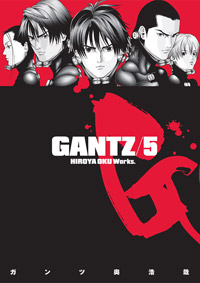 Manga Spotlight: Gantz Volume 5 by Hiroya Oku Released by Dark Horse Manga
There are mature manga that address subjects in a thoughtful, adult manner. Then, there is "mature" manga that is defined by "oh shit! Don't want the kiddies to see that" moments. As Gantz has developed, the latter seems to be dominating, with nastiest dog in the fight vigor, but the manga still manages an interesting cocktail of a bit of column A and a bit of column B. On one hand, Gantz scores points for its acerbic view of humanity. Its lead is a hormonally driven teen who think he's a bright beacon trapped in a dull world. Kei Kurono is given the opportunity to prove that he's actually special when he's plucked from death by ongoing express train, equipped with a skin-tight black suit that allows him to leap the length of a football field, crush bones with grip strength, and survive steam rolling attacks from creatures with monstrous physiques. Given some Halo-esque guns, he and a group of similarly resurrected folks are turned out into Japan's streets to hunt down "aliens." In theory, this should be a wish fulfillment scenario. More so when chesty peer/fellow resurrectee Kei Kishimoto opts to shack up with him when she finds she can't go home. So Kei Kurono has the opportunity to get the girl, get the glory and prove that he is in fact the wolf in the world of sheep. Except, in actuality, the super powered bug hunt doesn't prove to be honorable, pretty or satisfying. Gantz's situation proves to be a brutal one, in which the participants get chewed up and often look stupid doing it. This is no "with great powers comes great responsibility." In this case, it's more like "with a skin-tight black suit comes accusations that you're a geeky deviant." Anyone who sees the weapons derisively scoffs at them as "toys." Yet, that embarrassment is the reward for surviving encounters with foes such as birdmen whose brain melting screech will have your organs running out your ears. Though Gantz opens with a corporeal resurrection, the manga makes it explicitly clear that the consequence of screwing up is more along the lines of spending a few, final moments bleeding out the eyes than merely a set back. Like Battle Royale, Kurono and company are locked into a kill or be killed situation marked by a disquieting specter of savage violence. Like a genie's wish that turns against its caster, this grotesque serves to underscore how nightmarish this particular exercise in dream realization has turned. However, beyond the acute external threats, Hiroya Oku has a sharp pen when it comes to depicting personal failings and missteps. The volume opens with Kurono in dire straights after outsmarting himself leading into the latest alien hunt. Beyond showcasing the character exacerbating his mortal peril, the manga also showcases how he is miserable in his dealings with the opposite sex. A sign of bad gender politics in fiction is when the protagonist becomes entitled to gratification because of his heroism. Though he has yet to demonstrate it in virtue or effectiveness, Kurono thinks of himself as the hero. With this attitude in play, he curdles his relationship with Kishimoto, which in turn makes him dejected in the face of survival/victory. This quality makes him look like a complete heel, especially he as surveys young women with the expectation of finding a replacement hook-up. Kurono is far from alone in looking like a not entirely undeserving victim of his circumstances. Characters aren't simply thick, in service of moving the plot along. As in reality, the subjects of Gantz are guilty of not thinking through their actions. Except, in this manga, the consequence of lack of forethought often arrives with grisly fatality. There's a flip side to the hell that Kurono goes through. Even if he is suffering rather than enjoying the thrill of sex and excitement, Gantz exalts those qualities. The bloody bits are staged to prompt gape jawed reactions. And, while Kurono is being denied, the manga itself does everything it can to give the reader something to ogle. The book's back cover features a bosomy, open shirt shot of Kishimoto with her hands raised and fingers pointed like pistols, which is a hallmark of Hiroya Oku's love affair with drawing attractive young women half dressed in the black alien-hunting suit. One particular chapter illustration features a blonde pin-up-esque woman who doesn't seem to be an actual character in the manga, naked except for shoes and gloves. Beyond the Maxim-bit, the manga does seem to be inching towards outright wish-fulfillment fantasy. In particular, the volume ends with the introduction of a very Laura Croft-esque woman (long, hair tied in a plait, short athletic shorts, and of course, protruding chest) who suggests interest in Kurono soon after meeting him. Reconciling enjoyment of a gratuitous exploitation story with a distaste for egregious gender politics and the like can be difficult. An operating assumption of an audience composed of cretins really bothers me. It also strikes me as bad form to trade in something vulgar, and try to offset the stigma by condemning the ugly bits. For example, works that unironically use action as an appealing attribute while railing against violence. Gantz manages to avoid these pit falls. Gantz is ideal manga for fans of Japan's splattery live action fair like Machine Girl and Ichi the Killer. It takes manga's capability for sci-fi spectacle, places it in a concrete, real world context and vigorously paints the whole thing red with gore. While it's not exactly evaluated by meaningfulness, Gantz does at least have something firing in its gray matter. In reflecting Kurono's perspective, intelligent but base, aggravated and some times desperate, the spirit of Gantz blazes a path that is both aggressively distasteful and engaging.
From Anime Expo
Anime Expo 2009, North America's largest anime convention has now come and gone. Anime News Network's coverage About.com:manga 7 Reasons Why OEL Manga Falters in the U.S. Thursday Friday Saturday Sunday CMX News photo gallery ZenOtaku summarizes the news Kuriousity's manga news summary Liz Ohanesian from LA Weekly on the event Anime Expo 2009: Taking in the Otaku Trends Soul of the Samurai: Afro Samurai Creator Takashi Okazaki Shares the Tunes Behind His Characters Rockers & Idols: Japanese Magazine Cure's Anime Expo Afterparty Central Park Media's goodbye Japator at Anime Expo Anime Vice at Anime Expo Analysis Robert of Robert's Anime Corner Store wonders why the American industry largely sat out the event. As a result, we only got a tiny handful of new announcements, and while this is being explained away in some circles that the old model of 'giving up your best goods at the big show' is dead, one has to wonder. I mean, Expo is the largest and most covered convention in the US with the largest single concentration of Anime fans in one place outside of Japan - if you can't leverage the exposure for your best stuff there, then when? Where is your commitment to Anime fans. Where is the commitment to Anime retailers out here on the front lines sweating out the recession without much new material to offer our customers? Where's the beef man?! Opinion Prone picks up the OEL conversation Photos, ect FUNimation at Anime Expo Moogles at Anime Expo 2009 baby Chun-Li cosplay G4 Cosplay on Anime Vice Anime Madness: Cosplay Characters at Anime Expo '09 An impressive collection of event swag
Upcoming in North America
Madhouse's Masao Maruyama will be offering a preview of the Marvel Anime at San Diego Comic-Con. The studio behind anime like Ninja Scroll and Black Lagoon will be producing series featuring Marvel characters such as Iron Man and Wolverine,

*

A trailer for the Imagi produced CG Gatchaman, shown at Anime Expo

*

At Anime Expo, Production I.G confirmed that they will be involved with shows from Kite's Yasuyoi Umetsu and Ergo Proxy's Murase Shukou in an animated omnibus tied to EA's Dante's Inferno game.

*

AniPlex has been promoting Kannagi in North America. No one has licensed it. Anime News Network features mystery ads. Nebs Blog puts two and two together. The Yutaka Yamamoto (The Melancholy of Haruhi Suzumiya) directed Kannagi: Crazy Shrine Maidens follows a boy who sculpts a girl out sacred wood, it comes to live as a goddess of purity.

*

According to Anime News Network idol singer Shoko Nakagawa, aka Shokotan, there is an American project to adapt her character Sukashi Kashipan Man into live action. The character is described as a showcase of her interest in (sukashikashipan) and sweet buns (kashi pan. 4Kids 4Kids has posted "Sonic X Subtitled - Enter the Supersonic Hero Preview" - "This is a work-in-progress clip from an episode of Japanese language subtitled Sonic X. 4Kids TV wants to do more..." ADV Best Buy will be carrying the following exclusive packages via Anime on DVD 07/07/09 Gantz Season 1 & 2 07/14/09 Blue Seed Complete Collection 07/14/09 Cromartie High School Complete Collection 07/21/09 Godannar Complete Collection Samurai Gun Complete Collection 07/28/09 Maburaho Complete Collection CMX Newly licensed manga October Oh! My Brother - Ken Saito November Deka Kyoshi - Tamio Baba Lizard Prince- Asuka Izumi January The World I Create - Ayami Kazama Stolen Hearts - Miku Sakamoto February Rampage - Yunosuke Yoshinaga March My Darling! Miss Bancho April Diamond Girl May Polyphonica: Cardinal Crimson (light novel) - Ichiro Sakaki and Tomo Hirokawa June Nadeshiko Club - Miku Sakamoto Bandai Entertainment Bandai Entertainment Inc. announced that it will release the Escaflowne movie Blu-ray on September 15th. Originally released in 2002 from studio BONES, the movie was directed by Kazuki Akane, features the music of Yoko Kanno (Cowboy Bebop) and is based on the successful television series The Vision of Escaflowne created by Shoji Kawamori (Macross). The story centers on Hitomi Kanzaki, who is tired of life. Depressed and despondent, she wishes that she could just fade away, to make the pain of living stop hurting. Her pain resonates with another on the world of Gaia, and when her wish is granted, she finds herself in a strange land. She is greeted as the legendary Wing Goddess, with the power to summon the legendary Escaflowne. Hitomi's fate is intertwined with the brash young warrior king Van, who also feels that life has lost its meaning. By summoning Escaflowne, the Wing Goddess will choose a path for Gaia's future. But will it be salvation…or destruction? Specs include Dolby TrueHD 5.1 Japanese and English audio, English subtitles, cast and staff interviews. SRP $39.98 Via Anime on DVD 08/18/2009 Code Geass R2 Part 1 LE Code Geass R2 Part 1 True Tears [Anime Legends] 9/1 Escaflowne: The Movie (Blu-ray) FREEDOM Part 2 Ghost Slayers Ayashi Part 3 Ghost Slayers Ayashi Part 3 Hayate the Combat Butler Part 2 9/16 Mobile Suit Gundam OO Season 1 Part 2 Mobile Suit Gundam OO Season 1 Part 2 SE Dark Horse

BERSERK VOLUME 32 Kentaro Miura (W/A) On sale Nov 25 b&w, 232 pages $14.95 TPB, 5 1/8? x 7 1/4?

BLADE OF THE IMMORTAL: LEGEND OF THE SWORD DEMON Junichi Ohsako (W) and Hiroaki Samura (A) On sale Nov 18 b&w, 224 pages $10.95 Novel, 5 1/8? x 7 1/4? Rendered immortal by an infusion of mystical worms that can repair any wound, the masterless samurai Manji wanders the hillsides of feudal Japan, his quest to slay one thousand evil people to atone for his past sins. By his side is the young woman Rin, an orphan who seeks vengeance for the murders of her parents. Driven in a quest for absolution, the two have faced many deadly challenges, both natural and supernatural. But can they survive their greatest battle, against the all-powerful Inugami? The first novel based

GANTZ VOLUME 8 Hiroya Oku (W/A) On sale Nov 25 b&w, 224 pages $12.95 TPB, 5 1/8? x 7 1/4?

USAGI YOJIMBO #123 Stan Sakai (W/A) On sale Sept 23 b&w, 24 pages $3.50 Ongoing "The Death of Lord Hikiji"! Before wandering the country as a masterless samurai, Usagi served Lord Mifune. But Mifune was killed in battle against the forces of the Dark Lord, Hikiji, leaving Usagi a ronin. Years later, Usagi meets some old comrades from his days as Mifune's retainer. The bereaved warriors have long been trying to avenge their lord by killing Hikiji, but over the years their numbers have dwindled. Now they have the perfect opportunity, and Usagi is pivotal to their plans. This issue features the return of a key character

USAGI YOJIMBO: YOKAI Stan Sakai (W/A) On sale Nov 18 FC, 64 pages $14.95 HC, 6? x 9? Yokai are the monsters, demons, and spirits of Japanese folklore, such as the shape-changing kitsune, the obakeneko demon cats, and the evil oni ogres. Usagi faces all these and more when a desperate woman begs for his help in finding her kidnapped husband. Tracing the abducted man to an old castle, Usagi finds the ruins haunted by creatures of Japanese legend and discovers that they are amassing for a great raid on the countryside! Fortunately, Usagi is joined by Sasuke the Demon Queller, who is also fighting to prevent the invasion, but things aren't always as they seem, especially when dealing with the supernatural! First ever, full color, original story FUNimation FUNimation announced that they have acquired the license for Production I.G's adaptation of Capcom's Warring States game Sengoku Basara.

*

FUNimation Entertainment announced that it has remastered and digitally restored the entire Dragon Ball anime series, including the first thirteen episodes original to the series, sheduled to be released September 15th,for $49.98. The Dragon Ball series is composed of 153 half-hour episodes which aired in Japan from 1986 -1989. It follows Akira Toriyama's adaptation of the Journey to the West epic, along with just about any other wacky idea Toriyama could weave in. The first Dragon Ball Season Set includes 31 episodes on 5 DVDs with more than 745 minutes of uncut action. The Season Set releases will feature an aspect ratio of 4:3, English and Japanese language options, and the original Japanese musical score in 5.1 Surround.

*

FUNimation announced the dub cast for fantasy action/comedy Slayers Revolution, due on DVD in 2010 Lina - Lisa Ortiz Amelia - Veronica Taylor Eric Stuart - Gourry Zelgadis - Crispin Freeman Xellos - Michael Sinterniklaas

*

Burst Angel will be released on Blu-ray September 29. The three-disc set will include all 24 episodes of the series plus the "Infinity" OVA for $79.98 Kino The Astonishing Work of Tezuka Osamu will be released July 28, 2009 for $29.95 The DVD features 1. Tales of the Street Corner / 1962 / 16:9 / 39:04 / English Subtitles 2. Male / 1962 / 4:3 / 03:09 / English Subtitles 3. Memory / 1964 / 4:3 / 05:40 / English Subtitles 4. Mermaid / 1964 / 4:3 / 08:17 / No Dialog 5. The Drop / 1965 / 4:3 / 04:18 / No Dialog 6. Pictures at an Exhibition / 1966 / 16:9 / 32:56 / No dialog 7. The Genesis / 1968 / 4:3 / 04:02 / English Subtitles / B&W 8. Jumping / 1984 / 4:3 / 06:22 / No Dialog 9. Broken Down Film / 1985 / 4:3 / 05:42 / No Dialog / B&W 10. Push / 1987 / 4:3 / 04:16 / English Subtitles 11. Muramasa / 1987 / 16:9 / 08:42 / No Dialog 12. Legend of the Forest / 1987 / 16:9 / 29:25 / No Dialog 13. Self Portrait / 1988 / 0.13 / No Dialog Also includes: Interview with Tezuka / 1986 / 4:3 / 18:19 / English Subtitles Known as the god of manga and the father of anime, Tezuka Osamu (1928 1989) has created hundreds of comics, dozens of films, and even some television series (including such internationally beloved shows as ASTRO BOY and KIMBA THE WHITE LION.) His pioneering, unparalleled career is without rival for its extraordinary range of visual styles. Included in this set are some of Osamu s most legendary works, including Pictures at an Exhibition and Legend of the Forest. The former combines 10 individual short vignettes to create stunning visual riffs on classic fine art. But the 30-minute Legend of the Forest is the animator s masterpiece. An epic of forest faeries, sprites, wizards, and animals defending themselves against greedy industrialists bent on destroying nature, the film stylistically traces the evolution of animation from 19th-century etchings, to Disney and Fleischer cartoons, to contemporary anime. The animation in Legend of the Forest is as ravishing and inventive as anything seen in Disney s Fantasia. Kimstim and Kino are proud to release this astonishingly imaginative collection of Osamu s 13 most innovative pieces, many of which are the master s own personal favorites. For more, see Kino's YouTube channel Media Blasters Media Blasters has updated their schedule 7/7/2009 Twelve Kingdoms Complete Volumes 1-10, Eps. 1-45 7/21/2009 Voltron Vol. 8 Strawberry Panic LiteBox 7/28/2009 Voltron Fleet of Doom (The Movie) Ichi The Killer SE with comprehensive trailer Disc 8/4/2009 Samurai Deeper Kyo LiteBox (Includes Alteil Redemption Code) Moribito Vol. 5 Machine Girl 1.5 8/11/2009 Grenadier LiteBox Grenadier Complete LiteBox (Limited Edition) Lone Wolf and Cub Collection 1 8/18/2009 Ah My Buddha vol.4 Versus + 8/25/2009 Genshiken 2 Vol 1 Onechanbara - Bikini Samurai Squad (Live Action) Based on the game. (Includes Alteil Redemption Code) 9/1/2009 Ah My Goddess Complete LiteBox (Volumes 1-6, Eps. 1-26) 9/8/2009 Lady Ninja Kaede Volume 2 9/15/2009 Visitor Q + 9/22/2009 Knight Hunters Complete LiteBox (Knight Hunters vols. 1-5, Eps 1-25, and Knight Hunters Eternity vols. 1-3, Eps. 1-13) 9/29/2009 Green Green LiteBox Huntik Vols. 1 of 4 9/29/2009 Blade of the Immortal Miramax Takeshi Kitano's Zatoichi will be released on Blu-ray September 15th Media Blasters Rumor has it Media Blasters had licensed the anime series Sayonara Zetsubou-Sensei and Moyashimon, the manga versions of which are released in North America by Del Rey Sayonara Zetsubou-Sensei is a literate comedy about a suicidal teacher and his deranged class Moyashimon is a entertaining, scientific look at the work of bacteria Supposedly both will be dubbed in English. Sony If you've been waiting for the 1998 Roland Emmerich to be released on Blu-ray, good news, it's due to be released on November 3rd. Bonus features include All-Time Best Of Godzilla Fight Scenes, "Heroes" Music Video by The Wallflowers, Behind the Scenes of Godzilla with Charles Caiman, and Visual Effects Commentary. Exclusive to the Blu-ray will be Sony's new MovieIQ feature and The Ultimate Godzilla Trivia Game Tokyopop Kuriousity notes Amazon lists of Kokaku Detective Story (Vol. 01) Yoshitsugu Katagiri to be released April 6, 2010 Happy Cafe (Vol. 01) Kou Matsuzuki To be released January 5, 2010 Hanako and the Teller of Allegory (Vol. 01) Sakae Esuno to be released March 2, 2010. February 2, 2010 .hack//CELL (Vol. 01) Ryo Suzukaze & Akira Mutsuki to be released March 2, 2010 Deadman Wonderland (Vol. 01) by Jinsei Kataoka & Kazuma Kondou

Comics Worth Reading on what to expect from Tokyopop, including CSI Interns books and less Korean Manhwa Vivendi Entertainment Serdar notes Danish animated abuse/revenge movie Princess will be released on North American DVD September 29, 2009

The 32-year-old clergyman August returns home from years of missionary work after hearing about the death of his sister Christina, who after going from greatness to the gutter as the famous porn star The Princess - has finally died of drug abuse. She has left her five year-old daughter Mia, with a prostitute. August visits the brothel to bring Mia home with him and becomes her guardian. Burdened by sorrow, guilt and unspeakable rage August goes on a rampage to avenge his sister s death and brings her small daughter with him. The mission escalates into a brutal and violent rout as August attempts desperately to protect the only thing he holds dear namely Mia forcing him to make a fateful decision VIZ Media At Anime Expo, Viz announced that they have licensed Blame! creator Tsutomi Nihei's cyber-thriller Biomega

*

VIZ Media, LLC has announced the launch of a brand new imprint, SHONEN SUNDAY. Featuring the works of some of the top shonen manga creators in the world today, the Shonen Sunday magazine in Japan provides the content for this imprint. The magazine recently celebrated its 50th anniversary since its first issue arrived on newsstands in March of 1959. (Over the year, its manga have included classics like Mitsuteru Yokoyama's Giant Robo, Osamu Tezuka's Dororo, Shotaro Ishinomori's Cyborg 009, lots of Rumiko Takahashi and Mitsuru Adachi) The first series to launch from the first volume under this new imprint will be RIN-NE by Rumiko Takahashi, the first manga novel ever to be published simultaneously in Japan and North America, which will arrive on store shelves on October 20, 2009. Chapters of RIN-NE have been serialized online for free at www.TheRumicWorld.com on the same weekly schedule as it appeared in Japan's Shonen Sunday magazine since May of this year. The Rumic World web site is the official North American destination for all Rumiko Takahashi-related news. VIZ Media will be announcing new Shonen Sunday series for 2010 at its Manga and Anime panel at the 2009 San Diego Comic-Con International on Friday, July 24th from 3:00-4:30 in Room 32AB. Other VIZ Media series that will move under the Shonen Sunday banner include INUYASHA, KEKKAISHI, CASE CLOSED, HAYATE THE COMBAT BUTLER, and YAKITATE!! JAPAN. Going forward, DVD products from the select series will also feature the Shonen Sunday imprint. The imprint's web site will be updated regularly with exclusive content such as previews, trailers, news, and interviews and will go live on July 22, 2009. RIN-NE by Rumiko Takahashi • VOL. 1 • October 20, 2009 • Rated T+ (For Older Teens) • $9.99 US/$12.99 CAN As a child Sakura Mamiya mysteriously disappeared in the woods behind her grandma's home. She returned whole and healthy, but since then she has had the power to see ghosts. Now a teenager, she just wishes the ghosts would leave her alone! At school, the desk next to Sakura's has been empty since the start of the school year, then one day her always-absent classmate shows up, and he's far more than what he seems!

*

VIZ Media announced a significantly increased publication schedule for pirate adventure manga ONE PIECE. Beginning in January 2010 and continuing through June 2010, five new ONE PIECE manga volumes will be published each month, for a total of 30 new volumes. The new schedule will launch with volumes 24-28. To further complement these releases, VIZ Media has launched a brand new, dedicated ONE PIECE web site at OnePiece.VIZ.com that will be updated regularly with plot and character information, and will also provide special free manga chapters.

Warner Home Video Peanuts Holiday Collection has been repriced to $39.99. It's the Great Pumpkin Charlie Brown, A Charlie Brown Thanksgiving and A Charlie Brown Christmas have been repriced to $19.97 each I Want a Dog for Christmas, Charlie Brown will be released October 6th for $19.98 Saturday Morning Cartoons: 1960's Volume 2 and Saturday Morning Cartoons: 1970's Volume 2 will be released on October 2nd. The 2disc set retail for $26.99 each

Superman Batman: Public Enemies will be released on September 29th The single DVD version retails for $19.98, the two disc special edition sells for $24.98 and the Blu-ray sells for $29.99
Upcoming in Japan
Images Of The Delayed Ponyo 9-Disc Box Set Yen Yana Toboso's manga Kuroshitsuji, about an demonic butler living in England, will run in the Yen Plus anthology as "Black Butler"
Upcoming in Japan
Previews Trigun: The Movie (from Anime Expo) Cencoroll Darker Than Black 2 To - a Fumihiko Sori (Vexille) adaptation of Yukinobu Hoshino's sci-fi manga 2001 Nights Electro-magnetic Girlfriend ~Happiness Game~ Macross Frontier The Movie Teaser Poster and Trailer

Yona Yona Penguin The Rintaro, Madhouse CG kids' movie Sora to Otoshimono Tatakau Shisho ~ The Book of Bantorra Kuchu Buranko Anime According to ANN, Production I.G responded to questions about the possibility of more Ghost in the Shell: Stand Alone Complex anime saying they expect the project to happen, but that the director is currently tied up in other projects.

*

Yoshiyuki Tomino will be helming a Ring of Gundam short, produced for the franchise's 30th anniversary

*

Reader GodMars DX notes that August Newtype is reporting that 60% of the animation in the Macross F will be new. Along with this comes new music, new costumes, and new super parts for the VF-25's.

*

As part of this year's Jump Super Anime Tour an anime adaptation of strange eating comedy Toriko will be joined by One Piece: The Movie footage and shorts of Naruto, Katekyo Hitman Reborn!, Yu-Gi-Oh! 10th Special, and Tegami Bachi.

*

Durarara!! - light noveled based on Baccano author Ryougo Narita is being adapted into anime by the people responsible for Baccano's anime

*

Tajomaru, the live action adaptation of Rashamon source "In the Grove," is in turn being adapted into anime and manga with Ippei Gyoubu helming the project

*

Monthly Comic Flapper confirmed Nozomu Tamaki's Dance In The Vampire Bund will be adapted into anime

*

Yunosuke Yoshinaga's Broken Blade, the manga of which is being released by CMX, will be adapted into anime

*

The upcoming third season of conservatory relationship dramady Nodame Cantabile will be called Nodame Cantabile Finale - the original manga is being released in North America by Del Rey

*

The Shakugan no Shana OVA will be called Shakugan no Shana S Manga Hideo Yamamoto's (Ichi the Killer) Homunculus will return to Weekly Big Comic Spirits in the next issue after a hiatus that's lasted since 2008. For a bit of perspective, the story of homeless young man who agrees to undergo trepanation is probably the only manga to have made me feel physically ill Via ANN Monthly Shonen Gangan that it will carry a Tamon Ota illustrated manga version of Heroman, the upcoming anime from Stan Lee and the BONES Live Action Nao Matsushita will portray the wife of yokai manga luminary Shigeru Mizuki in "GeGeGe no Nyobo." Titled "GeGeGe no Nyobo (Spooky Wife)" the project will chart the relationship between Mizuki and Mura from their first arranged meeting in 1961 through to the present day, and will be adapted from Mura's bestselling memoir of the same name. A TV drama and film are in the works.

*

Ken'ichi Matsuyama (live action Death Note's L) and Tatsuya Fujiwara (live action Death Note's Light) will re-unite in live action adaptation of manga Gambling Apocalypse Kaiji. Fujiwara plays Kaiji, Matsuyama plays support character Makoto Sahara.
Digital Distrobution
FUNimation is preparing to beta test online community/digital media site Shodojo.com

*

Kadokawa's YouTube Channel now hosts episodes of the new run of The Melancholy of Haruhi Suzumiya. Episode 12 is the second episode of new content to be included in the expanded season.

*

ADV Nation notes that through July and August Anime Network Online Player will be adding All Purpose Cat Girl Nuku Nuku Area 88 OVA Blue Seed Cromartie High School Demon Lord Dante Full Metal Panic Fumoffu Gun Frontier Indian Summer MazinKaiser MegaZone 23 Metal Fighter Miku Nanaka 6/17 Neo Ranga New Cutey Honey New Fist of the North Star Papuwa RahXephon the Movie Revolutionary Girl Utena Soul Hunter Yugo the Negotiator High-def versions of Lady Death the Motion Picture and Elf Lied are also being added.

*

VIZ Media announced today that the popular shojo animated series NANA is now available on the iTunes Store. The NANA anime is based on the popular manga by Ai Yazawa, published in North America by VIZ Media under its SHOJO BEAT imprint. The two live action film adaptations have been released in North America on DVD by VIZ Pictures. NANA follows the adventures of two girls, both named Nana. While they share the same name, they couldn't be more different. Nana "Hachi" Komatsu follows her boyfriend to Tokyo in the hopes of making a new start, while Nana Osaki, who arrives in the city at the same time, is a punk rock beauty who has the ambition of making it big in the world of rock and roll. Although these two young women come from different backgrounds, they quickly become best friends while chasing their happiness and dreams. NANA will be exclusive to iTunes until August 31, 2009. (Plus, every purchase of a NANA Season 1 pass will include a free, bonus episode download.)

"NANA" by Ai Yazawa originally serialized in "Cookie" published by SHUEISHA Inc. (C) Yazawa Manga Seisakusho / Shueisha (C) NTV / VAP / SHUEISHA / Madhouse) As is Honey And Clover Based on the popular manga series created by Chica Umino, HONEY AND CLOVER is a romantic comedy about a group of art school students who try to find their way through college. But when an innocent and talented 19-year-old girl enters their lives, things get a lot more complicated as love triangles result.

*

Go! Comi and Zeitgeist Games today announced the release of the iPhone version of Aimee Major Steinberger's "Japan Ai – A Tall Girl's Adventure in Japan (reviewed hear) The introductory price for the 190 page book is .99 cents. Exclusive features include - Using Smart Panels technology, you can move from panel to panel with a single tap - With two different viewing modes, reading is a snap - Browse thumbnail images of each page in the chapter - Learn Japanese words with the help of the voice phrase dictionary - Photo gallery allows you to see actual photos from the trip

*

Episode 15 of Fullmetal Alchemist: Brotherhood will be streamed started July 16th, This is the first episode of the new storyline, based on the manga, that was not adapted into the original Fullmetal Alchemist anime series.

*

After being discontinued following hte leak of episodes of One Piece and Phantom, new episodes of Phantom: Reqiuem for the Phantom have returned to FUNimation's video portal

*

FUNimation notes that Glass Fleet, Last Exile, Pumpkin Scissors, Red Garden and Samurai 7 are 33% on the XBox video store through August 4th. Solty Rei, Speed Grapher, Trinity Blood, Welcome to the NHK and Witchblade will be discounted August 4th-September 1 Ikktousen and the Fullmetal Alchemist: Brotherhood have been added to Xbox Live Video Marketplace for 160 points an episode

*

The Japanese PlayStation store will begin offering downloadable manga, which can be reviewed on the Playstation Portable.

*

Crunchyroll has added a new slate of streaming anime YOKUWAKARU GENDAI MAHOU The story revolves around Koyomi Morishita, a clumsy high school freshman girl who is often mistaken for a grade-schooler because of her shortness. Koyomi becomes a disciple of Misa Anehara, a 25-year-old graduate student who happens to be one of the most powerful modern-day magicians. KANAMEMO Kana Nakamichi, a middle-school girl, had lost her parents and recently lost her remaining grandmother. Because she needs to support herself, she ends up living and working at a newspaper delivery office. Everyone else living at the office are all charming, self-assertive bishojo. The story follows Kana's daily life. CHARGER GIRL "Juden" means battery charge in Japanese. Charger Girls are girls with special abilities who charge "spirit" other people. One day a pretty girl named Plug, one of the Charger Girls, enters the ordinary life of the college student, Sento Ohmi. Known as Fight Ippatsu! Juuden-chan in Japanese, follows Juden-chan on her adventures to make the world a better place. In preparing the title for a broader audience, Avex Entertainment, Inc. and Crunchyroll have worked closely together to make slight alterations to the original Japanese version of the show, which will later be used for its Japanese rebroadcast on UHF stations. Nebs Anime Blog has compiled a comparison of the differences AOIHANA Fumi Manjoume enters Kamakura's accelerated high school - Matsuoka All-Girls High School. While waiting at the Kamakura station on the day of her entrance ceremony, she runs into an old childhood friend whom she had not seen in 10 years: Akira Okudaira. As their friendship is rekindled and they start falling back into the rhythm of friends again, it starts a delicate love story... Okazu reportsthe largest online lesbian media source, Afterellen.com will be premiering this summer Aoi Hana: Sweet Blue Flowers via Crunchyroll. New Tai Seng Entertainment live action martial arts on Crunchyroll include Twin Of Brothers (Episodes 22-42) The New Heaven Sword And The Dragon Sabre (Episodes 20-40) Ninja Wolves The Eighteen Jade Arhats Hit Man In The Hand Of Buddha

*

Crunchyroll CEO Keynote Address The value of entertainment. Mr. Gao had a bar graph slide of consumers' choices for entertainment, approximate prices and number of entertaining hours for each one. Movie theater experience $7/ 2 hours, DVD box set $40/ 10 hours, video game $20/ 50 hours, and online MMO $15/ 80 hours. He made the point that the industry is hurting not primarily because of piracy, but because of consumer choices. His next slide added a line for Crunchyroll subscription $6.95/month and converted the other choices into $/hour entertainment rates. His conclusion? For consumer entertainment choices, at $0.26/hr a Crunchyroll subscription is on par with an online MMO at $0.19/hr. It is also well below the $3.50/hr or $4.00/hr pricing for a movie or DVD box set, respectively. It's all about keeping more options open to the consumer.

*

At Anime Expo, Yaoi Press announced plans to released light novels Winter Demon and Dark Prince as eBooks and publish 500 page collects of manga to iTunes.

*

Liz Ohanesian on "Where's My One Piece?": Anime Fans Ask Where Their Favorite Series Went After Piracy Issue

*

Robotech: The Shadow Chronicles and Kite: Liberator are now on Hulu Robotech: The Shadow Chronicles is based on the popular U.S. anime series from the '80s, Robotech. In the year 2044, the human race has traveled through space with the help of "Robotechnology," but not before starting an intergalactic war on Earth. Directed by Yasuomi Umetsu, Kite: Liberator is the sequel to KITE, the controversial 1998 anime film also directed by Umetsu. The anime thriller follows the footsteps of a young assassin named Monaka who becomes a feared and highly-skilled contract killer known as the Angel of Death.

*

A camerica recording of a theatrical screening of Evangelion 2.0 has outraged authorities being digitally distributed in China.
The Business
Anime Expo keynotes Austin Osueke on Manga in a Struggling Economy Shawne Kleckner on the state of the Anime Industry

*

The live action Blood: The Last Vampire opened at #23 in the box office with a take of $103,000 from a 20 theatre run.

*

The Japanese TV broadcast of Evangelion drew an 12.7% rating. For comparison, AnimeNation notes the following anime movie TV brocasts Spirited Away (first TV broadcast) 46.9% Princess Mononoke (first TV broadcast) 35.1% Howl's Moving Castle (first TV broadcast) 32.9% Nausicaa of the Valley of Wind (ninth TV broadcast) 23.3% My Neighbor Totoro (ninth TV broadcast) 23.0% Castle in the Sky, Laputa (ninth TV broadcast) 22.2% Ged Senki 16.4% Miyori no Mori 15.8% Brave Story 13.9%

*

Anime News Network notes that the 15th episode of the adaptation of the mahjong manga Saki credits Picture Magic for anime production while financially embattled studio Gonzo has been demoted to a production assistance credit. After restructuring Gonzo indicated it would have to reduce its annual output of anime from eight projects to four.

*

Publishers Weekly profiles Vertical, Inc. Vertical launched in 2003 with plans to publish an edgy list of contemporary genre and literary Japanese fiction. Since then the house has added "classic" manga to its list—in particular the legendary post-WWII manga master Osamu Tezuka—plus Keiko Takemiya, a pioneer in classic shojo manga for girls as well as serious nonfiction, new hipster-appealing craft books and puzzle books. The house has published such high-profile Japanese authors as prize-winning mystery novelist Keigo Higashino (Naoko) and horror master Koji Suzuki, author of the popular Ring trilogy, the basis for the hit Hollywood horror film. But while the house publishes some of the most popular genre writers in Japan, Vertical editorial director Ioannis Mentzas is quick to point out that translations can be a tough sell. Most Vertical first printings are in the 3,000–5,000 copy range.

*

Toei has announced new Latin American licensing deals for Dragon Ball Z, Saint Seiya and One Piece: Panini for Dragonball Z magnets in Mexico; Chenson for Dragon Ball Z and Saint Seiya bags and backpacks in Mexico; Cordez for Dragonball Z bags and backpacks in Brazil; Cardebras for One Piece Notebooks in Brazil; Corp. Industrias Plasticas for Dragon Ball Z balls and folders in Peru; Global Partners for Dragon Ball Z binders and pencil cases in Argentina; Creative Hats for Dragon Ball Z sunglasses in Argentina; Distribuidora Latapy for Dragon Ball Z tricycles and skateboards in Argentina.

*

Tea leaf reading on Cartoon Nework's move away from animated programming

*

According to a new report by Research & Markets, the animation market in India is estimated to be worth $460 million in 2008 and is expected to reach $1,192 million by 2012.
Anime x Games
Siliconera reports Xseed announced that they're going to be publishing Sky Crawlers: Innocent Aces, a Wii based on Mamoru Oshi's adaptation of the Sky Crawlers light novels, in the U.S. this holiday season. From Xseed's description of the game, which features an original story. After decades of constant war and fighting, the world has finally come to a lasting peace. But with war being an integral part of their lives for so long, the citizens of the world are desperate for a solution to solve this newfound peaceful life of calm and tranquility. To ease this tension and to appease its citizens, the government has started pursuing a new round of wars. These new campaigns are not a power struggle between hostile countries, but rather sponsored events between private corporations with military-trained personnel contracted by each side to do their biding for them. It is the battles fought by these war contracted corporations such as Rostock and Lautern and the constant media reports on them that satisfy and replace the basic human instinct to fight using the war as a show. The latest rookie pilot to join the Sky Crawlers, codenamed "Lynx," is working his way up the ranks and becomes involved in a secret new military project with the goal of making pilots immortal. Join Lynx on his journey to conquer the skies while unraveling the mystery behind the military's covert new project.

*

NAMCO BANDAI Games America Inc., confirmed that it has secured exclusive North American rights to publish future official videogames for the longstanding classic anime and manga series, Dragon Ball across all major consoles and hand held platforms. This agreement will run for five years beginning in January 2010 and supersedes the existing rights granted to publish titles on the Nintendo DS, Wii, PLAYSTATION3 computer entertainment system, PSP (PlayStationPortable) system, and Xbox 360 video game and entertainment system from Microsoft. Additionally, NAMCO BANDAI Games America Inc., has secured the right to initially publish three titles in 2009, Dragon Ball: Raging Blast for the Xbox 360 video game and entertainment system from Microsoft and PLAYSTATION3 computer entertainment system, Dragon Ball: Revenge of King Piccolo exclusively for Wii, and Dragon Ball Z: Attack of the Saiyans exclusively for Nintendo DS.

*

Gaia Online's free-to-play MMO zOMG! has launched new features, including in-game mini-events – otherwise known as randomized epic quests. The feature rounds out the gaming element of the anime inspired social network/MMO.

*

The full sized Gundam statue in Odaiba's Shiokaze Park now has a digital representation in PlayStation Home

*

Fullmetal Alchemist: Senaka wo Takuseshi Mono (Fullmetal Alchemist: Trust the Person in the Back) will be released for the PSP in Japan on October 15. Players work as two character teams.

*

Rockin' Android, who localizes "indie gaming direct from Japan," have released Orange Juice's hybrid shooter/fighter "Acceleration of SUGURI" on Gamersgate.com and Direct2Drive.com for only $9.95.

*

Dating/strategy RPG Sakura Wars: So Long My Love will be released on Playstation 2 and Nintendo Wii in North America with separate disc for Japanese and English audio

*

A look at Neon Genesis Evangelion: Battle Orchestra Portable Pv - a BROCCOLI game being re-release for the PSP

*

Mobile Suit Gundam Senki for the Playstation 3 trailer The official site is online here There is also a new site for PSP game Macross Ultimate Frontier

*

Super Robot Wars NEO screenshots Super Robot Gakuen boxart

*

Screenshots of Dragon Ball Raging Blast for the Xbox 360 and PlayStation 3, due to hit North America in November

*

Anime News Network note that MangaGamer.com announced plans to release NAVEL's Shuffle! adult romance visual novel this summer. The anime version was released in North America by FUNimation. MangaGamer.com also confirmed its tentative plan to release the first four chapters of the Higurashi: When They Cry (Higurashi no Naku Koro ni) suspense horror visual novel franchise set in a 80's rural community at the end of October, followed by the next four chapters about two months later.

Visual Novels are interactive fiction PC games, mostly for the PC.

*

On a simular note, JAST USA has licensed games from the Nitroplus studio, to be released in English starting with Zanma Taisei Demonbane

*

Naruto Shippuden Legends: Akatsuki Rising

*

Production I.G/Takashi Miike's live action and special effects show Keitai Sousakan 7 (Cell Phone Investigator 7) has spawned an iPhone app
Cool Figures News
Dark Horse will be releasing new figures in Tim Burton's Tragic Toys Line, based on The Melancholy Death of Oyster Boy and Other Stories. The three 6" figures planned for the end of 2009 include Oyster Boy, Stain Boy, and Toxic Boy. The Tim Burton program is also bring updated with a variety of other new releases, including two heat-sensitive coffee mugs, a pull-tab journal that animates a Burton watercolor scene, a new light-up journal, playing cards, T-shirts and note cards in light-up boxes.

*

A new Transformers™ Collector's Edition based on the Generation 1 version of the characters has been released. Pewter tokens game pieces include Optimus Prime Megatron Shockwave Ravage Ironhide Grimlock Locations on the board include Earth, Cybertron, Autobot City and Dinobot Island. The Ark, Space Bridge, The Nemesis and Transwarp Drive replace traditional railroad spaces while Teletran-1 and Victor Sigma replace Electric Company and Water Works, respectively. Players can collect purple Energon Cubes and red Anti-Matter, traditionally Houses and Hotels, in an effort to improve their properties and bankrupt their opponents.

*

Let's Anime presents the strange history of Go-Bots transforming "Future Machine" car

On CollectionDX Robot Soul announcements Macross Zero's VF-0S with QF-2200D Ghost Via CDX Toynami Comic-Con 2009 Exclusives include GX-24N Tetsujin 28 Naked Version

Wing Gundam Early Type (Crystal Clear Version) includes free Full Armor Gundam Mini-fig (clear) with purchase) Other figures include

Robotech Stealth Veritech Voltron Vinyl - Metallic Version Voltron Vinyl - Black version 7" Naruto Rasengan Figure Bleach Hollow Ichigo Skelanimals Cute as Hell Elle (elephant) Limited Edition Emily the Strange Jinx Futurama Alternate Universe 2 pack (Fry + Leela) The site reports that due to a trademark dispute with Big-O Tires, Bandai / Toynami will be unable to bring the Big-O Soul of Chogokin to the states.

On ToyBoxDX Brog This is How We (Kappa) Roll (Must See) Back In Black Glow-topia SOC GX-47 Energer Z and Shin Mazinger

Ultraman USB Computer Companion Battle of the Planets vehicle toys On the custom front A Lego version of The Doll from the motion picture Ghost in the Shell 2 Innocence

Terrifying Gyo Figurine By André Peter Strange Astro Boy Sculpture