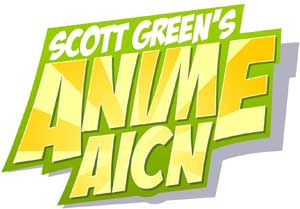 Logo handmade by
Bannister
Column by
Scott Green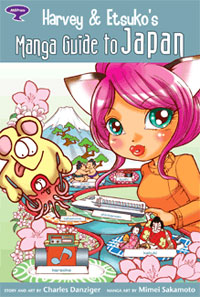 Spotlight: Harvey And Etsuko's Manga Guide To Japan by Charles Danziger and Mimei Sakamoto Released by Japanime Co. Ltd. Preview
Harvey & Etsuko's Manga Guide to Japan is an exceedingly odd book, and that might be the virtue that makes it worth while for students of the manga tradition. Most of it follows the story of Charles Danziger's cartoon mouse avatar Harvey, who, with the help of his illustrator (Danziger) travels to Japan to hook up with Mimei Sakamoto's bubblegum glamorous avatar Etsuko, in hopes of Etsuko introducing him to Sakamoto herself. The second half is a collection of forty "newsflash" essays in which Danziger discusses facets of Japanese culture from toilets to gift giving to fugu (poisonous blowfish delicacy) and j-pop. From the credits page out, this is an intriguing paring. Working in Tokyo as a lawyer, inspired Danziger to write several guides to Japanese culture, including Japan for Starters: 52 Things You Need to Know About Japan and The American Who Couldn't Say Noh: Almost Everything You Need to Know About Japan. Mimei Sakamoto is a name that well read anime/manga fans should know. She's a manga creator, whose work includes the Rapunzel segment in Sekai-ichi Zankoku de Utsukushii Gurimu Douwa and Nippon no Mimei. And, she's an outspoken social critic. Instances in which American/English language audiences may have seen her opinions expressed include Her editorial cartoon "When No Choice is a Good One: A girl's guide to finding happiness in Japan" for Time Asia Her opinions on the use of manga in text books Being a mangaka, I'm pleased to see manga being recognized as an tool to educate young people. However, it makes one wonder if the manga textbook really will help students improve their skills? I have to say that the publisher's idea is frustrating: "Even bad students can read manga." It sounds as if manga is a thing for idiots. Her quotes on the Bloomberg piece on the Comiket doujinshi (fan manga) event `We should make the law on copyrights more strict, especially with internet and mobile phones, and sexual manga with more controls,'' And, her insindiary piece in which, as a professed otaku (die-hard hard geek) she took moe (almost fetishistic fascination with female innocence) to task "Perhaps it's because 'Train Man' (the story of an otaku who wins the heart of a pretty woman) was such a hit, but recently I've seen all these dorky guys walking around in thick glasses and checkered shirts and it pains my heart to think that they may be hoping to meet some pretty girl who's going to fall in love with them. Sorry guys, the chances of that happening are zero," "This fetish you call 'moe' is a pedophiliac fetish and is nothing more than perversion. It's not really something you should be gushing over," the manga artist says, addressing the otaku. "In other countries, they'd call what you're fantasizing over 'child pornography' and you'd all be arrested. I'm ashamed that these 'otaku' who are perpetual criminals have entered the mainstream and started an otaku boom." Harvey registers as a flat, mascot character. As with Domo-kun or mascots for other Japanese entities, he's eye catching, and almost a sign post directing attention rather than a Disney/Warner Bros. funny animal personality. Graphically, it is interesting to watch Danziger embellish this image. The geometric forms around Harvey transcends doodles, but still looks more like a sketch than manga. Etsuko similarly looks more like an attention-drawing graphic than a character. Her form leaves more of an impression than Harvey's might, but she's so idealized that she still presents an abstract idea. While these aren't stereotypes, the notion of two naked ideas explaining a culture seems like it would be a more comfortable fit for a parody than an unironic guide book. Ultimately, this imagery proves to be a conceptually provocative way of expressing information about Japan. Beyond the odd aesthetic approach, there is a sense that the two creators are riffing off each other, throwing subjects back and forth in what sometimes feels like an associative chain. It yields some visually arresting illustrations, such as the page of Etsuko meditating with four intricate Harvey mandala behind her. The topics discussed jump from linguistic quarks to commuter concerns to linguistic principles, with margin notes to direct attention to the related "newsflash" pieces. If you follow these directives rather than read front to back, the manga component of the book functions almost like a graphic index to the text pieces. Danziger's essays are uniformly informed. Because they speak from the experienced perspective of some one who evidently lived in the culture and not just common knowledge, they are likely to be a useful head start for someone who plans spend time in Japan. Though, the book probably should not serve as a soul or even primary guide book. Those who are interested in the culture, but not about to plan a trip will find the text, generally objective to appreciative, though with slight personal subtext in a few, such as when alluding to sumo watching habits, and occasionally willing to stick a needle in the subject, such as when discussing Brazilian ju-jitsu or pachinko. If you don't know the true purpose of those famous coffin-esque capsule hotels (they give drunken businessmen a cheap place to spend the night) or know of the expense of riding the bullet trains, then these pieces are well worth reading.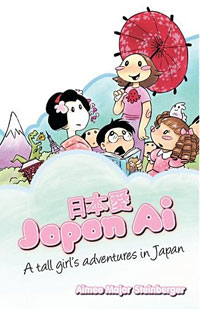 Spotlight: Japan Ai: A Tall Girl's Adventures in Japan by Aimee Major Steinberger Released b Go!Comi preview
The essential factor to recognize about Japan Ai is that it is a travelogue. Where the other works mention in this column or Patrick Macias and Tomohiro Machiyama's Cruising the Anime City: An Otaku Guide to Neo Tokyo, attempt to offer a representative sample of pop-culture high points, Japan Ai offers a vicarious sample of the excitement and wonder of Steinberger's trip. The illustrations employed prove to be the right vehicle for capturing Steinberger's perspective. Because images that stand alone are more common than time lapsed sequences, it's wrong to call the book manga or a comic, but an approach that isn't just graphic, but stylized in the manner of manga sets a tone that resonates as a charming sketch of the trip. By avoiding an "aren't you jealous" or "here's the slideshow of my trip" air, the account is sufficiently fun that you don't need to be a rabid Japanophile to enjoying the volume. Aimee Major Steinberger is an animator who has worked on the Simpsons and Futurama, as well as a writer/contributor for outlets such as Haute Doll and Shojo Beat. Her self-essentialized thumbnail is marked by the factors that she's an artist, a hard core geek, and she's six feet tall, hence the title. Ai Japan serves as an account of the trip by Aimee, A.J. "software engineer; Chinese; does Chinese opera; like pants with chains-Geek" and Judy "estate planner; Croatian; likes Victorian dresses, making hats + chainmaille-Geek", in which Steinberger was to meet the makers of the ball-joint uber-dolls Volks, and the trio was to see the all-female theatrical troupe Takarazuka Revue's performance of Aida (due to scheduling, they saw Rose of Versailles, based on the French Revolution shoujo manga and Elisabeth, about the Empress Sissi). Additionally, they visited the temples in Kyoto, an onsen hot spring, and the pop culture spots in Tokyo. The book does address logistics, with time spent on bathrooms and mass transit, as well of maps of relevant spots in Shinjuku and Harajuku. However, at the same time, there is a distance between its vantage point and the stresses and difficulties of travel. As much as lost luggage, wrong connections and what must have seemed like the fates conspiracing against the Volks visit must have weighed on Steinberger, they leave a lighter impression in Japan Ai. While these troubles are not white washed in favor of a fairy tale take on the trip, there is a sense that when sharing her idea of her trip, she didn't want it overshadowed by the hurtles that were involved. While there is no reason that a non-manga reader wouldn't be enchanted by Japan Ai, the book is certainly couched in the visual and literal language of anime and manga fans. Someone who spent time with the medium will not only pick up on the references (if they haven't, there's a thorough glossary), they'll find that Japan Ai paints a vivid, picture that can be more directed than prose, an in a way leaves less to the imagination. All of the caricatures, cartoons and symbols create a very specific impression of Steinberger's experience. It's subjective, and some on else with the same itinerary would have a different account, but that is part of the appeal of a travelogue. While it is not literal, it's not misleading either. Going back to the logistical discussion, people turning into bowling pins as Steinberger knocks them over, trying to get her luggage into a subway car is obviously metaphorical, and most of these transportation images are generic, but, the blur and difficulty of all the necessary things that have to be hopped onto to get from one place to another is what is being captured. The counter example that makes the point is the illustration that points out the rose pattern of the train from the onsen/hot spring that reminded Steinberger of the anime/manga Revolutionary Girl Utena. Japan Ai is a collection of what stood out to its author and not what might be relevant to another traveler. Part of the equation is being more explicit to share the idea. In these cases, it is less about her subjective view and more about relaying facts or concrete details. The book has a graceful, humorous way of explaining concepts like yakuza or bullet trains. When additional visual specificity is needed, the cartoons are replaced by less stylized diagrams, which includes some beautiful, color illustrations of geisha attire. The seamlessness in how the book flows between these approaches enhances its explanation of significant elements of the trip The gage of Japan Ai's success could be its persuasiveness. To hazard a guess, something like Takarazuka Revue is not specifically interesting to the majority of AICN Anime column readers, but like a good manga that can convince its reader to get excited about the game go or bread baking, reading Japan Ai, the author's enthusiasm is infectious.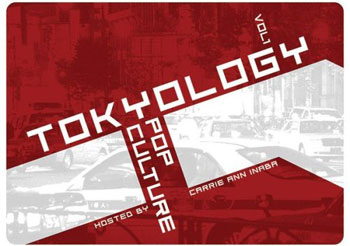 Spotlight: Tokyology Pop Culture Vol.1 Released by Nightjar preview
Tokyology proves to be a well selected video mix tape of Japanese pop culture, whether the subject concers traditional or modern-trendy; high, middle-brow or low; insider or outsider; producer or consumer. The guide in this sampling, throughout the hour, ten minute documentary, is dancer Carrie Ann Inaba, who visits spots like the epicenter for modern obsessions, Akihabara and bizarre theme restaurant Alcatraz ER, speaks to people on the street, interviews performer, gallery operators, and of particular geek interest, the local EA office and Serial Experiments Lain's Yoshitoshi ABe. While an opportunity to get a sense of ABe as a person is unmissable for fans of Lain, Haibane Renmei and the like, enthusiasts of crossover media (anime, manga) aren't going to find that the documentary is continually good for a fix. Not only are the topics further reaching than strictly geek media, music and fashion are more Inaba's forte then the topics generally addressed in this column. The documentary gets in the sights and sounds of the Tokyo Anime Fair and Akihabara, but other than capturing them as they are, it isn't quick to embellish and draw them out. To encapsolate this, Inaba caps her Akihabara walk with the purchase a of gashapon, plastic figure from a vending machine. She quizzically attempts to open the package before giving up and pocketing it. Instead of fanservice, Tokyology captures the mesmerizing quality of people watching. It is expertly filmed and edited, with noticeably good picture quality. At the same time, it feels casual. Inaba is excels working with the subjects and whether they ham it up or demonstrate obvious discomfort, the documentary seems to be honestly capturing the personality of someone who is interesting to watch for a moment. The documentary is neither an exercise in gawking nor a painfully reverent showcase. If you listen to the commentary from the producers at Nightjar, the 15 segments were intended to add up to a complete impression. Part of that was to alter preconceptions about Japanese culture that even linger among fans and advocates of that culture. The operating assumption is not that the viewer is holding onto long antiquated stereotypes, so, instead of exploding myths, it subtlety shades in the distinctions, between American and Japanese cultures. For example, in the 0101 department store, Inaba speaks to a young woman decked out in a striking "elegant gothic" outfit that evidentially took time to prepare. When asked how often she dresses in that manner, the young woman explained that it was daily occurrence. Some might contend the assertion, but the commentary makes the point that in American culture, someone similarly dedicated to a look is unlikely to spend as much time dressing to that degree without an occasion to justify it. Without an event, the effort is more likely to take the form of a nod or a marker. And that's a difference that bears out anecdotally. The other key aspect of the documentary's subtext is the echo chamber between American and Japanese pop culture. This is the interconnectness that Roland Kelts writes about in Japanamerica, that Japanese pop culture and American pop culture have been bouncing ideas off each other for decades, often more closely based on a notion of what something looks like on the other side of the equation than what it really is. The documentary catches a group of people with amazing customs that you wouldn't see in a Jodorowsky comic, and they express the notion that they're recreating what can be found in American goth clubs, which is similar to the possibly apocryphal story of the Japanese cosplayer dressed as an anime character who replies to questions about the origin of the hobby by saying "we got the idea from American Star Trek conventions." Whether it is the EA office competing with the many native Japanese game developers, or the name of "Alcatraz ER", the English text an fashion at 0101, or the Beatles cover bands at Abbey Road, the products of global cultural commerce can be seen throughout. The most naked example of this is demonstrated in the visit to the set of Rock Fujiyama, an idea that beats the hell out Takeshi's Castle's transformation into MXC. It's a Japanese rock/metal music variety television program, presented as an LA filmed American show about Japanese culture, starring Megadeth's Marty Friedman (see here for a piece on Friedman's involvement in Japanese pop culture) and Rolly Teranishi . While the commentary does speak to these ideas, the documentary itself illustrates them without directly speaking to any talking points. Ultimately, in not explicitly making a point, the documentary is effective in making several. There is a "vol 1" on the Tokyology case. Considering the minefield that is the DVD market, and that a "tokyology" Firefox Google search will suggest the autocomplete "tokyology torrent", who knows if this is going to be the alpha and the omega of the series. If it is, its personable, subtly opinionated treatment of the subject still makes it a documentary that's thoroughly enjoyable and worth seeing. If it later has the opportunity to broaden and/or deepen its view, that will be something worth looking forward to.
First...
Same Hat! Same Hat! points out thatthat Poketo is selling wallets decorated with the work Yusaku Hanakuma, creator of the Tokyo Zombie manga that Same Hat's creators have localized.

The site also features photos of horror manga genius Kazuo Umezu as a young(er) artist.
Super Robot Wars Streamed
dot-anime.us, the ecommerce site operated by Bandai Visual USA, announced that the first episode of Super Robot Wars OG: Divine Wars on dot-anime here, to offer fans a legal option to view a full episode of Bandai Visual USA titles.
Viz Releases Like Action Honey & Clover
VIZ Pictures, an affiliate of VIZ Media, LLC that focuses on Japanese live-action film distribution, has announced the DVD release of HONEY AND CLOVER. The live-action film, directed by Masahiro Takata and based on a best-selling manga series by Chica Umino, features English subtitles and will carry an estimated retail price of $24.98. Special bonus features on the disc include cast interviews, and a dedicated website about the film is available at www.honeyandclover.us. HONEY AND CLOVER is a romantic comedy that focuses on five college students and the art school they attend. Mayama, Morita and Takemoto (played by J-Pop star Sho Sakurai, who also appeared in HULA GIRLS) aren't necessarily living fancy lives, but they always manage to have fun. When a talented and pretty painter named Hagumi Hanamoto (played by HULA GIRLS star Yu Aoi) enrolls in the program, her presence and unique approach to art affects the entire school and her new friends, especially Takamoto. The plot thickens as Hagumi becomes embroiled in a complicated love triangle as she struggles to find her artistic voice. Takemoto has a deft touch with his art, but he's not at his best with relationships, while Mayama is calm and gentle, and Morita is an eccentric genius and a rootless wanderer. Five one-sided feelings are tangling, with no answer in sight. HONEY AND CLOVER showcases the journey that everyone must take to transform from adolescence into adulthood and the long and challenging road these five young people must navigate to balance the demands of school, work, and love.
New Anime Licenses
FUNimation has announced that they will be releasing the anime series Strain: Strategic Armored Infantry, Gunslinger Girl Il Teatrino, Save Me! Lollipop and Kenichi the Mightiest Disciple. There are also strong suggestions that FUNimation has licensed Madhouse violent samurai anime Shigurui Strain: Strategic Armored Infantry is the first Mecha driven science fiction tale influenced by the works of Frances Hodgson Burnett (most notably, "A Little Princess" and also "Little Lord Fauntleroy" and "The Secret Garden"). The anime was directed by Tetsuya Watanabe (Rumbling Hearts) and produced by Studio Fantasia. The entire 13 episode series will be released in one complete DVD release in Spring 2009. From FUNimation's description A young cadet named Sara yearns to follow her brother Ralph to the stars, but in the midst of intergalactic war, betrayal intervenes to alter her fate. Sara loses everything when the enemy unleashes a surprise assault on her school, her friends and fellow cadets massacred along with her dreams. The leader of the enemy forces is no faceless villain… her brother commands the opposition. As the mystery of an ancient alien race surfaces and factions of humanity stand against one another, Sara changes her name and re-enlists. Her new mission: Confront Ralph to discover his true motives and, if necessary, put an end to his treasonous ways. FUNimation Entertainment will release all 13 episodes of Gunslinger Girl -Il Teatrino- in one complete DVD release in 2009. Gunslinger Girl -Il Teatrino- is the sequel to the Gunslinger Girl series currently distributed by FUNimation. The Gunslinger Girl storyline is adapted from the manga Gunslinger Girl by Yu Aida. The anime was directed by Rei Mano (Ghost Hunt, among others) and produced by Artland (Mushi-Shi). From FUNimation's description When the Social Welfare Agency investigates the disappearance of an operative, their inquiry leads them right into the lair of their rival, the Five Republics. The assassin Triela infiltrates the hostile organization, but her search is cut short when she finds herself staring down the barrel of a gun. The 26 episodes (Season One) of the action-comedy anime series KenIchi: The Mightiest Disciple was adapted from the Shijou no Deshi Kenichi manga series published by Shogakukan, Inc. The anime was directed by Hajime Kamegaki and produced by TMS Entertainment. FUNimation Entertainment will release the KenIchi anime series in two volumes in 2009. From FUNimation's description Not every wimp gets a chance to change his fortunes. But Kenichi just might. The guy is a walking "kick me" sign. He's weakest among the weak and the bullies stalking his school remind him every chance they get. With nobody on his side and zero self-confidence, Kenichi looks destined to bounce from fist to fist until graduation. Until he meets her. There's something about Miu. She's kind, she's pretty… and she's an incredible fighter who lives in a dojo with six powerful masters of the Martial Arts – a group of experts skilled in the ancient disciplines of hand to hand combat. These elite warriors have dedicated their bodies and minds to the endless pursuit of perfect technique. Now, Kenichi will be their student. He will have to do more than just toughen up. Kenichi must become the mightiest disciple and learn to stand strong for the powerless… if the training of his six new masters doesn't kill him first. 13-episode comedy-romance anime series Save Me! Lollipop from Kodansha will be released in one complete DVD release in late 2008. The Save Me! Lollipop storyline was adapted from the manga "Mamotte! Lollipop" by Michiyo Kikuta originally serialized in the monthly NAKAYOSI magazine published by KODONSHA LTD. The anime was directed by Noriyoshi Nakamura (My Santa and Dragon Slayer). From FUNimation's description Nina was just another girl who dreamed of finding a prince to defend her honor and protect her from harm. Little did she know, two such boys would fall from the sky! Zero and Ichii are sorcerers from another world taking part in a test. The only way to pass the curious quiz? Find the coveted Crystal Pearl! It's going to be tough - other examinees seek the jewel as well, and some will stop at nothing to capture the prize. Oh, and Nina ate the Crystal Pearl after mistaking it for a piece of candy! Ichii and Zero vow to protect her until the coveted bauble can be reclaimed. Nina's fantasy of a devoted guardian has come to life... but with danger at every turn, there's a chance this dream come true might end up a nightmare!
Figures News
Go Hero has posted the seventh preview of their upcoming Buck Rogers figure. The new inthe25thcentury.com website, includes some sneak peaks, and more proto photos . The progress on the Jet Pack can be seen here. According to reports Variety, Nu Image/Millennium's Avi Lerner will be creating a new Buck Rogers movie. Sideshow Collectables is taking pre-orders for the Appleseed Ex Machina Tereus figure. the 1:6 scale poseable model kit, scheduled to be released in third quarter 2008, retails for $149.99. The Tereus Poseable Model Kit features: * Over 15 points of articulation * ES.W.A.T. Riffle - HECATE stg 1002 * ES.W.A.T. Hand Gun - HECATE P-08 * Hand Gun * Display base with ExMachina logo and Tereus nameplate

Sideshow will also be releasing the Street Fighter Vega mixed-media 18-inch statue by Pop Culture Shock Collectible. An exclusive version will be sold through SideshowCollectibles.com Organic Hobby, Inc in conjunction with Happinet are set to release "Space Adventure Cobra Collection Figure" this July with a SRP of $14.50 each. "Space Adventure Cobra Collection Figure" is based on a sci-fi manga created by Buichi Terasawa, later turned into an anime movie and a TV series. The series features the infamous space-pirate Cobra who was once forced to hide from enemies by surgically altering his face and erasing his own memory. "Space Adventure Cobra Collection Figure" is a ten piece assortment (full color and rare color) of 5" scale trading figures and includes three secret items. Each figure comes in a closed box along with a handy ten piece counter display case.

Organic Hobby, Inc in conjunction will release Beagles Shining Tears "Seena, Houmei & Maple" in August "Seena, Houmei & Maple" are the heroines from the PlayStation 2 game, "Shining Tears X Wind," developed by Nextech and Sega. "Shining Tears X Wind" presents us an adapted version of the Shining Wind's story, seen through Souma's perspective. It is directed by Hiroshi Watanabe and produced by Studio Deen the PlayStation 2 game, "Shining Tears." Seena is the leader of the Luminous Knights (an independent mercenary group) and one of the heroines from Shining Tears X Wind. The crystal doll eyes "Seena" is an 8" tall PVC figure fully painted and comes in a window box. She is being introduced in her mercenary costume. SRP: $120.00.

Houmei is the Priestess of Seiran's Tower of Rain Water and one of the heroines from Shining Tears X Wind. The crystal doll eyes "Houmei" is an 8" tall PVC figure fully painted and comes in a window box. She is being introduced in her removable kimono. SRP: $120.00.

Maple is one of the heroines from Shining Tears X Wind. The crystal doll eyes "Maple" is a 13" tall PVC figure fully painted and comes in a window box. She is being introduced in her fairy costume with translucent and transparent feathers. SRP: $240.00.

CollectionDX on DX Engine Gattai Engine-Oh Mecha Action Series Dancouga Nova from CM's Godzilla 67 (speaking of late 60's Godzilla Burning Godzilla Mazinger Z Blassreiter figures and vehicles from Megahouse Erick Scarecrow's Old Skool Kaiju Konami Great Impact Model Gurren Lagann via Super Punch a preview of Wall-e figures
The Award Goes To...
The UK's Eagle Awards recognized Death Note as "Favorite Manga" The Japanese Newsweek including Paprika in their "100 Best Films" list. Via ComiPress The manga recognized by publisher Kodansha in their 32nd Manga Award include Children's manga category: - Shugo Chara! by PEACH-PIT, published in Nakayoshi Shounen manga category: - Saikyo! Toritsu Aoizaka Koko Yakyubu by Motoyuki Tanaka, published in Weekly Shounen Sunday Shoujo manga category: - Kimi ni Todoke by Karuho Shiina, published in Bessatsu Margaret General manga category: - Moyashimon by Masayuki Ishikawa, published in Evening The winners of the 12th Tezuka Osamu Cultural Award (sponsored by Asahi Shimbun) have been announced: Grand Prize: * Moyashimon (Tales of Agriculture) by Masayuki Ishikawa Shinsei (New Hope) Award: * Träumerei by oranosuke Shimada Short Manga Prize: * Gou-Gou Datte Neko De Aru by Yumiko Oshima Special Award: * International Institute for Children's Literature The winners of the 37th Japanese Cartoonists' Association Award (Nihon Mangaka Kyokai Awards) include: Grand Prize - 20th Century Boys/21st Century Boys by Naoki Urasawa - Hina-chan no Nichijo by Hiroko Minami Award of Excellence - Alfheim no Kishi by Seika Nakayama Award of Special Recognition - Nazo no Mangaka: Sakai Shichima Den by Haruyuki Nakano - Manpu Hashizume - For all of his works. Literary Giant Award - Kuniharu Naruse - For all of his works.
Gantz Creator on Soul Calibur 4
Gantz creator Hiroya Oku has joined Yutaka Izubuchi (Record of Lodoss War) and Mine Yoshizaki (Sgt. Frog) in designing a character for Namaco Bandai's upcoming Soulcalibur IV fighting game. The character can be seen here
Business Round-Up
a geek by any other name notes rumors that Geneon is trying to broker a new North American distribution deal with a media company that is not primarily an anime company. "Geneon has been in serious talks with a major US home entertainment distributor for about the past three months to get their titles back on the street. I know exactly who it is, how far along they are, and the details that are going to make or break the deal. The trouble is I can't make any of that info public without jeopardizing our relationship with the new company, but perhaps it's helpful to let you guys know that there is something serious in the works." Anime on DVD notes that matters are looking dire for SuperTechnoArts, whose site is not empty. SuperTechnoArts released the anime version of super hero horror action Jojo's Bizarre Adventure, and discussed releasing anthology Robot Carnival (formerly released bu Streamline Pictures, which also aired on Sci-Fi Channel) and Lain era-late night anime Sci-Fi Harry. AnimeNation says Super Techno Arts has informed them that due to an unspecified "issue" in Japan, the American distribution of the Jojo's Bizarre Adventures anime series has been ceased and the Super Techno Arts website taken down. ImaginAsian has the following announcement concerning the cessation of their print-on-demmand anime releases "TitleMatch Entertainment has unexpectedly halted the production of TMS Classics DVD series Cat's Eye, Orguss and Nobody's Boy - Remi. ImaginAsian Entertainment is vigorously working to ensure that our loyal anime fans will continue to have access to these titles via DVD-on-Demand. Anime fans will still be able to watch these three anime series on our linear channel - ImaginAsian TV, ImaginAsian's 24/7 Asian American television network. ImaginAsian Entertainment will explore all available venues to continue to fulfill our fan's needs and to serve the anime community through our various media platforms." According to ICV2, 4Kids Entertainment released its first quarter financials and reported a net loss of $6.4 million compared with a loss of $.2 million for the first quarter of 2007. Part of the reason for the larger losses in Q1 2008 was the year-over-year increase of $3.6 million in selling, general and administrative costs associated with the company's Chaotic Trading Card Game and its related Websites. For more, see here Canned Dogs looks at the effect of oil prices on the figures market. Comics Snob tracks the decline of manga sales in Japan. MSNBC on the business of Japanese popular culture Heisei Democracy looks at how prices and piracy are endangering the Japanese eroge (adult) animation industry.
Upcoming Dark Horse Releases
GHOST TALKER'S DAYDREAM VOLUME 2 Saki Okuse (W) and Sankichi Meguro (A) On sale Oct 8 b&w, 216 pages $10.95 TPB, 5 1/8" x 7 1/16" Welcome to the sexy, spooky, and suspenseful world of Ghost Talker's Daydream. In the continuing story of Saiki Misaki, the albino dominatrix necromancer, Misaki has to put her wits, looks and knowledge of ghosts to the test. Follow Misaki as she dodges cops, fights psychos, and exorcises the dead. Fast-paced, smart, and sassy, Ghost Talker's Daydream is everything you loved about the anime and much, much more.

HELLSING VOLUME 9 Kohta Hirano (W/A) On sale Oct 22 b&w, 208 pages $9.95 TPB, 5" x 7" After Alucard's triumphant return, the streets of London were flooded with the blood of vampire Nazi soldiers and crazed Catholic warriors. After the dust settled, only the Hellsing order of Protestant knights was left standing. Now it's up to the earthly agents of divine punishment to save the souls of the innocent. However, chaos soon engulfs the streets yet again. Come to find out, not all the Nazis were vanquished after all. Will Alucard and his allies have what it takes to save what is left of the city? Earth-shaking destruction and gore-soaked supernatural battles fill the pages of this dark and creepy-cool manga.

OH MY GODDESS! VOLUME 10 Kosuke Fujishima (W/A) On sale Oct 29 b&w, 184 pages $10.95 TPB, 5 1/8" x 7 3/16"

VAMPIRE HUNTER D VOL. 11: PALE FALLEN ANGELS PARTS ONE AND TWO Hideyuki Kikuchi (W) and Yoshitaka Amano (A) On sale Oct 15 b&w, 480 pages $14.95 Novel, 5 1/8" x 7 ¼" Pale Fallen Angels Parts One and Two, the first two novels of Hideyuki Kikuchi's groundbreaking epic four-part Vampire Hunter D tale, are presented here in one affordable omnibus collection! Krauhasen: A mysterious land under the control of Lord Vlad Balarge, a member of the vampire Nobility. When Lord Vlad's son, Baron Byron Balarge, needs to make a long and treacherous journey to faraway Krauhasen, he commissions the help of the infamous Vampire Hunter D, promising a princely sum and a solemn vow -- no feasting on any humans for the duration of their journey! Still, D finds his work cut out for him as the duo encounters an ongoing parade of thugs, rogues, and runaways, all with riot and revenge in mind. The pair are joined by the teenage tumbling act, May and Hugh, and the haughty Noblewoman Miska, recently spared death by the stake. But when D discovers the Baron's plans to murder Lord Vlad, he quickly finds his own life in danger.

EMPOWERED VOLUME 4 Adam Warren (W/A) On sale Sept 17 b&w w/FC, 208 pages $14.95 TPB, 6 1/2 x 9 Costumed crimefighter Empowered is briefly overjoyed to find herself in the running for one of the superhero community's annual Caped Justice Awards (or "Capeys") -- only to discover that her nomination was merely a cruel joke by her obnoxious superpeers. But when the masked masses face a cataclysmic reckoning for previous heartless hoaxes, can our perpetually struggling heroine overcome her resentment and save the day? And can she cope with the further problems posed by cross-dressing vigilantes, dying wishes from preteen wannabe supervillains, telepathic "booty calls," a deeply depressed ninja, bedroom "cosplay" conflicts with her boyfriend, and even . . . Hummer® fu? From Adam Warren -- writer/artist of the English-language Dirty Pair comics (the original "Original English-Language Manga") -- comes Empowered, a gut-busting gag-fest of life in the superhero slow lane. Dump your boxes of prefab power-fantasy pamphlets and load up on Empowered!

DOMO 5.5" FLOCKED VINYL FIGURES On sale Oct 29 Classic Brown 5.5" Flocked Vinyl Figure $24.99 Olive Green 5.5" Flocked Vinyl Figure $24.99 Ruby Red 5.5" Flocked Vinyl Figure $24.99 Earl Grey 5.5" Flocked Vinyl Figure $24.99 Polar White 5.5" Flocked Vinyl Figure $24.99
J.D. Glass in Yuri Monogatari 6
Yuri (lesbian fiction) ALC Publishing has announced that they are teaming up with novelist J.D. Glass, ("Punk Like Me," "Punk and Zen," and "Red Light") are teaming up for the upcoming "Yuri Monogatari 6" Anthology for a side story featuring characters from her novel "American Goth.". "Yuri Monogatari 6," the newest book in ALC's award-nominated anthology series, also welcomes back Japanese doujinshi circle UKOZ and features the return of Eriko Tadeno (WORKS), Rica Takashima (Rica 'tte Kanji!?), and Althea Keaton.
Event News
Anime Expo 2008, held July 3-6, 2008 at the Los Angeles Convention Center in Los Angeles, CA, announced that Masahiro Ando will attend as a Guest of Honor. Masahiro Ando has worked with BONES and been involved with COWBOY BEBOP: KNOCKIN" ON HEAVEN"S DOOR, JIN-ROH, METROPOLIS and GHOST IN THE SHELL. He has also worked on the storyboard and production of FULLMETAL ALCHEMIST (TV/Film). Radical Publishing will be hosting Yoshitaka Amano, best known for Final Fantasy and Vampire Hunter D illustrations, at this summer's San Diego Comic Con, where the airtsist will be promoting Mateki: The Magic Flute.

Mr. Ando's current work includes his debut as the director of SWORD OF THE STRANGER-a historical action animation set in feudal Japan five hundred years ago revolving around the friendship between two people with tragic pasts, a fiercely powerful warrior "No Name" (Ronin) who has vowed to give up his sword and a "boy" who has lost his parents and has a contract out on his life.

Baltimore's Otakon announced that veteran ADR director and voice actor Richard Epcar and actor Ellyn Stern will appear as guests at Otakon 2008. Epcar is probably best known as the voice of Batou on the English dub of GHOST IN THE SHELL: STAND ALONE COMPLEX; his wife, Stern, recently voiced Ichigo's mother, Masaki Kurosaki, in BLEACH. A behind the scenes of Madhouse's opening animation for the event is online. Anime Festival Orlando is offering fans a chance to win two weekend passes to its convention being held at the Wyndham Orlando Resort from August 14 – 17, 2008 by uploading YouTube clips with the theme "How Do You Plan To Get To AFO?" Vignettes must be three minutes or less, "PG" rated and uploaded to YouTube by the deadline of 11:59pm on June 30, 2008. The winner of the AFO9 YouTube Contest will receive two 3-day membership passes to AFO9 with the "Passport to Orlandia" upgrade, two vintage AFO t-shirts as well as a $50.00 Visa Gift card. National CineMedia's Fathom will present BLEACH THE MOVIE: MEMORIES OF NOBODY in more than 300 theatres across the country on June 11th and 12th at 7:30 p.m. local time. Tickets for this special anime event (which has been dubbed in English for American audiences) are available at presenting theatre box offices and online at www.FathomEvents.com. For a complete list of theatre locations and prices, please visit the BLEACH THE MOVIE: MEMORIES OF NOBODY event details page (theatres are subject to change).

There are direct hints that Viz will be hosting Bleach creator Kubo Tite in the US.

As part of the VIZ/Fathom two day screening of the live action Death Note, VIZ is partnering with Hot Topic to offer customers who purchase a DEATH NOTE t-shirt or DVD in select Hot Topic stores to receive a free ticket to attend the film event. For more information of the offer, see here. The live-action film will screen at 7:30 pm on May 20 and 21 in 300 cities nationwide. More information can be seen at www.deathnotefilms.com
Bandai To Terra Premiere
Bandai Entertainment will be releasing the first and second volumes of the 2007 anime adaptation of shoujo legend Keiko Takemiya's sci-fi To Terra on July 15th. The four episode discs will retail for $19.98 Bandai will also be distirbuting a Melancholy of Haruhi Suzumiya Complete Collection for $59.9 on July 15th.
FUNimation on Blu ray
Anime on DVD notes that FUNimation release of the live action Shinobi: Heart Under Blade lists that upcoming 2008 releases include # Dragon Ball Z Double Feature: Tree of Might/Lord Slug # Dragon Ball Z Double Feature: Cooler's Revenge/Return of Cooler # Robotech: Shadow Chronicles # Afro Samurai # Vexille # "And more!"
New and Upcoming in Japan
From Anime News Network Tetsuya Chiba, creator of the influential boxing manga Ashita no Joe, created for a one-shot special called Akai Mushi for issue of Shogakukan's Big Comic magazine that goes on sale in Japan on May 24th. A second season of the anime adapation of classical music college manga Nodame Cantabile (released in North America by Del Rey) will air on Japanese TV under the name Nodame Cantabile Pari-Hen (Nodame Cantabile: Paris Chapter) The site for the Gurren Lagann compilation movie now features a trailer/music video. Warning, it's a browser killer. A trailer for the upcoming Ge Ge Ge No Kitaro yokai/horror anime movie, Gegege no Kitaro: Nihon Bakuretsu!!, is online here. Toei Animation announced that a sequence in which the cat-yokai Neko Musume coplays will be differ in six regions of Japan. Takeshobo has begun posting a Flash animated adapation of Neko Rahme creator Kenji Sonishi's Inu-Gaisha manga The 24th issue (released on May 14) of Kodansha's Weekly Shonen Magazine has announced that three new manga titles will be joining its lineup. In the next issue which will ship on May 21, Masaya Hokazono (Inugami) will adapt Akira Ishiguro's Shito Nippon, about a volcano that threatons Japan, starting in the next episode of Kodansha's Weekly Shonen Magazine. Kouji Seo (Suzuka) will start an unnamed manga in Shonen Magazine's 26th issue. Akimine Kamijyo (Samurai Deeper Kyo) will launch another unnamed manga in the 27th issue in June. Yuma Ando, pen name of Shin Kibayashi, who is also wrote GetBackers (under the name Yuya Aoki), Kindaichi Case Files (Seimaru Amagi), and Hero (Tadashi Agi), and Masashi Asaki's Shibatora police manga will be adapted into a television drama. According to MoonPhase, the second round of CG animated MS Igloo Gundam will be released as an OAV. The original MS IGLOO episodes started as an exclusive to the Bandai Museum and rental outlets. "Ano Shinigami o Ute!" ("Attack the God of Death!") will be released on Blu ray and DVD
Live Action
The Japanese edition of Shonen Jump has published an image of Justin Chatwin as Dragon Ball's Goku (and Chow Yun-Fat as Roshi, Emmy Rossum as Bulma and Jamie Chung as ChiChi)

The blog for the upcoming Street Fighter movie has posted storyboards for a Barlog fight. Screenwriter Justin Marks discusses the film here A Geek By Any Other Name and Screen Daily not that the live action trilogy adapting Naoki Urasawa's 20th Century Boys manga is now being licensed internationally. Megabox bought the Korean rights and plans on it being the biggest Japanese series ever to hit Korea; buyers have also acquired it for Hong Kong and Taiwan (bought by Golden Harvest), Thailand (M Pictures), and Singapore, Malaysia, Indonesia, and Brunei (Encore Films). Viz has indicated that the plan to release the manga in North America after the completion of their release of Urasawa's Monster. The Stephen King-style story revolves around Kenji Endo, an unmarried 30 year and once almost-famous rocker who is trying to manage a convenience store and raise the infant daughter of his absent sister. Kenji begins to notice that a mysterious cult is using the symbols and outrageous plans that he devised with elementary school buddies devised as children. The first of the 20th Century Boys trilogy opens in Japan this August. According to Twitch and Tokyograph, Takashi Miike will be directing a sequenal to high school gang war manga adptation Crows Zero. Shun Oguri will be reprising his role as the protagonist Genji Takaya. Also from Twitch, JJ Sonny Chiba will be reprising his first ever role, Nana-Iro Kamen or 7-Color Mask from the 1959 sentai show. See here for images of the original and more.
Worth Checking Out
The Anime World Order podcast an audio interview with anime director Noboru Ishiguro, whose works include Space Battleship Yamato (Star Blazers) as well as Superdimensional Fortress Macross (part of which became Robotech). Patrick Macias interviews Stan Lee on this manga project. Also from Macias, Sex and Death in Shizuoka: Profit from Violence Okazu features an interview with translator Anastasia Moreno Ronald Kelts (Japanamerica) looks at the history of Speed Racer More here Major Spoilers interviewed writer Brian Azzarello and voice actor Kevin Conroy on the upcoming Batman: Gotham Knights anime anthology

DMP's Speed Racer Manga preview site. AniPages Daily continues their indepth look at kaiba Kaiju Shakedown samples the guro (gruesome) tradition in pencil-stabs-eye on a related note, a Franch, video interview with one of the masters of the form, Suehiro Maruo Ten Mistakes You Will Probably Make in Japan JP Meyer on the authorial intent of Gonzo's Romeo x Juliet Iwa ni Hana on Voice-acting and the dearth of iconic characters Let's Anime on the 90's Tetsujin 28/Gigantor revival Cartoon Brew and animation director Mark Mayerson contemplate the lure of live action The official site for Super Robot Wars has screenshots Journalista talks piracy The Magic Box collections more screenshots here. the site also has Mobile Suit Gundam Operation Troy shots here A cool Afro Samurai fan film Right Stuf has posted a previewing of their upcoming release of school drama MARIA WATCHES OVER US (Maria-sama ga Miteru aka MaraMite) on their official site at mariasama.rightstuf.com/ Yakult Swallows show off their Astro Boy pride Evangelion themed resteraunt menu items and Golgo 13 gum Finally, if you found a copy of the Devil May Cry anime and you've been holding out hopes of redeeming the offer for a case, check out the fulfillment page