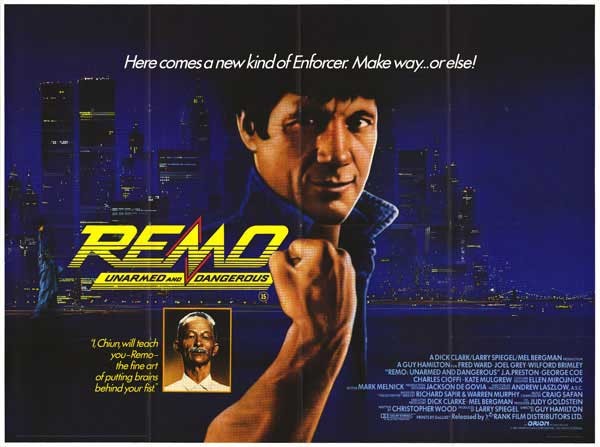 The adventure continues!!
Almost 20 years after REMO WILLIAMS: THE ADVENTURE BEGINS brought Warren Murphy and Richard Sapir's titular character to the big screen, and now, none other than Shane Black will direct his return in THE DESTROYER.
This comes hot on the heels of the announcement of a Mack Bolan movie starring Bradley Cooper and directed by Todd Philips. All those old paperback heroes are getting their time in the sun now, I suppose. Maybe I can finally start hoping for a RAINBOW SIX/John Clark movie.
For those who aren't familiar with the book series or the fondly-remembered Fred Ward '80s jam, Remo Williams is a cop from Jersey who is framed and sentenced to be executed, but fakes his death and becomes a government assassin. He learns martial arts and general tidbits of wisdom by his mentor, Chiun.
Presumably, Black will take the brave step of casting an Asian in the latter role this time around.
Sony has a script by FIGHT CLUB screenwriter Jim Uhls and Warren Murphy, who co-wrote a bunch of the original novels with Murphy and Sarpir. The studio appears to be the one who convinced Black to put DOC SAVAGE on hold for this, and they apparently "feel he has an ideal take" for the character that took precedent over his long-in-development passion project. Also, no word if this is going to put the Black & Dekker PREDATOR movie on the backburner, but it's possible the director will do this first, maybe as a for-hire lead-up (seeing as its already written), before digging into PREDATOR feet first.
Hard to complain. A Shane Black REMO WILLIAMS movie sounds too fun to be upset. Especially if the man goes to town on the script himself.
Now who's going to be the new Remo Williams??
-Vincent Kim-Zahedi
"Papa Vinyard"
vincentzahedi@gmail.com
Twitter