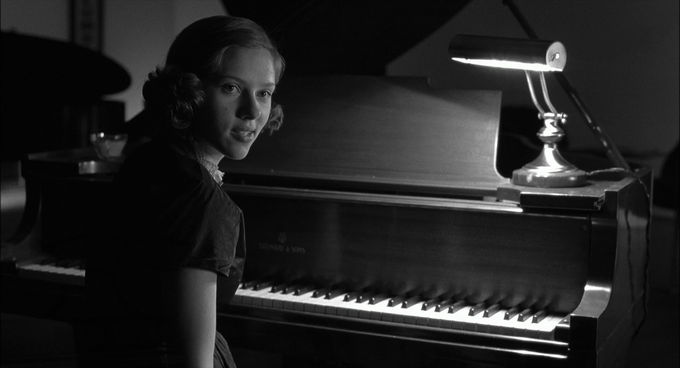 We knew that Josh Brolin, George Clooney, and Tilda Swinton were onboard the Coen Bros. next, and today, they landed a cast member who's both a huge name and a former collaborator.
Scarlett Johansson is in talks to join HAIL CAESAR, the Coen's throwback to Hollywood of the 1950's. It's a mid-sized role as an bombshell actress who goes and gets pregnant right before shooting her next movie. Fitting for Ms. Johansson, who's currently expecting herself.
Johansson worked with the Brothers Coen on THE MAN WHO WASN'T THERE, another smallish role as a young pianist who catches the eye of Billy Bob Thorton's Ed Crane. Filmed in black & white and only really uttering maybe a dozen lines, her low-key performance fit into the tapestry of that film wonderfully. She turned in a strong performance as Janet Leigh in HITCHCOCK, so we know she can do the mid-century actress thing, and she certainly has a hell of a cast to bounce off of.
This one's sounding more and more intriguing as the names keep piling up, and it already has the Coens biggest-name cast since BURN AFTER READING. Can't wait to see the Brothers take on Hollywood for the first time since BARTON FINK.
-Vincent Kim-Zahedi
"Papa Vinyard"
vincentzahedi@gmail.com
Twitter