Papa Vinyard here, now here's a little somethin' for ya...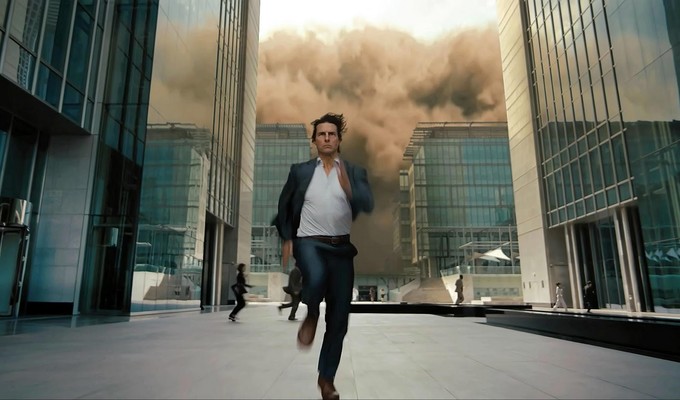 A year ago, IRON MAN 3 and PACIFIC RIM writer Drew Pearce signed on to hammer out a draft for the fifth entry in the MISSION: IMPOSSIBLE franchise (sixth if you count MISSION: IMPOSSIBLE VS. THE MOB). However, when Christopher McQuarrie was signed in August of last year, it was believed that he, being an Oscar-winning writer himself, was going to have a pass at Pearce's script the same way Shane Black revised IM 3 to suit his own tastes.
Well, McQuarrie seems to have his hands full on the directing side, because he, Tom Cruise, and Paramount have hired Will Staples to work on the tentpole due for release at the end of next year.
Staples is untested as a feature-film screenwriter, but he's worked on the video games CALL OF DUTY: MODERN WARFARE 3 and NEED FOR SPEED: RIVALS. He has a couple of features in development, most significantly the Jeremy Renner vehicle KING OF HEISTS.
I don't say significant because it's the most promising, or even the most likely to get made. I say significant because, as far as I can tell, there's been no official confirmation that Renner's William Brandt was set to return for the next onscreen IMF adventure. If you remember, he was initially being groomed to replace Tom Cruise, whose M:I-3 was something of a box-office disappointment, but as production went on (and the film went on to massive international success), those plans fizzled out. Renner's star has only risen in the years since, and he's spearheaded his own spy franchise over at Universal with the Aaron Cross BOURNE spinoffs. However, if they're hiring a writer who's worked closely with the actor in the past, one of two things seems possible: either his relationship with Renner will help facilitate talks to lock down his return, or that Renner himself was partly responsible for the hire.
Either way, it seems more possible than ever that Brandt will reteam with Ethan Hunt once again. Now, let's get Benji and Luther back onboard as well!
MISSION: IMPOSSIBLE 5 rappels into theaters on December 25th, 2015.
-Vincent Kim-Zahedi
"Papa Vinyard"
vincentzahedi@gmail.com
Follow Me On Twitter