Papa Vinyard here, now here's a little somethin' for ya...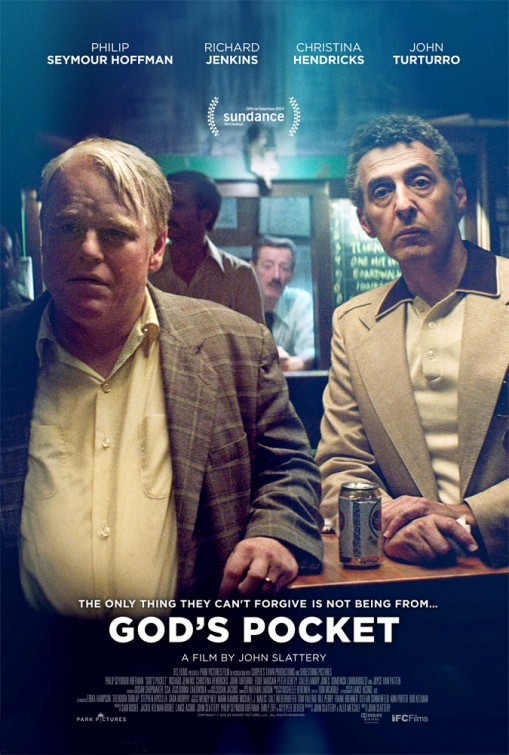 Last week, we got the trailer for Philip Seymour Hoffman's A MOST WANTED MAN, and I noted that he only had one more starring role in the pipe (alongside his supporting role in the last two HUNGER GAMES), in MAD MEN actor John Slattery's GOD'S POCKET. Now, we get our first real look at the film via this trailer, and it shows off Hoffman's performance as well as the strong supporting cast Slattery rounded up to back him up.
The story, which involves Hoffman's Pennsylvania criminal covering up the death of his stepson sometime in the '70s, isn't really made that clear, but what is clear is that there's a good amount of violence and gambling, and some awesome actors will be taking part in one or both. Hoffman looks great, as does John Turturro, Richard Jenkins, Eddie Marsan, and Christina Hendricks as Hoffman's wife.
Even though the film got fairly negative reviews out of Sundance, with folks calling it "dull" and "morbid", the presences of Coen Bros. alumni Hoffman, Turturro, and Jenkins alone urges me to check it out. I love a good '70s crime flick, especially when the cast has as much talent as this one, so I'm holding out hope Slattery pulled together a solid, well-acted drama his first time at bat (not counting some MAD MEN eps).
GOD'S POCKET may get blood on your pants on May 9th.
-Vincent Kim-Zahedi
"Papa Vinyard"
vincentzahedi@gmail.com
Follow Me On Twitter