Papa Vinyard here, now here's a little somethin' for ya...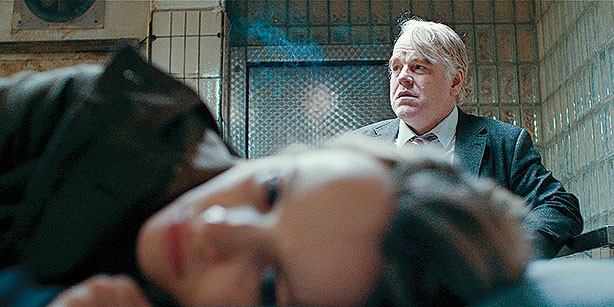 The trailer for THE AMERICAN director Anton Corbijn's John Le Carre adaptation, A MOST WANTED MAN, has premiered via Yahoo, and it is an attractive piece of advertising. The high-wattage cast includes Philip Seymour Hoffman, Robin Wright, Rachel McAdams, Willem Dafoe, and Daniel Bruhl, and the story, about the reaction when a potential terrorist on the run arrives in Hamburg, Germany, looks interesting and intense.
Like with James Gandolfini, every major role we see Hoffman playing from here on out is going to be a momentous occasion, and aside from this, we only have three more (the last two HUNGER GAMES movies and the upcoming Sundance premere GOD'S POCKET). I have to admit, while I was watching the trailer, it didn't click that Hoffman was no longer with us; remembering that tragic fact gave me a solid kick in the stomach. This dude's presence in a film meant that, no matter what happened, it was going to have something worthwhile in it. Even his Freddy Lounds in RED DRAGON made more of an impression in just a few scenes than Stephen Lang or Lara Jean Chorostecki have been able to do in the same role (not to knock their formidable work in MANHUNTER and HANNIBAL, respectively). It really hurts to see trailers with Hoffman or Gandolfini with that depressing baggage attached, but if it makes people appreciate their talents more, then I can't complain. These dudes earned our respect.
As for A MOST WANTED MAN, if it's as good as either TINKER, TAILOR, SOLDIER, SPY or THE AMERICAN, it's in good shape. I love a tight little spy thriller, especially with the level of talent attached here, so I'm looking forward to spacing out my summer blockbusters with this nail-biter at the end of July.
A MOST WANTED MAN will catch the shark on July 25th
-Vincent Kim-Zahedi
"Papa Vinyard"
vincentzahedi@gmail.com
Follow Me On Twitter