Papa Vinyard here, now here's a little somethin' for ya...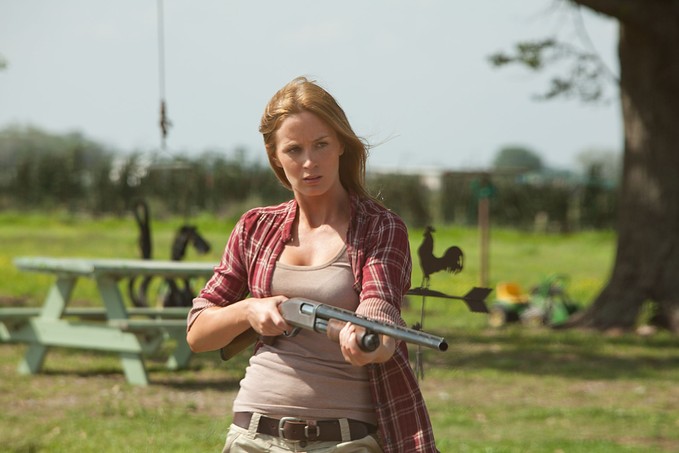 Denis Villeneuve got two movies in theaters within 6 months of one another. The first, PRISONERS, was ignored by the Academy, but made a nice little chunk of change on its $46 million budget. The second one, ENEMY, just started its platform release rollout a couple weeks ago, but has already gotten strong reviews for its complex narrative and Jake Gyllenhaal's lead performance(s). He's got an Amy Adams sci-fi flick entitled STORY OF THE YEAR in the pipeline, about a linguist's attempts to communicate with an E.T. But before he gets going on that, Villeneuve will tell the story of a Tuscon, AZ police officer who treks to Mexico to hunt down a drug kingpin. The flick's called SICARIO (spanish for "hit-woman"), and he's got his leading lady lined up, Golden Globe-winner Emily Blunt.
LOOPER proved that Blunt, appropriately enough considering her name, can have a tough, abrasive presence despite her typically glamorous good looks. I like the idea of a gender-reversed PRISONERS with her getting wild-eyed and deranged in the Hugh Jackman role as she hunts down this south-of-the-border baddie. There are apparently some crucial mercenary characters (who accompany Blunt's cop to Mexico), and I'm hoping Villeneuve does whatever magic he did with the PRISONERS casting sessions, and lands some awesome actors for those roles.
SONS OF ANARCHY/VERONICA MARS actor Taylor Shedian wrote the script (his first produced feature), but I'm already getting a sense of style from the amalgamation of "BLUNT, VILLENEUVE, DRUG WAR, MEXICO". Sounds like a good time at the movies to me.

Looper with Emily Blunt – Clip 04 by FanReviews
SICARIO is set to shoot this summer, so expect to see it in theaters sometime in 2015.
-Vincent Kim-Zahedi
"Papa Vinyard"
vincentzahedi@gmail.com
Follow Me On Twitter