Papa Vinyard here, now here's a little somethin' for ya...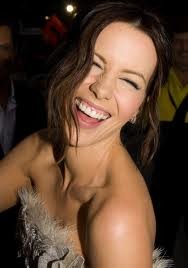 That Simon Pegg/Monty Python comedy ABSOLUTELY ANYTHING just got a dose of big-name sexiness. Deadline first ran the story that Kate Beckinsale has signed on to play the female lead (and Pegg's love interest) in Terry Jones' upcoming live-action/CGI mish-mash. Eddie Izzard and Joanna Lumley have also joined the increasingly-prolific lineup that Jones has hired to pad out his pseudo-reunion for the surviving members of Monty Python.
The Pythons will be voicing aliens that decide to bestow unlimited power upon one human as a sort of sick, MONSTERS ARE DUE ON MAPLE STREET test for humanity. Their specimen: a downtrodden schoolteacher played by Simon Pegg. Beckinsale will play the object of Pegg's desire, while his talking dog will be voiced by Robin Williams (who is also expected to pop up in a live-action role as well).
Jones hasn't directed a live-action feature film in almost 20 years (the last being 1996's MR. TOAD'S WILD RIDE, which also featured four Pythoners), but I can't help but feel joyous excitement in regards to this project. Pegg (who replaced Benedict Cumberbatch) and Beckinsale should all-but-assure the project's relevance in pop culture (as well as a wide U.S. release), while the comedy legends that permeate the film will bolster awareness with older (or more savvy) audiences.
And let's not judge Beckinsale's comedy skills based on CLICK and EVERYBODY's FINE; with the pedigree of this production, if there's any funny in those legendarily-contoured bones, I'm sure these guys will be able to coax it out of her.
-Vincent Zahedi
"Papa Vinyard"
vincentzahedi@gmail.com
Follow Me On Twitter