Papa Vinyard here, now here's a little somethin' for ya...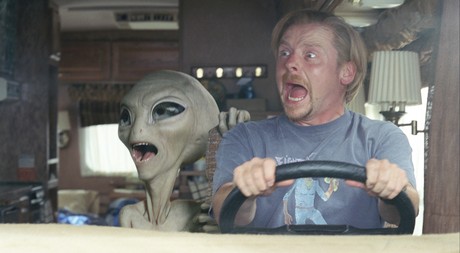 In addition to their upcoming sold-out live shows at the 02 Arena in london, 70+ year-old surviving members of Monty Python (minus, as of now, Eric Idle) are also providing voices for Terry Jones' animation/live-action hybrid, ABSOLUTELY ANYTHING. The Pythons will voice aliens who come to earth and grant some magical abilities to one super-lucky human. Benedict Cumberbatch was supposed to play the teacher who encounters the E.T.s, but according to Screen Daily, he's taking a Cumber-powder, leaving the live-action protaganist role to...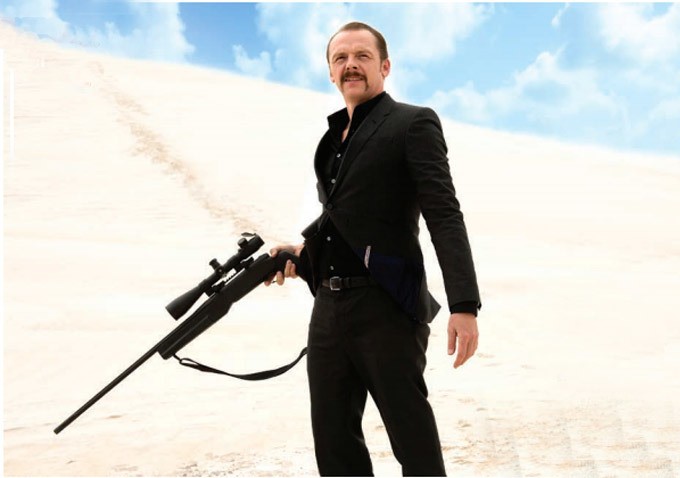 SIMON PEGG!!
As soon as you get it out of your mind that Pegg just interacted with a CGI extra-terrestrial in PAUL, think about the old-school/new-school potential of this project. Not to knock Cumberbatch, but his reputation isn't really that of a comedian; Pegg, on the other hand, is probably the most internationally famous contemporary name in comedy out of Britain, very possibly even more well-known than the Pythons among American youths. His performances in the Cornetto Trilogy (which, of course, he co-wrote) suggest that he's more than up to the task of playing deeply mannered characters, albeit with a dollop of awkwardness which distinguishes his style from MP's. This project could just be a late-career cash grab for Jones, calling in favors from his pals to give his film some legitimacy; I really couldn't care less. Even if they are all being blackmailed into doing this by some secret society threatening their families, I am quite grateful to be in a world where this project is coming together.
At the very least, this much be a huge honor for Pegg. Getting work with the most famous comedy troupe of the 20th century is one thing; being chosen to lead up the film which reunites them for the first time in 30 years, well…if validation by the Pythons doesn't help you sleep at night, you need some serious meds, buddy.
Gemma Arterton and Robin Williams (as a voice anda live character) will also star in the movie. Um, feed this to me now, please?
/p>
-Vincent Zahedi
"Papa Vinyard"
vincentzahedi@gmail.com
Follow Me On Twitter