Hey Yo, Draven here.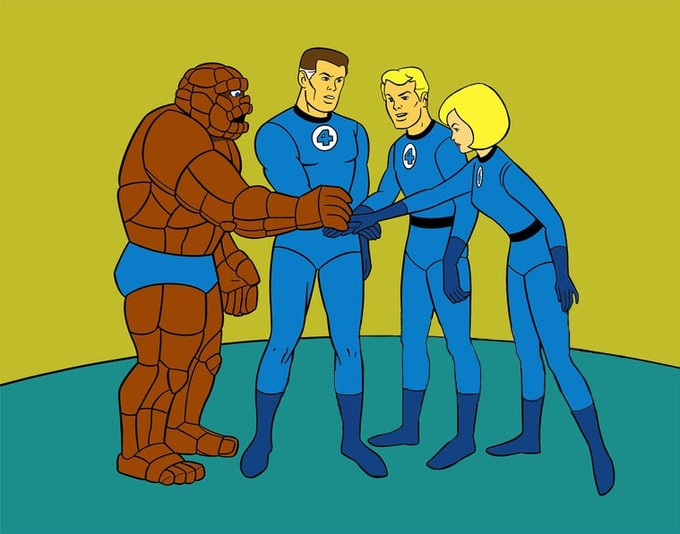 Lost in all of the BATMAN/SUPERMAN, STAR WARS: EPISODE VII and Marvel Universe rumors, is the fact that we still have a new FANTASTIC FOUR movie coming in June of 2015. There haven't been any casting announcements yet, and the film is supposed to be shooting this spring. Things have been pretty quiet lately but it looks like the film is starting to gain some steam before filming begins.
A new report from Variety, says that the script has been finalized (written by Jeremy Slater with a polish from Simon Kinberg) and that casting is almost complete. As has long been rumored, Michael B. Jordan is reportedly signed and sealed to play Johnny Storm (The Human Torch). Miles Teller has also long been rumored for Reed Richards (Mr. Fantastic), and Variety confirms that he is indeed testing for the role but hasn't officially been cast yet. (When asked about the role, Teller said this, "Yeah, that should be happening in the next few weeks." Variety reports that he was referring to the screen test, not that he had actually been cast in the role yet.) The other actors that are finalists and expected to test for the role include GAME OF THRONES co-stars, Kit Harington and Richard Madden. It is worth mentioning that Teller and Jordan have, THAT AWKWARD MOMENT, coming next week and while it doesn't look like anything spectacular, it should give us some idea as to the chemistry the two have working together.
Screen testing is also underway for Sue Storm (The Invisible Woman), with Kate Mara and Saoirse Ronan the two names mentioned as being in the running for that role. No word yet, on what they will be doing with either Ben Grimm (The Thing) or Victor von Doom, but an official casting announcement is expected to be released by Fox soon.
I really love the prospects of having a FANTASTIC FOUR with Michael B. Jordan, Miles Teller, and Kate Mara (or even Saoirse Ronan but Mara would be my 1st choice). I really liked Trank's CHRONICLE and it seems like they are taking their time in making this a successful reboot that will hopefully help us forget about the Tim Story-abortions. (There are also rumors that Fox is going to attempt a "shared universe" with their comic-book properties and specifically this FANTASTIC FOUR film and the upcoming X-MEN films, so they could have re-worked Slater's original script to fit this.)
Still, I know a lot of fanboys (and my favorite talkbackers) are going to be unhappy with how young they are going with this new film. Just realize that they are trying (and have to in order to be successful) to distance themselves from the previous films by going the ULTIMATE route, and are looking at some really talented young actors for roles.
I will break down my optimism and excitement regarding the actors so you all understand. Miles Teller got great acclaim for his wonderful performance in THE SPECTACULAR NOW last year, and is getting great buzz at Sundance right now for his role in WHIPLASH. Michael B. Jordon has always received great praise for his performances in THE WIRE and FRIDAY NIGHT LIGHTS on television and has transitioned to the big screen with an excellent performance in last year's FRUITVALE STATION (he really carried that film and should have probably got an Oscar nomination, in my opinion). Kate Mara has turned into one of my favorite young actresses with her scene-stealing performance on HOUSE OF CARDS and she has such a dynamic screen presence.
If the chemistry is right, this rumored cast would have the potential to really knock it out of the park with a decent script. I am really optimistic for this project which I never would have thought possible with the previous two films and the other comic book properties out there. Stay tuned as an official announcement is expected shortly.
Josh Trank's FANTASTIC FOUR reboot will be released June 19th, 2015.
Follow me on Twitter here!