Hey Yo, Draven here.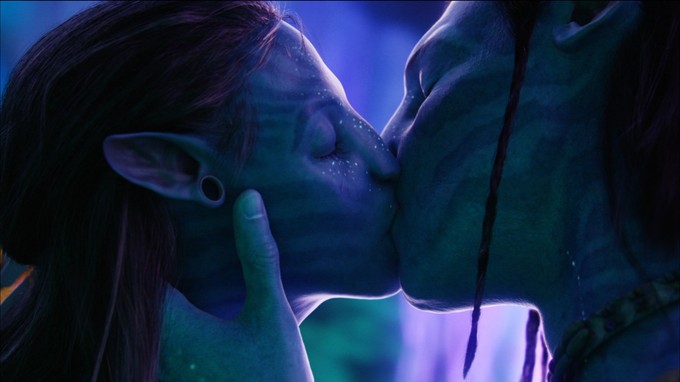 With all of the big comic book movie news that has been dominating the news lately, it's easy to forget that we also have three sequels to the biggest movie of all time on the way. We know that James Cameron is planning on shooting AVATAR 2, 3, and 4 back-to-back-to-back with release dates in December 2016, 2017, and 2018, respectively.
We also know that the first film's villain, Colonel Quaritch, played by Stephen Lang will be back. Now, we know that the first film's heroes will be back as well, because Fox has announced that Sam Worthington, who played Jake Sully and Zoe Saldana who played his Navi love interest, Neytiri, have both finalized deals for the three sequels. THR is also reporting that the two characters will have kids in the sequels. (Get your fan-fiction ready!)
Here is the official announcement:
In the 2009 original, Worthington's Jake Sully was a wounded former Marine confined to a wheelchair. His bravery and destiny help define a world he didn¹t even know existed. As Jake's relationship deepened with Saldana's Neytiri, a fearless and beautiful Na'vi huntress, he learned to respect the Na'vi way and finally took his place among them.

Commented James Cameron: "Jake Sully is rare combination of passion, strength, street smarts and soul, which requires a lot from an actor. Sam brought to the role a combination of sensitivity, vulnerability and strength. Zoë captured every aspect of the character I envisioned, bringing to Neytiri a mix of delicacy, fierceness and incredible physicality. I am beyond pleased they'll be returning with us to Pandora."

Last year, Cameron announced that not only is he moving forward with the most anticipated films of the next decade, but that the sequels had grown in number from two films to three.

Additionally, to help bring his expanding universe to life, Cameron hired screenwriters Josh Friedman (War of the Worlds), Rick Jaffa & Amanda Silver (Rise of the Planets of the Apes) and Shane Salerno (Savages, Salinger) to collaborate with him on the screenplays for the three films.

The as yet untitled Avatar sequels will be filmed back-to-back. The release of the first follow-up will be in December 2016, with the second to follow in December 2017, and the third a year later.

Cameron and Jon Landau through Lightstorm Entertainment will produce Avatar 2, 3, and 4 for Twentieth Century Fox.

Avatar is the highest grossing film of all time, taking in nearly $2.8 billion in worldwide box office. It is also the top-selling Blu-ray disc of all time. Avatar won Golden Globe awards for Best Motion Picture and Best Director; and was nominated for nine Academy Awards, including Best Picture and Best Director, and won Oscars for art direction, visual effects and cinematography.

Avatar was written by Cameron from an idea he nurtured for over a decade, while working on the technology necessary to realize its wholly imagined world. Working with Joe Letteri and his team at Peter Jackson's WETA Digital, Cameron created a fully immersive 3D cinematic experience of a new kind, where revolutionary technology that was invented to make the film disappeared into the emotion of the characters and the epic nature of the story.

The three Avatar sequels will mark Cameron's latest collaborations with Twentieth Century Fox, a relationship that spans 27 years and marks one of the most successful filmmaker-studio alliances in motion picture history. Cameron and Fox first joined forces in 1985 for Aliens, which became a sci-fi classic. Next came The Abyss, which revolutionized visual effects technology; and True Lies, a blockbuster starring Arnold Schwarzenegger. In 1996, Fox green lighted Cameron's Titanic, which became the most successful film in history, and won a record-breaking eleven Academy Awards, including Best Picture.
This isn't surprising obviously but it is now official so what do you guys think? Are you interested in seeing the continuing adventures of Jake Sully and Neytiri (Sully?) or do you wish Cameron was focusing on developing new (or in Jake's case more interesting) characters?
Follow me on Twitter here!