Papa Vinyard here, now here's a little somethin' for ya...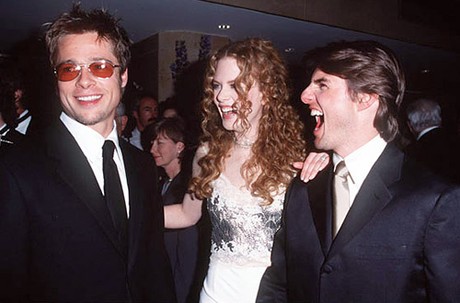 That Tom Cruise/Joseph Kosinski flick about Henry Ford II may have landed another megastar. THR reports that Cruise and Kosinski are looking to bolster their biopic (which would deal with Ford's attempt to usurp Enzo Ferrari as the world's leading racecar producer) with the talents of Cruise's INTERVIEW WITH A VAMPIRE co-star, Brad Pitt.
Apparently, Pitt had previously been attached to the project when Michael Mann was gearing up to shoot it a few years back, but no word as to what role he was/is eyeballing then and now. Contrary to prior reports, Cruise will be playing car designer/racer Caroll Shelby, rather than Ford himself, leaving that role open for Pitt, who is age-appropriate to inhabit the figure at that point in his life.
Considering how kickass their chemistry was in VAMPIRE, and how much international clout they've both maintained for over two decades, it would be a fascinating reteam, not to mention a huge get for the production. As an unabashed fan of both (they consistently work with excellent directors, and have very scrupulous attitudes towards their scripts and productions), I hope that the deal works out, and we get to see them spar against each other at this point in their respective careers.
-Vincent Zahedi
"Papa Vinyard"
vincentzahedi@gmail.com
Follow Me On Twitter