Hey guys! Horrorella here...
We got word a few months ago that a remake of George Romero's DAY OF THE DAY was in the works (this would mark the second remake of the film, after the 2008 reboot that we would all just rather forget happened).
Deadline reports that Vicarious Entertainment will be developing the project, alongside the previously-mentioned Campbell Grobman Films.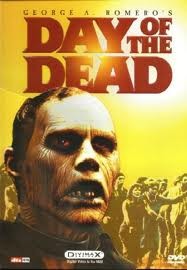 No additional details have been released, so the project seems to be pretty early in the the pre-production phase. When we first learned about the potential remake, producers Lati Grobman and Christa Campbell (who had also been involved in TEXAS CHAINSAW 3D) were still on the hunt for writers, so it will likely be a little while before anything concrete begins to take shape.
Vicarious is looking to becoming something of a name in horror, currently looking to develop four to six films, having already partnered with producer Steven Schneider (PARANORMAL ACTIVITY, INSIDIOUS, THE LORDS OF SALEM) on the psychological thriller, ESTRANGED, directed by Adam Levins.
As much as I love zombies, I have to admit - I've been feeling the fatigue. The living dead have been saturating pop culture for the past few years, and I'm really not feeling terribly excited at the idea of yet another zombie film - let alone a remake of one of Romero's DEAD trilogy.
What do you guys think?
Follow me on Twitter