Papa Vinyard here, now here's a little somethin' for ya...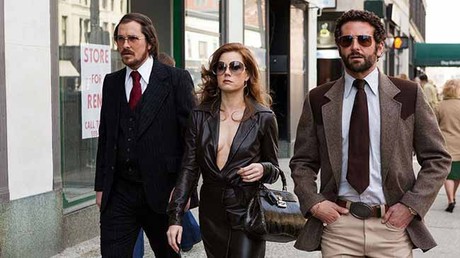 We have a new trailer, via Yahoo, for David O. Russell's AMERICAN HUSTLE, and it's decidedly different in tone than the last one we saw. If what I've been hearing is true, the film is strongly reminiscent of both GOODFELLAS and BOOGIE NIGHTS, and that first teaser was very much like the latter, while this new one feels more like the former. We get a good sense of the various characters, their relationships, and what their motivations are in the narrative. What we don't get is the fast-paced, paranoid intensity that the test-screening review we posted highlighted. The trailer also doesn't do a great job of conveying the actual plot of the movie, which is apparently about Bradley Cooper's FBI agent getting con-men Christian Bale and Amy Adams to catch some crooked money-men with their hands in the proverbial cookie jar. That being said, the performances look dynamite (I can't wait to see more of Jennifer Lawrence's character) and the '70s setting, from the soundtrack to the costumes to Bradley Cooper's wonderfully permed-out hair, seems to be almost a character in and of itself.
Did you catch the glimpses we get of some of the big names in the supporting cast? Man, Russell lined up a serious roster for this one. Can't wait.
AMERICAN HUSTLE starts grifting on December 13th in limited release, and then in theaters nationwide on Christmas Day.
-Vincent Zahedi
"Papa Vinyard"
vincentzahedi@gmail.com
Follow Me On Twitter