Papa Vinyard here, and I got somethin' for ya...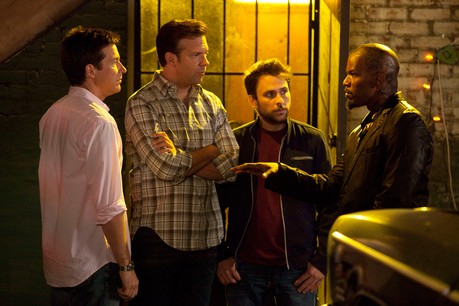 We've known for almost a month that HORRIBLE BOSSES director Seth Gordon was NOT coming back for a second go-around with the film's three central working stiffs. Now, we got news from Hollywood Reporter that New Line has found their new director in SEX DRIVE and THAT'S MY BOY helmer Sean Anders. Anders will also co-write the film with partner John Morris (the pair's work includes SHE'S OUT OF MY LEAGUE, HOT TUB TIME MACHINE, and the current draft of DUMB AND DUMBER TO), re-writing the script by original scribes John Francis Daley and Jonathan Goldstein. For returning players, we got Charlie Day, the Jasons Bateman and Sudeikis, and Jamie Foxx all lined up to return; no word yet on who the bosses will be, or even whether Kevin Spacey or Jennifer Aniston will be making appearances (sadly, I think it's safe to say we won't be seeing Colin Farrell or his combover this time around).
I was watching the first film on TV last night, and I was struck with how loose and chemistry-based the humor is for a studio comedy with such a high-concept premise. Obviously, it reeks of HANGOVER wannabe-ism, but the three leads had a relaxed, funny interplay that is elevated by the three scenery-chewing boss performances. I'm not dying to see these three funny, handsome white dudes running around and suffering logic lapses again (and, apparently, neither does Seth Gordon), but if they can top the "A-listers run wild" kicker of the last one, I'll probably check this out when it eventually comes to theaters. And they got Foxx to come back as Dean "Motherfucker" Jones ("I can't walk around this fuckin' neigborhood with that Disney-ass name!"), which is definitely a good thing.
Re: Anders previous work, it's nothing to get too excited about, but he doesn't have a tin ear for comedy or anything. Considering how my favorite moments in THAT'S MY BOY all belong to Will Forte, I hope that Anders finds a role in there for him somewhere.
HORRIBLE BOSSES 2 will probably have to start shooting soon if they wanna meet the original's mid-summer release date next year. If not, I could see it as a Fall/Winter '14 release.
-Vincent Zahedi
"Papa Vinyard"
vincentzahedi@gmail.com
Follow Me On Twitter