Papa Vinyard here, and I got somethin' for ya...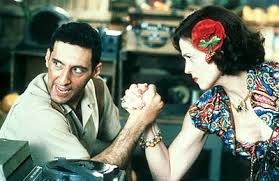 Through Variety, Deadline, and The Hollywood Reporter, news has surfaced about some casting news regarding Ridley Scott's Moses epic, EXODUS. Sigourney Weaver, John Turturro, Sir Ben Kingsley, and BREAKING BAD favorite Aaron Paul have all signed onto the massive drama that Scott's prepping for a shoot starting this September. Weaver and Turturro will be playing the parents of Joel Edgerton's Ramses, Kingsley will play a Hebrew scholar that presumably enlightens Moses on his journey, and Paul will play a slave that gets involved in Moses' rebellion against his adopted brother.
This is clearly awesome news for the upcoming Fox feature, which currently has a script by Steve Zailian. I mean, we all know Christian Bale and Edgerton are going to rock as Moses and Ramses, and backing them up with pros like Weaver, Turturro, and Kingsley is already getting me so pumped, I don't even care that in 2013, we still got white people playing Egyptians.
But Aaron Paul's the real catch here. Don't we all want Jesse, I mean, Aaron Paul to do okay? Well this flick's gonna bump up his feature-film cred in a big way, and acting alongside these huge names will force him to bring his A-game to the big screen (as opposed to TV, where he's flexed it on the reg on BAD). Now that BREAKING BAD's wrapping up, I feel that we'll be seeing the actor in more and more movie projects, considering how popular and memorable his work as Jesse Pinkman was/is. And that is a good thing. Dare-I-say, "yeah, bitch!"-worthy.
EXODUS is gearing up for a September shoot, and should be out in theaters by awards season (Winter) 2014.
-Vincent Zahedi
"Papa Vinyard"
vincentzahedi@gmail.com
Follow Me On Twitter