Papa Vinyard here, and I got somethin' for ya...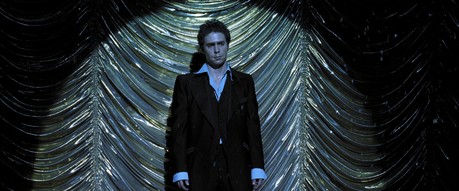 If this works out, that POLTERGEIST remake is in for a shocking dose of personality. The Wrap has put up the news that Sam Rockwell is in talks to play opposite Rosemarie DeWitt as the central family's old man in Gil Kenan's upcoming remake. Even cooler is the fact that Rockwell is allegedly primarily intrigued by the role due to the involvement of Sam Raimi through his Ghost House Production banner. Rockwell hasn't confirmed this news himself, but he's Kenan and Raimi's top choice, and it would be a huge get for the production to have someone with the actor's level of fan appeal and dramatic talent.
Rockwell is really good at balancing his studio gigs with more bizarre independent work, but I don't think he's ever taken on a straightforward horror lead before. If he could inject some of that CONFESSIONS OF A DANGEROUS MIND/MOON/GALAXY QUEST madness into an otherwise-steadfast "concerned father" type, it should be more than enough to distinguish POLTERGEIST not only from the original, but from the glutton of contemporary horror remakes as well. I wasn't a fan of THE WAY, WAY BACK, but it showed off Rockwell's talent with child actors, which is a must for this role.
I like where Kenan's head's at right now, getting actors with indie cred like DeWitt and Rockwell instead of cheaper, anonymous talent. But I'm still holding out for who they get to replace Zelda Rubinstein!
POLTERGEIST will shoot in the next couple of months, and is aiming for a release date sometime in 2014.
-Vincent Zahedi
"Papa Vinyard"
vincentzahedi@gmail.com
Follow Me On Twitter