Howdy do, everyone, Papa Vinyard here.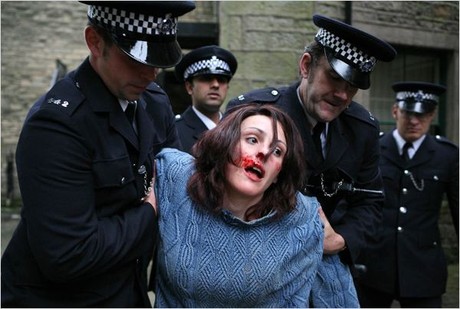 Christopher McQuarrie is getting out of the Tom Cruise business, at least for a minute. While it was believed that McQuarrie's next project would be MISSION: IMPOSSIBLE 5, after writing-directing Cruise in JACK REACHER and writing his upcoming ALL YOU NEED IS KILL, we have word from Deadline that McQuarrie has signed on to write and direct an adaptation of the British miniseries UNFORGIVEN. He was actually lined up to scribe the feature back in 2010, with a plan to get Angelina Jolie for the lead. No word as to who him and producer Graham King (THE DEPARTED, THE AVIATOR) are trying to get now, but one can imagine that, after THE TOURIST, Jolie's not too hot about jumping back into McQuarrie-filled waters just yet. UNFORGIVEN concerns a convicted murderer who, upon closing out her 15-year sentence, tries to reconnect with her estranged adopted sister. I believe there's a STRAW DOGS element when those close to the murdered cops come knocking at her door…yeah, I could see Jolie in this, but if she's not on board, let's hope McQuarrie can find someone else who can act tough and just plain act, as well.
I'm slightly disappointed that McQuarrie is putting M:I-5 (the movie, not, you know, the intelligence agency) on the backburner; he's had a hand in making two solid recent Tom Cruise pictures, JACK REACHER and VALKYRIE, and I was excited to see his take on the big-budget franchise in the footsteps of heavy hitters like DePalma, John Woo, J.J. Abrams, and Brad Bird. But this seems like something smaller and more intense, and one can figure he won't have as many money people breathing down his neck. I can't imagine a multi-hundred-million-dollar budget for this one, even with an A-lister in the lead. I thought he did a great job with JACK REACHER, which only cost about $60 million, but I'm absolutely in love with THE WAY OF THE GUN, which he was able to make for $21 mil, so hopefully being pared down focuses his talents a little bit without the need to over-commercialize the film.
And if we pray, maybe he'll throw another scene like this in there...
-Vincent Zahedi
"Papa Vinyard"
vincentzahedi@gmail.com
Follow Me On Twitter