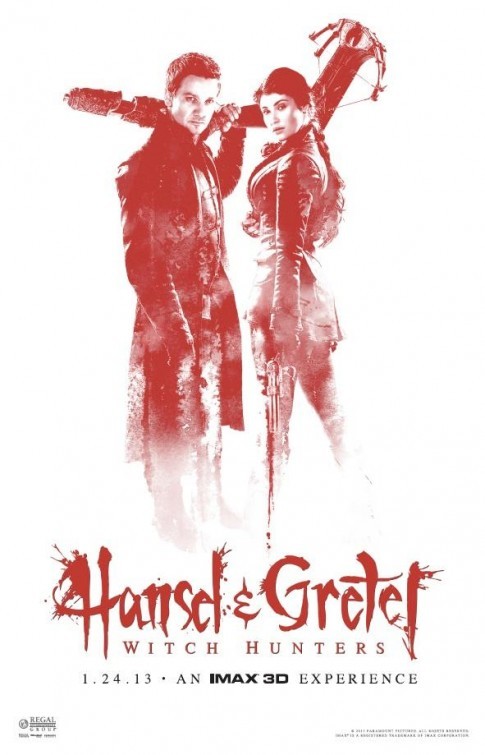 It's not altogether fashionable 'round these here parts to admit to liking HANSEL & GRETEL: WITCH HUNTERS, but...damn it...I did like it. Quite a bit. And I refuse to apologize for liking it.
The film, directed by DEAD SNOW's Tommy Wirkola, performed respectably at the box office, pulling down over $200 million (and has yet to be released on video). Which is, admittedly, not exactly setting the world on fire by AVENGERS or DARK KNIGHT standards. However, unlike those films, H&G was produced for $50 million(ish) and, as such, it was easier for it to comer out ahead. That budget, by the way, is rather amazing considering the immense physicality of the production, and its numerous practical and CGI effects.
Paramount, MGM and MTV Films were behind the first pic, from Gary Sanchez Productions, whose principals Will Ferrell, Adam McKay and Kevin Messick are expected to return as producers for the second go-round as is Beau Flynn.
...says THIS piece over at Deadline. No word yet on whether or not Jerremy Renner and Gemma Arterton - the first film's stars - will return for the sequel, although that possibly is strongly indicated by the progenitor picture's concluding moments. Nor is there a sense of whehere Wirkola will; be back - he's off in Norway shooting DEAD SNOW: WAR OF THE DEAD - although one would hope that picture might be finished in time for him to revisit H&G.
More as we know more...
-------------------
Glen Oliver
"Merrick"
- e-mail
- Twitter
- Google +