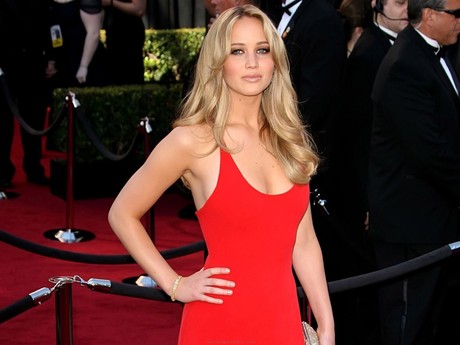 The Kidd here...
Jennifer Lawrence is definitely in the running for Best Actress this coming Sunday at the Oscars (it'll likely come down to her or Jessica Chastain) for her performance in SILVER LININGS PLAYBOOK, so you can't blame the actress for being eager to work again with director David O. Russell. However, it is a bit surprising that Lawrence has lined up not one, but now TWO projects with Russell at the helm. Last week, Lawrence signed on to the film formerly known as AMERICAN BULLSHIT, joining a cast that already featured her SILVER LININGS co-star Bradley Cooper and Christian Bale. That film deals with the Abscam sting operation in the 70s that brought down quite a few U.S. Congressmen. Now, according to The Hollywood Reporter, she's also attached to star in THE ENDS OF THE EARTH, which Russell will get to eventually. It could perhaps happen at the end of the year, or early next, with BULLSHIT set to go into production in March (there's still no guarantee ENDS will be next, as Lawrence does have HUNGER GAMES committments that may tie things up).
THE ENDS OF THE EARTH, set up at The Weinstein Company, tells the story of a major oil tycoon who has everything taken away from him when it comes out that he had an affair with his adopted daughter, the role Lawrence will take. Yeah, that one's going to get really fucked-up rather quickly. No word yet on who would play the oil baron. Chris Terrio, who wrote the screenplay for ARGO, has penned the script for THE ENDS OF THE EARTH, so there looks to be a lot of things breaking right for this project already.
-Billy Donnelly
"The Infamous Billy The Kidd"
Follow me on Twitter.
Like me on Facebook.