Howdy, citizens! ROBOGEEK here, helping to hold down the fort while Harry and THE DUDE embark on a mission to retake the Panama Canal. Anyway, I was devoting a few spare vacuum tubes to help search the skies for signals from the ill-fated Mars Polar Lander when I picked up something interesting. At first I thought I might have made a discovery that would get my name uttered on national television for the second time in as many weeks, but alas it was just that pesky old codger Moriarty, playing with his damned satellite transmitter again. (And, no, he isn't responsible for all those "denial of service" attacks across the internet this week. And neither am I.) Anyway, after decoding the signal with encryption technology too many of our elected officials want banned, I uncovered this week's RUMBLINGS FROM THE LAB, not to mention an added bonus including the film I'm most anxious to see greenlit right now, SEED OF DESTRUCTION - A HELLBOY ADVENTURE!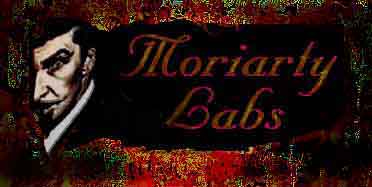 Hey, Fellow Geeks...
"Moriarty" here.
I GOOFED. I freely admit it. While my enthusiasm for MEET THE PARENTS yesterday was genuine, some of my facts about the project's origins were a little well, they were completely screwed. In order to teach myself a lesson about not doing this again, I have left the original entirely insane paragraph up, with my corrections added below. It's in the middle of the section below about Dreamworks. My thanks to all those who wrote to me to gently point my errors out, and no, I'm not "fucking brain damaged," but I do appreciate your concern.
It's just before dawn on Wednesday, but I can't see the sun this far underground. It doesn't feel early down here because of all the activity around the clock at the Labs this past week. A crack team, headed by new Henchman Smeagol, is working overtime to salvage my old hard drive and install our new equipment. The computer virus that finally killed the old system was so fascinating that I created a biological equivalent and have been testing it on poor unsuspecting Henchman Mongo. To be honest, I didn't know fluid could come out of certain openings, but it's good info for future reference.
As a result of the intense recovery efforts of the team, today finally marks the appearance of The Big Damn '90s List Part II. I hope this finally puts an end to the steady stream of e-mail calling me variations on the name "Fucknuts." I also hope you enjoy it, since it's probably the toughest two years to write about of the whole decade. Right now, I'm going to turn up Jon Brion's astonishing instrumental score for MAGNOLIA (he'd better bag a nomination) and jump right into this week's report. One quick question, though: has anyone else noticed how much Michael Douglas looks like Benny Hill on that new WONDER BOYS poster? Guess I know one show Catherine Zeta-Jones loved as a kid.
GUILLERMO DEL TORO SHOULD GO TO HELL
And as soon as possible, too. As many of you know, Guillermo Del Toro is a friend of Harry's, and I've had many opportunities to speak with him. One of the things that strikes me about him is just how strong his vision of something can be. I've read a number of his scripts and they are all strong pieces of visual writing. Some of the projects he's talked about that haven't been written yet are ambitious, crazy even, and they all sound equally exciting. The only problem I see in Guillermo's work is that no one's pulled the trigger on what should be one of the easiest decisions in town. No one has stepped up to make HELLBOY.
First, let me get it technically right. The script I read is called SEED OF DESTRUCTION now, a HELLBOY adventure. An earlier script I read called HELLBOY by Peter Briggs has nothing whatesoever to do with the script that Del Toro has crafted. This is the second draft of Del Toro's I've read, and it's less than two months old. No simple action film, this is a big giant wedge of pop mythology, featuring some familiar archetypes in some truly original interpretations. All credit must be paid to Mike Mignola, who created the comic that the storyline is drawn from. There's a tone to his work that's as distinct and skewed as the best of Kyle Baker or Mike Allred, an eccentric worldview that's neither comic or dramatic, but more like some wonderful mix of the two. It's a difficult juggling act, but Guillermo manages to capture the gothic horror influences, the action movie moments, the surprisingly romantic human drama, and the wicked postmodern sense of humor. There's a real sense of respect paid to the material. This isn't just something that's being slapped together to sell toys. This is a really lovely tale, complete with a framing device that reminds me of Beatty's REDS, people telling stories about their particular Hellboy memories.
I hate when a whole film is used to just set a character up, but comic book films frequently just become origin stories with a villain grafted on. Guillermo dispenses with the origin of Hellboy in a really crazy opening sequence that is as much fun as the opening of the Ark in RAIDERS. This is where we start, keep in mind. From there, we move forward to today, to a time when Hellboy is working with the BPRD in Trenton, N.J. This isn't the newest of ideas. Both GHOSTBUSTERS and MEN IN BLACK have tapped it to comic effect before, and it's very X-FILES in some regards as well. The thing that makes Mignola's creation work is the personalities, and Guillermo's script definitely benefits from strong relationships. There's the father-son vibe between Hellboy and Professor Trevor "Broom" Bruttenholm, the man who headed the team that found him. There's Hellboy and the other members of his strike team, Winters and Abe Sapien, as well as the way they all deal with Myers, the new guy.
Mainly, though, there's the doomed love story between Hellboy and Liz Sherman, a woman who walked away from the BPRD, someone Hellboy can't let go of. As written, this is one of the most credible and touching romantic relationships I've encountered in a script in a while. It's the soul of the film. It's also the thing that's going to make HELLBOY more than just a suit job for an actor. Guillermo has put in the effort looking for just the right Hellboy, searching for the right actor and not just a big name. Ironically, with this new draft, it's obvious that's exactly who should be in the film... someone huge. If I were one of Hollywood's A-list action guys, I'd take a look at the film. There's more meat here than in most of the action/adventures that are going to come across your desk, and some of it is stuff we've never seen before.
The main villains of the film are credibly creepy, the perfect villains for this world. This isn't a film that worries too much about "reality." There's magic in this world, demons, albino visionaries, fish men, pyrokinetics, ancient Russian madman, mutliation by surgery, and demon eggs. There's some big giant SUPERMAN II style action, the kind we don't get nearly enough of in comic book films, where serious damage is done. Important characters die. There's a real sense of loss during these fights.
I credit Lloyd Levin and Larry Gordon for continuing to develop the material they find as a result of their Dark Horse Comics affiliation. Despite the fact that MYSTERY MEN didn't click with audiences last summer these guys are continuing to develop these properties, and they're taking their time to get it right. Guillermo's script has come a long way, with each draft becoming more and more powerful. He finally focused it, made it really special. One of my favorite sequences in film history is in CREATURE FROM THE BLACK LAGOON. It's that classic image when Julie Adams is swimming in that white bathing suit, and we see under the water, where the Creature is swimming just below her, mirroring her moves, never quite touching her. It scared me on such a core level as a kid living in Florida who was constantly in the water, but as I've aged, I find the memory more sad than scary. There's a sense of desire that can't be satisfied, and there's a sequence in SEED OF DESTRUCTION when Hellboy shadows Liz Sherman on a date, staying out of sight, watching her every move, that struck that same chord in me. It's really heartbreaking. He's not just an effect; he's a character.
If Rick Baker wasn't so busy in his Glendale labs, I'd be able to sneak in and see the work that he and his crew have done on the project so far, designing the actual look of Hellboy and some of the film's other fantastic creations like Abe and Sammael or some of the big boys from the film's climax. Unlike pretty much every single comic book adaptation ever in the history of movies, Guillermo would actually like to translate the specific look of the book from one medium to the other intact. It's a pretty bold and innovative concept, or at least it must be, based on how things typically work. I mean, I'm open-minded, but trading in the yellow and blue for MATRIX gear is an improvement? If you want to know the flavor of Hellboy, you should check out HELLBOY.COM, the official Hellboy website, which has a page spotlighting a piece of Wayne Barlowe pre-production design art for the film that can also be found in Harry's earlier article about the project. They're really going to try to capture that specific look. All I know is I can't wait to see UberHellboy.
With most of the film's financing in place, all that remains is for some studio to wise up and take the plunge. A minimal investment and they're the US distributor of what looks to be a unique ride for film audiences. Guillermo's probably making THE DEVIL'S BACKBONE in Spain this summer with producer Pedro Almodovar, but he is going to need the time to gear up properly on a film as epic as SEED OF DESTRUCTION is going to be. Once the right star is in place, this is a package that is going to be one of the films we're going to watch the closest. It's not going to be easy, but it just might be great.
HAS DREAMWORKS COME OF AGE?
If I was a betting man, I'd say this is the year that Dreamworks is really going to step up and kick ass across the board. So far, they've been an interesting studio that's been getting its legs under it. They've had some real high points, with AMERICAN BEAUTY, ANTZ, PRINCE OF EGYPT and SAVING PRIVATE RYAN marking the ups, and they've had their share of FORCE OF NATUREs and THE PEACEMAKERs as well. Overall, they've been ambitious, and that's always exciting. Last week, I went to a special ROAD TO EL DORADO event that was held at the Dreamworks Animation complex in Glendale. I also had the opportunity to read most of their current slate, and it's really gotten me thinking about what's ahead for them.
Personally, I'm excited. ROAD TO EL DORADO may not be a perfect animated film, but it's a clear-cut reminder that one of the reasons Disney enjoyed a resurgence in their animated division wes because of the influence of Jeffrey Katzenberg. He was lucky enough to be working with an enormously talented bunch of animators and writers and directors, but Katzenberg has an innate understanding of the form. His fingerprints are clearly visible on the final cut of EL DORADO, and that's mainly a good thing. The film is fast, funny, beautiful to look at, and actually takes care to avoid the charges of racial insensitivity that dogged Disney when making films like ALADDIN. It doesn't demonize Cortez, but it also doesn't soften him up. It's also smart enough to not make him a central character, thus avoiding any major criticism of how he's portrayed. No, it's Tulio and Miguel, voiced with vigor by Kenneth Branagh and Kevin Kline, who are the central characters here, con men who win a map in a loaded dice game that is supposed to lead to this secret beach where Leo Di Caprio and this hot French girl are... wait, I think I told it wrong. Um, the map leads to the Lost City of Gold is what I meant to say, and when Miguel and Tulio show up there, they are mistaken for gods. Rosie Perez plays a local who figures out their scam and works her way in, playing the two men against each other. Overall, the piece is played light, but there's a couple of pretty rousing adventure set pieces and some genuinely sweet moments scattered throughout.
If I have a complaint, it's that there's no reason this had to be a musical. The efforts of Elton John and Tim Rice aren't particularly bad, but they also aren't necessary. If I've ever seen a big studio animated film that could have worked just fine as an adventure/comedy without anything but a score, it's this one. It's Jeffrey's one concession to the fact that he's still playing Disney's game. Dreamworks has proven twice now that they've got the resources to make films that are every bit as technically accomplished and artistically striking as Disney. They should now stretch their legs, shake off the old formula, and stake some new ground that's entirely theirs. When they do, I have a feeling there will be no competing with them.
Things appear equally rosy on the live-action side of things. I don't know why I waited so long to read CAST AWAY, the new Robert Zemeckis film that Tom Hanks is starring in. I think it's because of how much I disliked WHAT LIES BENEATH, a film that I still think reads like THE SIXTH SENSE without any kick. I didn't want to dislike CAST AWAY as well and then have to wait through two Zemeckis films I wasn't interested in. I love Zemeckis (even though he may not believe me after reading my FORREST GUMP piece in the '90s List today), and so it is a great relief to me that CAST AWAY isn't just good, it's great.
William Broyles avoided all the pitfalls that I thought were inherent to doing a "guy stranded on a desert island" film. For one thing, that's not really what the movie's about. I mean, his being stranded is definitely the event that the entire film hinges on, but it's not the major chunk of material. In all, he doesn't even spend 40 pages on the island. Instead, this is a movie about feeling lost even when you're among the familiar. Once he comes back and tries to reclaim some pieces of his life, after four years away, he finds himself overwhelmed. It's not really a role we've seen Hanks play before, and I think it could be wonderful to watch him bring this particular guy to life. Thankfully, the weight thing isn't the film's one big gimmick, even if it is all we've heard mentioned so far. Yes, Hanks will lose a lot of weight for the film, and yes, it will be shocking when we see it. This script is about something human and relevant, though, and that's what we'll hopefully carry away after seeing the film this Christmas.
I think that CAST AWAY is going to have stiff competition for the Best Picture 2000 category, though, and it's going to come from the same studio. Robert Redford's THE LEGEND OF BAGGER VANCE is one of the best studio projects I've read in a long time, and it's nothing that I thought it was going to be before I picked it up. It will not surprise me one bit of Matt Damon and Will Smith are both major awards contenders next year, as they've been given the roles of their careers respectively. I really love the writing of Jeremy Leven, who adapted Steven Pressfield's novel, which I freely admit I haven't read. If it's half as engaging as the script, I plan to give it out as a gift this coming Christmas to friends.
Leven's a novelist himself, having written the brilliant (and poorly adapted) CREATOR, and has also worked in films for some time, having written and directed the engaging DON JUAN DEMARCO. This script is magical, full of one great sequence after another and some of the richest dialogue this side of the Coens. All I knew before picking it up was that it had something to do with golf, and I was pretty sure it was a period film. Both those things are true, and if I told you anymore than that, then I'd be stealing some of the delicious surprise I enjoyed away from you. That wouldn't be fair. It's a film that will delight and move audiences if Redford brings the same sort of intelligence and craft to the film as he did to A RIVER RUNS THROUGH IT or QUIZ SHOW.
Universal's got domestic distribution rights to Jon Herzfeld's new comedy MEET THE PARENTS, but Dreamworks has to share some credit for finding this delightful, fast, and funny comedy script that will only strengthen Ben Stiller's and Robert De Niro's reputations as solid comedy stars. De Niro seems to have decided recently that he was going to be funny for a while, and although I'm not a big ANALYZE THIS fan, I adore THE KING OF COMEDY and MIDNIGHT RUN. I know that he's a funny, funny man. The role he's got in MEET THE PARENTS is one of the best he's been handed, comedy or drama, in quite some time. The premise is simple. Stiller plays a guy who is going to join his girlfriend on a trip back to her hometown so she can be in her sister's wedding. It's a perfect chance for him to meet her parents without that being what the whole trip's about. It takes some of the pressure off, or it would if Stiller wasn't practically cursed by the worst imaginable luck for the entire weekend. He does everything wrong that he possibly can, and it's hysterically funny. The script builds beautifully, with each gag sequence paying off into a bigger and funnier one, and with everything falling together perfectly in the last few pages. It's a major step forward for Herzfeld, a guy who I've always thought made entirely okay movies like TWO DAYS IN THE VALLEY, but who never seemed to me to be someone to watch. This script changed my mind.
Okay, wanna know the real story? Universal is the film's domestic distributor, but the film is directed by Jay Roach, who directed both of the AUSTIN POWERS films. The original script was by Jim (MEET THE DEEDLES) Herzfeld, not John (TWO DAYS IN THE VALLEY) Herzfeld, who is currently working on 15 MINUTES, the Robert De Niro/Edward Burns film. The shooting script for MEET THE PARENTS was also rewritten by Alexander Payne and Jim Taylor, the screenwriters of a film that just might be a major player on my 1999 list, ELECTION. So you've got Jay Roach, Robert De Niro (see why someone could get confused?), Ben Stiller, Alexander Payne, Jim Taylor, that original script I read... it still sounds pretty damn promising to me. Sounds even better, actually. It was driving me crazy wondering how the guy who wrote and directed the Olivia Newton John/John Travolta flick TWO OF A KIND could come up with something so good.
Then, of course, there's the other Universal co-production, GLADIATOR, which Dreamworks is releasing domestically in early May. I can't get enough of that original trailer, and hopefully Harry and I are going to have some very cool GLADIATOR news for you in the next few weeks. I think the poster for the film is also great. I hope they do an equally knockout job releasing Cameron Crowe's new film later this year. I hope it's a gutsy campaign, because it's a pretty gutsy script. I like the fact that they were entertaining the title UNTITLED for the movie for a while. It's appropriate to the music mileau that the film is set in, and there's a cheekiness about it, like Guy Ritchie's SNATCH, that I find very appealing. Add into that the fact that Dreamworks is making a comedy with MTV's love-him-or-hate-him Tom Green right now, and you can see that they're not playing it anywhere near safe. Considering this is a group of guys who could definitely coast if they wanted to, it's nice to see their studio continue to develop a unique and exciting voice in the market.
HEY, MAYBE WE COULD USE THE INTERNET TO SELL STUFF!
I love that companies like New Line are really embracing the concept of online promotion. They're about to do another update to their official Lord Of The Rings site (www.lordoftherings.net), and it's going to be an extension of the excellent teaser material they've already got there. If you want, you can check out a rough example of the new LOTR material on the DVD for THE ASTRONAUT'S WIFE, as long as you've got a DVD-ROM drive. It's just another way that New Line packs really unique extras into their home video releases.
USA Films is trying to learn from last year's winners THE MATRIX and THE BLAIR WITCH PROJECT with some of their promotional efforts for the excellent SF thriller PITCH BLACK, and I'd say they're batting about .500 in their efforts. Like THE MATRIX, the official web site (www.pitch-black.com) uses Flash-animated comics to extend the story of the film, to give us original material. It works. It's a pretty cool stop on the browser, and it really does a nice job of cluing you in to some of the fun you're going to have next weekend. On the other hand, I was disappointed in their SciFi Channel Special, INTO PITCH BLACK, which is a semi-sequel to the film. It's got all the production value of CARNOSAUR 3, and it doesn't begin to do justice to the much-better film. When the clips from the movie do show up, there's such an obvious difference in quality that maybe it serves to show how great the film looks. Overall, this special's going to run several times around the release weekend, and it's worth watching once you've seen the movie if you really haven't had your fill of Riddick yet, something I suspect will be true for most of you. If you watch it beforehand, there's a chance you'll be expecting the wrong movie when you hit the theater. Consider yourself warned.
Still, you've got to give USA their props for trying. This is the same company that supposedly threw a rave recently at which all the lights went out, only to have the sounds of the aliens from the movie start playing over the speakers as "real aliens" moved through the crowd. Now, that's entertainment.
THE BIG DAMN '90S LIST, PART II
...is just a click away -- finally! (Sorry for the delay, but we had some major problems, given its size, and have been forced to post it in four parts.)
"Moriarty" out.