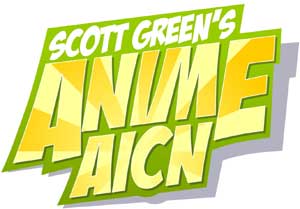 Logo handmade by
Bannister
Column by
Scott Green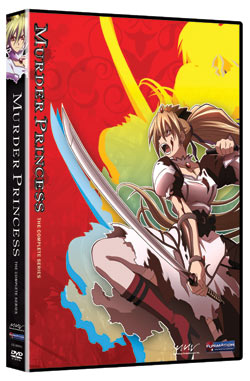 Anime Spotlight: Murder Princess: The Complete Series Released by FUNimation
Please don't confuse Murder Princess with Princess Resurrection. One is a blonde young woman in a white gown who teams with some monsters to fight other monsters, who is in fact a bounty hunter and not a princes. The other is a blonde young woman in a black gown who teams with some monsters to fight other monsters, who is in fact a daughter of the monsters' king. The generous way of describing the six episode OVA adaptation of the two volume manga (part of which was released in North America before Broccoli Books left the market) is that it's a relatively concise, updated call back to the heyday of fantasy anime. If it were made in the mid-90's, Megumi Hayashibara would probably be the lead, but polished off for the late 00's, the title character is voiced by Ed Elric's Romi Park. Its animation has the glint of digital palettes and effects, that, if applied competently, are hard to go wrong with. And, ceiling the new facade, there are killer little girls in loli-goth outfits. If I were being more brutal, I'd say that it's ironic that Murder Princess' story involves ridding the world of relics from a past age... The story opens with a coup d'etat in which not entirely sane scientist Dr. Akamashi, his candy striped loli automata, wolf-lions and other supernatural predators, have mortally wounded the king of Forland, and are about to put an end to the known, remaining royal lineage (there's a missing elder prince initially out of the picture). So, the elder butler/chamberlain Jodu Entolasia acts by dressing up a substitute Princess Alita and sending the real one into the wilderness in hopes of preserving the blood line. While being pursued by the nasties, Alita trips down a cliff and lands on the deadly young woman bounty hunter Falis. On near-fatal impact, the two switch minds, such that Falis' battle hardened abilities are in Alita's body, and Alita's proper, dutiful persistence is in Falis'. Promising her the keys to the kingdom if she'll protect it, former-Alita conjoles former-Falis into returning to the castle and fighting off its invaders. So the party takes up the battle, accompanied by former Falis' monstrous cohorts: Frankenstein-ish Pete Armstrong, and skeletal/reaper-ish Dominikov. In keeping with the promise, former Falis retains the royal post of Princess Alita, with former Alita taking the role of the maid who was sacrificed to cover her escape. There's something to be said for a return to the type of fantasy story that had a considerable presence leading up to the global boom in anime, especially now that such a work can be presented in a one and done DVD. I'm inclined to think that many would have had a more favorable opinion of Murder Princess than they did some of those 90's OVA's and, at the same time, though structurally old, Princess Resurrection looks current. Beyond the shifts in the medium, such as digital versus cell, the sense of fashion's been updated, achieving a striking loligoth Buffy the Vampire Slayer look with its depiction of a blonde princess in blood splattered fairytale gown. Most still images of Murder Princess look good. At a glance, its premise is fine too. Yet, while nothing about the work is as disastrous as the memorably bad of the old OVAs, there are few aspects of Murder Princess that aren't open for crticism. Where once direct to video OVA's generally represented a step up in animation from televised series, Murder Princess exemplifies how that is no longer the cases. The series was animated by Bee Train, which is a studio that has its fans as a consequence of its "girls with guns" trilogy: Noir, Madlax and El Cazador de la Bruja and for .hack. But, they also have their detractors, inclined to think oft them as a second tier contributor to the market. For example, the prospect of Bee Train adapting the well regarded manga series Blade of the Immortal into anime was greeted by considerable derision. One of Bee Trains stated goals has been to nurture new talent, and that might have been the case with Murder Princess, which teams veteran scripter Tatsuhiko Urahata (Hajime no Ippo/Fighting Spirit, Monster, Master Keaton, Mermaid Scar) with Tomoyuki Kurokawa, who had previously story boarded a number of Bee Train works and directed a few episodes of Spider Riders. In this case, neither the veteran nor the talent stepping up turn out anything inspiring. From the standpoint of animation, the trouble with Murder Princess is more a function of unartful short cuts than anything blatantly unappealing. It's not without fluid, choreographed duels, featuring former Falis fighting her brutal acrobatic style. However, there is also an evident reliance on flash of light short hand for sword strokes. Seeing Dominikov speak without ever moving his mouth is the most obvious of an unimpressive tendency not to animate. The stiff or static forms are exacerbated by a lack of a clever way of dealing with the shortcoming. I defended/praised Tweeny Witches for the direction in which it watched the reaction of the listener rather than the mouth of speaker in many of its dialog scenes. Where that was subtle and interesting, Murder Princess' approach to looking at something or somewhere other than the party talking isn't fooling anyone. The plot exhibits a similar tendency to hop onto the most convenient route. The villains are simplistically nihilistic. Apart from some friction owing to former-Falis' history, the heroes are pure, noble and forgiving. And, the people of Forland are amazing in their sheepish willingness to believe whatever the plot dictates. As with the series itself, the script's strength is that it smoothly completes a swords and sorcery anime adventure within six episodes . There's a little style, but not much. There's a little regret that more wasn't done with the material, but not much. Ultimately, Murder Princess simply updates the genre, neither revitalizing it nor registering a place among a its more painful entries.
New and Upcoming in North America
Adult Swim Adult Swim has tapped the creators of Robot Chicken,co-head writer/producer Tom Root and co-creator/executive producer Matthew Senreich, to create "Titan Maximum," a new series due to hit TV in September. Voice cast includes Breckin Meyer, Rachael Leigh Cook, Dan Milano and Eden Espinosa.. "Titan" is set 100 years in the future, when Saturn's moon Titan is defended by an elite squadron of young, brash pilots whose spaceships combine to form the giant robot Titan Maximum. Because of budget cuts, the team has been disbanded but must hastily reassemble when a former team member turns rogue and tries to conquer the solar system. With "Titan," the creators pay homage to 1980s Japanese animated cartoons. "There were always teams of extraordinary young people with the fate of the universe in their hands," Root said. "In reality, that would end terribly. The last thing you want when giant monsters attack is a bunch of teenagers in charge of defending you. 'Titan Maximum' is about what would really happen if a team of idiot kids was in charge of a six-story-tall robot." Kotaku notes www.spore.com/wtf and the speculation that the engine for game Spore might be involved. ADV Films Anime Vice reports that following Central Park Media's bankruptcy, ADV films picked up Grave of the Fireflies - Isao Takahata's classic look at a child's experience in World War II MD Geist - so bad it's good violence Now and Then Here and There - Akitaro Daichi's dark take on child conscriptions, staged as a boy transported to strange land narrative World of Narue - goofy aliens in mundane school comedy These titles will all be released on DVD in July 2009. via Robert's Anime Corner Store July (Re-releases): All Purpose Cultural Cat Girl Nuku Nuku DVD Complete Collection Aquarian Age Complete Collection DVD Boxed Set Mezzo: Danger Service Agency Complete Collection DVD Boxed Set Those Who Hunt Elves Complete Collection DVD Boxed Set ADV Film will be distributing the Sentai Filmworks release of Appleseed on June 30th. Appleseed was first released in North America by Geneon Entertainment (USA) in 2005. Based on the legendary manga series by Masamune Shirow (Ghost in the Shell, Dominion) and directed by groundbreaking filmmaker Shinji Arimaki (Bubblegum Crisis), Appleseed set a high-water mark for anime features in the 21st century. Synopsis: Earth's last city, Olympus, rose from the ashes of a global war on the backs of Bioroids, artificial clones who make up half the city's population. Under the strict guidance of a supercomputer, humanity's last survivors enjoy an idyllic peace, but only on the surface Human terrorists within the military seek a return to power and clash with the government's ESWAT forces lead by the legendary soldier, Deunan Knute, and her boyfriend who is 75% machine. Retrieving the Appleseed will end the conflict, and Deunan alone holds its secret. The outstanding feature film based on the manga by Masamune Shirow (Ghost In the Shell), directed by Shinji Aramaki (Bubblegum Crisis), and produced by SORI (Ping Pong) features a soundtrack including Boom Boom Satelites, Paul Oakenfold, Basement Jaxx and more. Appleseed (SRP $19.98 DVD) is a DVD-only anamorphic release presented in both English 5.1 and Japanese 5.1 with English subtitles. Bandai Entertainment On Robert's Anime Corner Store Bandai releases for pre-order include 7/7/09 Freedom (Freedom Project) Complete Collection DVD Boxed Set Ghost Slayers Part #3 DVD Bundle (Eps #21-30) 7/21/09 Code Geass Lelouch of the Rebellion R2 DVD Bundle #1 (DVD #1-2) Code Geass Lelouch of the Rebellion R2 DVD Bundle #1 (Limited Edition) Eureka Seven Complete Collection #2 DVD Boxed Set (Anime Legends) (Eps #27-52) Hayate the Combat Butler DVD Bundle #1 (2 Disks) (Eps #1-7) True Tears Complete Collection DVD Boxed Set (Anime Legends) Via Anime Vice Bandai Entertainment has announced the delay and cancellation of a number of releases. Mobile Suit Gundam SEED Destiny Complete Collection II [Anime Legends] April 21, 2009 to May 19, 2009 Wolf's Rain Perfect Collection [Anime Legends] April 7, 2009 to May 5, 2009 Mobile Suit Gundam 00 Season 1 Part 1 SE June 2, 2009 to June 16, 2009 Mobile Suit Gundam 00 Season 1 Part 1 June 2, 2009 to June 16, 2009 ZegaPain [Anime Legends] CANCELED FLAG [Anime Legends] CANCELED Kurokami Part 1 June 16, 2009 to TBA Dark Horse

GANTZ VOLUME 8 Hiroya Oku (W/A) On sale Nov 25 b&w, 224 pages $12.95 TPB, 5 1/8" x 7 1/16"

LITTLE RED RIDING HOOD: THE POP WONDERLAND SERIES Michiyo Hayano (W) and POP (A) On sale Oct 28 FC, 32 pages $16.95 HC, 10" x 8" Little Red Riding Hood--called that because of the red hooded coat she always wore--was walking through the woods when she met a wolf on the road. The wolf wanted to eat the little girl right there and then, but knew that he'd be caught, so he asked her where she was going. She said she was taking some food to her sick grandmother. The wolf hatched a scheme and hurried to the girl's grandmother's house, where he took the place of the old woman in the bed. Would Little Red Riding Hood figure out the wolf was up to no good before he could eat her?

OH MY GODDESS! VOLUME 13 Kosuke Fujishima (W/A) On sale Oct 28 b&w, 192 pages $10.95 TPB, 5 1/8" x 7 3/16"

SHAMAN WARRIOR VOLUME 8 Park Joong-Ki (W/A) On sale Oct 7 b&w, 200 pages $12.95 TPB, 5 3/4" x 8 1/4" Non-manga, but possible relevent

APPLEGEEKS VOLUME 2: WEIRD SCIENCE Ananth Panagariya (W) and Mohammad F. Haque (A) On sale Oct 21 FC, 184 pages $14.95 TPB, 7" x 9"

SINFEST VOLUME 2 Tatsuya Ishida (W/A) On sale Oct 28 b&w, 208 pages $14.95 TPB, 8 1/4" x 9 3/4"

USAGI YOJIMBO #122 Stan Sakai (W/A) On sale Aug 26 b&w, 24 pages $3.50 Ongoing

VAMPIRE HUNTER D VOLUME 13: TWIN-SHADOWED KNIGHT PARTS ONE AND TWO Hideyuki Kikuchi (W) and Yoshitaka Amano (A) On sale Oct 21 b&w, 480 pages $14.95 Novel, 5 1/8" x 7 1/4"

TOKIDOKI ZIPPO(R) LIGHTERS On sale Aug 12 Tokidoki Gold Cat Zippo(R) Lighter $39.99 Tokidoki Skull Heart Zippo(R) Lighter $39.99 Disney Disney Ponyo trailer is scheduled to hit July 4th Nausicaa.net notes Amazon lists Blu-ray releases of Princess Mononoke Spirited Away Howl's Moving Castle Discotek Media Discotek Mediahas revealed information on their upcoming releases Jailhouse 41 will be remastered and the subs will be removable. - More extras are being obtained Uzumaki will have a couple new extras including narration from the director and probably a new interview. Crying Freeman (anime) will have the English dub and the Japanese language and English subtitles. Extras are being determined The Hana Yori Dango Final has tons of extras, its going to be a 2 disc set. FUNimation FUNimation has confirmed the upcoming release of Gonzo's sci-fi anime OVAs Vandread Integral and Vandread Turbulence. Image and Toykopop Image and Tokyopop will be reviving King of Cats in twelve 32 page chunks starting on August 19th. The first six issue will reprint what was put out in the Tokyopop graphic novel, in the monthly comic sized format. Kodansha Via Anime Vice and geekerywithandre The anticipated entrance of Japanese manga publisher Kodansha into the North America market has aparently begun. Ghost in the Shell and the first volume of Akira are being listed on Amazon.ca from Kodansha Comics for a October 13, 2009 release. Both manga had previously been released in North America by Dark Horse (a colorized version of Akira had been released by Marvel before that. Anime Vice says "Marketing Coordinator Aaron Colter informed that while he couldn't comment on any license expiration, he could confirm that Dark Horse wouldn't be publishing either of those titles in the future, so if Kodansha says they're reprinting them, then they probably are." Simon & Schuster Comic Book Resources notes that "Frankie Pickle And The Closet of Doom" from Eric Wight, creator of the lamentablely cut short "My Dead Girlfriend," is out this week.

On the fate of My Dead Girlfriend, from the Comic Book Resources piece... As for whether or not Eric Wight will ever be able to go back to his highly praised "My Dead Girlfriend" series, which saw one volume released by TOKYOPOP in 2007, the creator remains hopeful that some day he will do more with the characters, although currently the rights were tied up with the manga publisher. "It was a rough experience. They approached me because of my work on 'The O.C.' to help them 'reshape the face of manga,' and I was really excited to do that. I did 'My Dead Girlfriend' for them, and it was very successful for them. But unfortunately, I think their vision of success and my vision for fairness were not on the same page. With everything else happening in the economy, it's hurting everybody, but unfortunately we're in the situation now where I feel like my creation is being held hostage and they're not willing to allow me to do anything with it, whether it be by having another publisher acquire the rights or whatever." Starz Media The animated anthology tie in to the Dante's Inferno multi-media franchise, headed by the EA game, will feature the work of Kite creator Yasuomi Umetsu, with design by Saber Marionette J's Tsukasa Kotobuki Top Shelf An update on Top Shelf's release of alt manga anthology AX we are up to about 60% of the 400 pages done now, and what great stuff it is! Wonderfully odd, personal, inventive alternative manga - its really going to be THE book for fans of mature gekiga style manga. VIZ Media VIZ Media has announced that SHONEN JUMP relese Naruto Shippuden Collector for Summer 2009 on May 5th. The volume is rated 'T' for Teens and will carry an MSRP of $9.99 U.S. / $12.99 CAN. The issue features alook at the new Shippuden anime story arc to an 11-volume manga guide, as well as a look at the latest Naruto Shippuden video games, card game and merchandise releases. Also included are two double-sided full-color pinups, a Might Guy promo card, a 100+ Shippuden episode guide, and breakdowns on Series 12 and 13 of the Naruto Trading Card Game.

VIZ Pictures, an affiliate of VIZ Media, LLC that focuses on Japanese live-action film distribution, has announced the DVD release of the live-action feature film - HAPPILY EVER AFTER on May 12th. The DVD will also include the original theatrical trailers, director and cast profiles, and insightful tips on Japanese culture. The DVD will carry a suggested retail price of $24.92 U.S. / $35.99 CAN and will be distributed in North America by VIZ Media.

HAPPILY EVER AFTER is a visually striking romantic comedy from celebrated director, Yukihiko Tsutsumi (Memories of Tomorrow, 20th Century Boys) and based on a popular manga (graphic novel) series created by Yoshiie Gouda that has sold more than half a million copies in Japan. The film stars popular comedic leading man Hiroshi Abe and actress Miki Nakatani, who drew international acclaim for her role in TRAIN MAN: DENSHA OTOKO. In this heart-warming film, Yukie (Miki Nakatani) works hard at a noodle shop and struggles to make ends meet, while her husband Isao (Hiroshi Abe) hangs around all day gambling and getting into trouble. On top of everything, Isao's uncontrollable temper often results in the dinner table getting overturned and their meal on the floor. Everyone advises Yukie to leave Isao, but her love for him is unconditional because he was the one who initially saved her from misery with his unconditional love. Miki Nakatani won the 31st Japanese Academy Awards for Outstanding Performance by an Actress in a Leading Role for her portrayal of Yukie. A promotional contest is online here. (C) 2007 HAPPILY EVER AFTER Film Partners. (C) Yoshiie Gouda / Takeshobo Co., Ltd. All Rights Reserved Warner Home Video The first four episodes of Batman: The Brave and the Bold will be released on DVD August 25th for $14.98 On August 11th for $14.98 each The Batman vs Dracula/The Batman Superman Movie and Scooby Doo Meets Batman/Sccooby Doo Meet The Harlem Globetotters
Cool Figures News
Via AstroBoy World Jazwares and Imagi Studios announced an agreement under which Imagi Studios has granted Jazwares toy rights to the highly anticipated CG-animated feature film Astro Boy. The launch of the product line is set to coincide with the movie's North American release in October 2009. The product range will include action figures, vehicles, electronic toys, role play products and other accessories. The 2009 Astro Boy product line includes: Astro Boy 3 3/4" Action figures Assortment (Ages 5+/Approx. Retail Price: $6.99/Available: October 2009) The adventure and excitement of Astro Boy are brought to life with the Astro Boy action figures. Recreate your favorite scenes from the movie or use your imagination to dream up your own adventures with the characters from the film. The 3 3/4" detailed figures are available as Astro Boy (in various movie stages), Peacekeeper, Soldier, Trashcan and Drone. (Each figure sold separately) Astro Boy Six-Inch Action figure ASSORTMENT (Ages 5+/Approx. Retail Price: $9.99/Available: October 2009) The battle between good and evil comes to life with the Astro Boy Six-Inch Action Figures. The highly detailed figures include the Peacekeeper whose eyes and chest light up in search of Astro Boy; the Samurai with light up eyes; iconic Astro Boy with his light up chest; and Astro Boy taking flight with his light up rocket boots. Help Astro Boy save Metro City from crashing into Earth as you recreate the action from the movie! (Each figure sold separately) Astro Boy Ten-Inch DEluxe electronic figure (Ages 5+/Approx. Retail Price: $19.99/Available: October 2009) The boy that is built for adventure comes to life in the Astro Boy Deluxe Electronic Figure. The ten-inch figure features light up boosters, cannons and his coveted light up chest core. Astro Boy's incredible powers are on display in this ultimate electronic figure. Now you can be part of Astro Boy's adventure-filled journeys! Astro Boy Six-inch urban vinyl figures (Ages 5+/Approx. Retail Price: $9.99/Available: October 2009) Bring the adventure and excitement of Astro Boy into your living room with Astro Boy Six-Inch Urban Vinyl Figures. These detailed figures capture the adventures of Astro Boy and bring the world of the future right to you. Harness Astro Boy's super strength as he fights to save Metro City. Featuring Astro Boy in various stages with many of the characters from the movie (Each figure sold separately) Astro Boy Role PLay (Ages 5+/Approx. Retail Price: $19.99/Available: October 2009) Experience the thrill of being a super hero like Astro Boy with your very own Fist Canon, Half Mask and Boot Covers! The fist canon features bright lights and sounds and is set for you to help Astro Boy in the battle arena. The half mask and boot covers give you the ultimate look of a super strength hero, with light up eyes set to "power you up" just like Astro Boy. Get ready to blast off at lightning speed to save the day. (Half Mask/Boot Covers and Fist Canon sold separately) Astro Boy Light-up cores (Ages 5+ /Approx. Retail Price: $5.99/Available: October 2009) The ultimate battle between good and evil is brought to life with the Astro Boy Light-Up Cores. Recreate your favorite scenes from the movie, playing out the battle between Astro Boy and the Peacekeeper. The light up positive "blue" energy and negative "red" energy cores are a great addition to your Astro Boy adventures. (Each sold separately) AstroBoy World also posted pictured o from the Jazwares Urban Vinyl line, which they are calling "JUVIs"

*

Kotobukiya has announced its San Diego Comic-Con Exclusive: Black Widow Marvel x Bishoujo. This brand new edition of Black Widow has been specially designed for San Diego Comic-Con with a fresh take on her outfit and hair style. The new born Black Widow comes with a totally new blonde bob cut, jacket, and belt sculpt. The item will be exclusively sold at the convention limited to 500 pieces. Black Widow stands 7 3/5 inches tall (1/8 scale), and features a solid construction of pvc and abs plastics. Sculpted by Yu Ishii, the super-spy comes packaged in an attention-grabbing window box.

*

Sideshow has Medicom Toy's Son Goku - Young Version - VCD available for pre-order. The $69.99 figure will be released 3rd Qtr 2009

*

Yamato USA has announced that the Fantasy Figure Gallery: Medusa's Gaze, featuromg a PVC statures based on the painting by Luis Royo, as sculpted by Shungo Yazawa is now shipping. The second piece in Yamato USA's Fantasy Figure Gallery, Medusa's Gaze stands approximately 11.80" tall

*

ToyBox DX Brog on Gojira Ya, Koenji, TOKYO!! OK, OK.. I know I've thrown the hype on these guys before. AND, I know they get a bad wrap, but I fucking love this store. Every time without fail I score big here. Keep in mind, the internet has killed it. It's killed the experience of going to a store and laying your hands on the god given funk made in the land of the rising sun destined to rest its smoked filled vinyl body in your gaijin hands.. The run on sentence lives. And so does Koenji's finest, Gojira Ya mother fuckers! "Cool Girl" Misato and Asuka Figure On Collection DX Tamashii No Tokyo Part 2 - Akiba Overload Tamashii No Tokyo Part 2 - out to the burbs. Tamashii No Tokyo Part 3 - Akiba Overload Tamashii No Tokyo Part 4 - Super Imaginative Tourist Macross 1/60 Pilot Madness! Macross' VF-25G Michael Custom

Transformers Masterpiece MP-06 Skywarp Robot Soul Nirvash type ZERO spec2

*

MG 1/100 Gravity Front Customs from Gundam antagonists, Zeon Revoltech Evangelion and here Macross Frontier kits

*

Customs... creepy Astro Boy statues Go Nagai Qees of Garuda, Doublas, Gaiking and Black Getter Transforming Lego Valkyrie
Digital Distrobution
Anime News Network notes Crunchyroll and Mushi (the studio founded by Osamu Tezuka) are running a crowdsourcing contest. Wonder Beat Scramble, one of the last productions overseen by Tezuka Osamu, is a classic sci-fi adventure inspired by "Fantastic Journey", and Mushi Productions has partnered with Crunchyroll to bring all 26 episodes to you, the fans, for free! And not only that, we're giving you, the fans, the chance to be able to be part of bringing this classic anime to the world! We're looking for a few talented translators that can help us create English subtitles for everyone to enjoy. But we also want to make sure that the translations are good quality, worthy of the original work, so we're gonna hold a little contest to see who qualifies! Here's how it's gonna work. We'll get you started by translating the first 2 episodes ourselves. That way everyone can preview the show and see how fun it is! Then, we're going to upload a special for the show, hosted by Tezuka Osamu himself, without any subtitles, and anyone (or group) who is interested can create a subtitle file and submit it to us! The top translations will win prizes, so try your best! Then, we'll contact the winners and work out how you can help subtitle the rest of the actual show. If you finish the entire show, we'll have a special prize for you direct from Mushi Production!

*

ADV Nation notes that ADV Films and Anime Network have added Neon Genesis Evangelion and Appleseed Movie (2004) to their Xbox video content offering. Kiba Collection 1 and 2 has also been recently been added to their iTunes store. New additions to the Playstation Network (PSN for short) and Google's G1 Android Market include Rent & Download to Own: Parasite Dolls (Feature Film) Appleseed (Feature Film) (HD) Download to Own: Burn Up (TV Series) Angelic Layer (TV Series) Madlax (TV Series) UFO Princess Valkyrie (Season 1) UFO Princess Valkyrie (Season 2) Neon Genesis Evangelion Aquarian Age (TV Series) E's Otherwise (TV Series) Sister Princess (TV Series)

*

Anime News Network is now hosting all of the English dubbed version of Mushishi.

Other streamed FUNimation titles include Aquarion (all English-subtitled episodes, 4 dubbed episodes) Ga-Ra-Ku-Ta: Mr. Stain on Junk Alley (all dubbed episodes) Ghost Hunt (4 subtitled episodes, 4 dubbed episodes) Glass Fleet (all dubbed episodes) Jyu-Oh-Sei (all subtitled episodes, all dubbed episodes) Kiddy Grade (4 dubbed episodes) MoonPhase (all subtitled episodes, 4 dubbed episodes) Mushi-Shi (4 dubbed episodes) Ouran High School Host Club (all subtitled episodes) Rumbling Hearts (4 subtitled episodes, 4 dubbed episodes) Shikabane Hime (all subtitled episodes) Suzuka (4 dubbed episodes) xxxHOLiC (4 dubbed episodes) FUNimation's own streaming video player is now offering subtitled episodes from Pretty Cure (1-49) and Dragonaut (1-2)

*

Via Anime News Network Range Murata (Blue Sub No. 6, Last Exile) Throw Line doujinshi is now available on iTunes. The work was adapted for its iTunes app by ComicStream and realglobe Inc. to adapt. The realglobe Inc. distributor also released Hideki Shibata's Terraformed Consent book and Sayaka Kato's Hues of Bloom book on the App Store this past week. It previously released Akatsuki Kato's Scrap book, Haneko's Momoirousako book, Minami Nakajima's South Forest book, and Ryuca's The House book.

*

The Kadokawa Anime Channel on YouTube is now featuring episodes of Shoji Kawamori and Thomas Romain's sports mech collaboration Basquash

*

New Korean drama from Munhwa Broadcasting Corporation on Crunchy roll include: 2 OUTS IN THE 9TH INNING This is a love story about two characters played by the lovely actress Soo-ae and handsome actor Lee Jung-jin. A poet once said that the party is over at 30 but "Two Outs, Bottom of the Ninth" counters that with the mantra that the party starts at the age of 30. Hong Nan-hee (actress Soo-ae) has never hit a home run in life, not to mention a single as she reaches 30. She thought she worked hard to get ahead in life but all she has are some small savings in her bank account and a mother nagging her to get married. But she has one thing to be happy about in her life. Her current boyfriend is Jung-joo, a talented baseball pitcher who is aiming to play in the big leagues in America and eight years her junior. However, like in baseball, there are obstacles to overcome and you won't know the outcome until the last batter steps up with 2 outs in the bottom of the 9th Inning ... and swings ... OVER THE RAINBOW Stardom is youth's perpetual pursuit. The bright and dark side of the world of stars is dramatically captured in this drama by giving a realistic depiction of singer-wannabe's ambition and their dash for stardom. A story about the painstaking work it takes to become a popular singer, the intrigues and betrayals arising from constant meetings and partings, and heartbreaking love that blooms amidst all that. It presents viewers with a glimpse of a life that burns like a flame. PRINCE HOURS Her Royal Highness, the Queen, is still unwed despite being in her early thirties. Since she is an only daughter with no prospect of bearing a child in the foreseeable future, the royal succession is left in uncertainty when the current heir to the throne meets a sudden death. Seizing the opportunity afforded by this crisis, the conservative faction, that presently holds sway in the Court, begins plotting for the crown. Sensing the threat, the Queen secretly searches for a new Crown Prince outside the palace walls and discovers Lee Hu, a young man who has been making his living by delivering Chinese food, in complete ignorance of his royal heritage. Hu, who has never even dreamed of becoming the King, is unexpectedly ushered into the palace and subjected to strict training to become the royal heir. This is where the main action of PRINCE HOURS begins. YI-SAN (episodes 1-38 of 77) In the late 18th century, Lee San became the 22nd kind of the Joseon Dynasty! It was the most tumultuous times ever seen in the 500-year-old Joseon monarchy! He was an open-minded, wise king who championed democratic values. The stories of his glorious triumphs, ordeals, regrets, and historical achievements are shown in this TV drama. New Kadokawa Pictures USA horror/live action invlude MAIL Based on the Shigemizu Takasaki's comic book series, MAIL is the latest cinematic adaptation from the Kadokawa Horror publishing label that brought us mega-hits like Ring ('98), Dark Water ('02) and One Missed Call ('03). Told through nine short episodes, the film follows psychic Detective Akiba (Takamasa Suga) and the enigmatic 19-year-old female assistant, Mikoto (Kill Bill's Chiaki Kuriyama), as they root out and release the restless spirits that terrorize this world. Each episode is centered around an ascension of the spirits, taken from a chapter of the comic book. ONMYOJI During a dark age of demons and ghosts in the Heian period (794-1185 AD), the Emperor relies upon the imperial order of the ONMYOJI, who are the experts of the supernatural power, to protect the kingdom. However, as the birth of the emperor's heir approaches, political intrigue and jealousy will lead to the most dangerous of betrayals - from within the ONMYOJI and the Emperor's family! It will be up to the most talented of the order, Seimei (Mansai Nomura), to face his master, Doson (Hiroyuki Sanada), and the dark magic that threatens to destroy them all! KADOKAWA MYSTERY & HORROR TALES MEINICHI - "Maybe father was right. Maybe we should not have moved into that house..." When Minako loses her boyfriend in an accident, her sister tries to cheer her up, though sinister forces would have it otherwise. CRUEL KIDNAPPING - As Toshio struggles to make ends meet, his daughter is kidnapped and a ransom note arrives. Desperation leads him to a cruel plan designed to procure the money he needs. DESIRE TO KILL - Alone in her house, Rie comes face-to-face with a murderer. Determined to protect her child, she makes a desperate attempt to convince the man to leave. WOODEN CLOGS - The distraught Takagi goes to a temple to reconnect with a relative but instead encounters the exceedingly beautiful Yoshie. Their love is ultimately doomed, as Yoshie has a secret too horrible to mention. REGENERATION - While undergoing treatment for alcoholism, Professor Ujo meets an intriguing girl. Madly in love, the couple seem destined for happiness, were it not for a dark secret that conspires to keep them apart. LAST DAY AS A TEENAGER - When he was seventeen years old, Tomoya made a grim pact with a girl who claimed to be the god of death. Today, on his 20th birthday, the ominous entity has returned to collect on that desperate promise. GHOST HOUSE - A young couple is irreversibly linked to a gruesome traffic accident and horrible death. Try as they might to escape the past, it won't be long before it catches up to them. WHISPER TREE - A writer is sent by his boss to investigate a strange tree known to the locals as Whispers. He remains unconvinced that is possesses mystical powers until unthinkable things begin to occur all around him. WORLD OF INFINITY - After Takeo loses his job, he wanders aimlessly and meets a woman whose brooding personality lures him in to a world of trysts and deceit. Soon the line between reality and evil becomes inextricably blurred.

*

Dark Horse Comics is launched their iTunes app offering for the iPhone with The Terminator: Death Valley. Originally published in 1998, Death Valley features a story by Alan Grant and art by Steve Pugh. All four issues are available for download now at http://www.darkhorse.com/Features/Mobile for $0.99 an issue. The four-issue The Terminator series is the very first of what will soon be an ongoing program for the Dark Horse iPhone app.

*

Movies of note that are streaming legally on YouTube include Speed Racer: The Movie (not the live action one) Son of Godzilla (if you can stomach Minya)

*

Anime Network's Bamboo Dong and Sara Pocock spoke to FUNimation's copyright specialist Evan Flournoy Publishers Weekly looks at IDW iTunes business. The company is currently offering Star Trek comic through the app stores and is working toward being able to sell more mature content such as 30 Days of Night.
The Business
Anime News Network relays the content in an article in which The Association of Japanese Animations (AJA) managaging director Yasuo Yamaguchi described the anime industry as a "bubble several years ago that burst. The marketplace is on a falling curve due to declining birth rates and the recession." Noting the rise in annaul anime productions from 124 in 2000 to a historic high of 306 in 2006, Yamaguchi predicted further restructuring of the industry. Already, the number of productions fell to 288 in 2008.

The Japan Video Software Association (JVA) reported that domestic sales of Japanese anime releases (on DVD and laserdisc) brought in 97.1 billion yen (about US$982 million) in 2005 and dipped to 95 billion yen (US$960 million) in 2006. In 2007, domestic anime DVD sales fell further to 89.4 billion yen (US$904 million). Even when DVD, Blu-ray Disc, and HD DVD sales are added together, sales of domestic anime releases dropped to 77.9 billion yen (US$787 million) in 2008. The Japan External Trade Organization (JETRO) estimated that the Japanese anime marketplace in the United States (including character goods) peaked in 2003 at US$4.84 billion. It then fell to US$2.829 billion in 2007. The sales of just anime DVD and videotape releases peaked in the United States in 2002 at US$415 million.

*

The Japanese government has announced a Contents Overseas Development Fund to support the expansion of Japanese media — particularly Japanese animation and films — around the world. According to Japan's Cabinet Secretariat, overseas revenues accounted for 1.9% of the Japanese media industry's overall revenues in 2004, compared to 17% for the American media industry. The Ministry of Economy, Trade and Industry plans to raise the percentage of overseas revenues so that it rivals what the American media industry earns abroad.

*

Anime Voice caught up with ADV's Chris Oarr for some clarifications on ADV's relationship with Sentai Filmworks Anime Vice: The press release for Appleseed notes that ADV is acting as the "non-exclusive distributor" for Sentai Filmworks, and that Sentai is "the fastest-growing licensor of anime in North America." What's the history of how this partnership came to be? What exactly is the relationship between the two? Chris Oarr: Sentai Filmworks is a separate company. Sentai licenses work on its own behalf. ADV provides home video distribution services (solicitations, fulfillment, etc.) for Sentai on a fee basis, just as it does with Switchblade. Of course ADV continues to distribute its own titles too.

*

ICV2's April graphic novel top 20 listing Rank - Title - Author - Pub - PubDate 1 - WATCHMEN - ALAN MOORE - DC - 4/1/95 2 - NARUTO VOL. 43 - MASASHI KISHIMOTO - VIZ - 4/1/09 3 - NARUTO VOL. 44 - MASASHI KISHIMOTO - VIZ - 4/1/09 4 - NARUTO VOL. 42 - MASASHI KISHIMOTO - VIZ - 4/1/09 5 - FRUITS BASKET VOL. 22 - NATSUKI TAKAYA - TKP - 3/1/09 6 - NARUTO VOL. 41 - MASASHI KISHIMOTO - VIZ - 3/1/09 7 - NARUTO VOL. 40 - MASASHI KISHIMOTO - VIZ - 3/1/09 8 - NARUTO VOL. 39 - MASASHI KISHIMOTO - VIZ - 3/1/09 9 - STAR TREK: COUNTDOWN - ROBERT ORCI - IDW - 4/1/09 10 - NARUTO VOL. 38 - MASASHI KISHIMOTO - VIZ - 3/1/09 11 - VAMPIRE KNIGHT VOL. 6 - HINO MATSURI - VIZ - 4/1/09 12 - NEGIMA! VOL. 21 - KEN AKAMATSU - DEL - 3/1/09 13 - CHIBI VAMPIRE VOL. 13 - YUNA KAGESAKI - TKP - 4/1/09 14 - NARUTO VOL. 36 - MASASHI KISHIMOTO - VIZ - 3/1/09 15 - NARUTO VOL. 37 - MASASHI KISHIMOTO - VIZ - 3/1/09 16 - NARUTO VOL. 35 - MASASHI KISHIMOTO - VIZ - 3/1/09 17 - NARUTO VOL. 34 - MASASHI KISHIMOTO - VIZ - 3/1/09 18 - V FOR VENDETTA - ALAN MOORE - DC - 10/1/08 19 - BLEACH VOL. 26 - TITE KUBO - VIZ - 3/1/09 20 - ROSARIO+VAMPIRE VOL. 6 - AKISHISA IKEDA - VIZ -4/1/09

*

Michael Pinto argues against the use of the term "American anime industry"

*

Canned Dogs continues their translation of Satou Shuuhou 's breakdown of business of manga

*

The Angry Otaku looks at the de-cartooning of Cartoon Network, and tracing it to events like the Boston Aqua Teen Hunger Force event

*

Adventures in anime outsourcing

*

Anime Vice also spoke to TOKYOPOP's editor Lillian Diaz-Przyby about Softbank licensed titles such as Dramacon and MBQ for Japanese release.

*

Comic book retail guru Brian Hibbs breaks down the trouble with the direct market Attentiondeficitdisorderly Too Flat runs downs and comments direct market thoughts
Upcoming in Japan
Previews Evangelion 2.0: You Can (Not) Advance streaming trailer Amanatsu Manga Via ANN Takehiko Inoue told told the Nishi Nippon Shimbun paper that he thinks his award-winning Vagabond samurai manga will end "within one or two years."
Anime x Games
D3Publisher has confirmed that they will be producing Astro Boy games that tie into the Imagi movie for the Wii, Nintendo DS, Playstation 2 and PSP. No AstroBoy game converation is complete without a plug for Astro Boy: Omega Factor for the Gameboy Advanced

*

The game branch of the Sakura Wars/Taisen is finally slated to make its long awaited North American debut this Fall. North America will be getting Sakura Wars: So Long, My Love, the fifth entry in the steam tech mecha, psychic girl, alternate history strategy RPG/dating sim for the PlayStation 2 and Nintendo Wii .

*

Capcom's PSP take on Fate/stay night, Fate/Unlimited Codes will be available in North America this summer

*

If you want to see a truly strange fighting game... Gouketsuji Ichizoku: Matsuri Senzo Kuyou [Power Instinct: The Ancestors Commemoration] Hudson is developing a game based on Gonzo mecha anime Kurogane no LineBarrels. The Simulation RPG is due this year.

*

A look back at Ninja Baseball Subatomic Brainfreeze on the now XBox available Virtual On Oratorio Tangram
And the Award (or Nomination) Goes To...
The Society for the Promotion of Japanese Animation (SPJA), announced finalists of the 2009 SPJA Industry Awards and opened up all categories for public voting via both the SPJA and Anime Expo websites. More information can be found on the website here Public voting for the 2009 SPJA Industry Awards will be held via online and winners will be announced during the Anime Expo 2009 Industry Reception held on July 2, 2009 in Los Angeles, CA. Category 01: Best Voice Actor (Japanese) -Jun Fukuyama CODE GEASS - Lelouch Lamperouse -Kappei Yamaguchi DEATH NOTE - L -Katsuyuki Konishi GURREN LAGANN - Kamina Category 02: Best Voice Actor (English) -Samuel L. Jackson AFRO SAMURAI RESURRECTION - Afro and Ninja Ninja -Dave Wittenburg - NARUTO - Kakashi Hatake -Kyla Hebert - GURREN LAGANN - Kamina Category 03: Best Voice Actress (Japanese) -Riisa Naku THE GIRL WHO LEPT THROUGH TIME - Makoto Konno -Maaya Sakamoto THE GARDEN OF SINNERS - Shiki Ryogi -Junko Takeuchi - NARUTO - Naruto Uzumaki Category 04: Best Voice Actress (English) -Laura Bailey SHIN CHAN - Shin Chan -Michelle Ruff - GURREN LAGANN - Yoko -Michelle Ruff BLEACH THE MOVIE: MEMORIES OF NOBODY - Rukia Kuchiki Category 05: Best Casting Director -Jaime Simone - BLEACH -Jaime Simone - AFRO SAMURAI RESURRECTION -Kaeko Sakamoto - GURREN LAGANN Category 06: Best Character Design -Masaru Kitao of Madhouse - DEATH NOTE -Yuji Iwahara DARKER THAN BLACK -Daisuke Nakayama TWEENY WITHCES Category 07: Best Mechanical Design -Yoh Yoshirari - GURREN LAGANN -Takeshi Takakura GENESIS OF AQUARION -Niohiro Washio THE THIRD: THE GIRL WITH THE BLUE EYE Category 08: Best Male Character -Tamaki OURAN HIGH SCHOOL HOST CLUB -L - DEATH NOTE -Hei - DARKER THAN BLACK Category 09: Best Female Character -Rukia Kuchiki - BLEACH THE MOVIE: MEMORIES OF NOBODY -Revy BLACK LAGOON: SECOND BARRAGE -Sei Sato MARIA WATCHES OVER US (MARIA-SAMA GA MITERU) Category 10: Best Mascot Character -Mokona XXXHOLIC -Kon - BLEACH -Boota - GURREN LAGANN Category 11: Best Background Design -Ogura Workshop - THE GIRL WHO LEPT THROUGH TIME -GREEN HELL GIRL -Minoru Nakamura of Studio Pierrot - BLEACH Category 12: Best Original Video Animation -KITE LIBERATOR - Media Blasters -BALDR FORCE EXE - Funimation Entertainment -LUCKY STAR OVA - Bandai Entertainment Category 13: Best Feature Film - THE GIRL WHO LEPT THROUGH TIME - Bandai Entertainment - BLEACH THE MOVIE: MEMORIES OF NOBODY - VIZ Media -VEXILLE - Funimation Entertainment Category 14: Best Television Series -SHIN CHAN - Funimation Entertainment -NARUTO - VIZ Media -GURREN LAGANN - Bandai Entertainment Category 15: Best Original Score - DEATH NOTE Score - DEATH NOTE - Yoshihisa Hirano and Hideki Taniuchi -MAD BOMBER - Aquarion - Yoko Kanno and Hokari Hisaaki - Victor Entertainment -EMMA: A VICTORIAN ROMANCE (Season 1) - EMMA: A VICTORIAN ROMANCE - Kanihiko Ryo - Pony Canyon Category 16: Best Original Song -"Tonight, Tonight, Tonight" - Bleach - Beat Crusaders - Aniplex Inc. - Beat Crusaders -"Undine" - ARIA The Animation - Yui Makino - Victor Entertainment - Mina Kubota ( Music), Eri Kawai (Lyrics) -"Combat" - AFRO SAMURAI RESURRECTION - RZA and P.DOT - Wu Music - R.Diggs and N. Greenwood Category 17: Best Director (Japanese) -Tetsuro Araki - DEATH NOTE -Mamory Hosoda - THE GIRL WHO LEPT THROUGH TIME -Hiroyuki Imaishi - GURREN LAGANN Category 18: Best Director (American) -Karl Willems - DEATH NOTE -Joe DiGiorgi THE THIRD: THE GIRL WITH THE BLUE EYE -Mike Mc Farland ONE PIECE Category 19: Best Manga - Action -TSUBASA: RESERVIOR CHRONICLE - Del Rey Manga - CLAMP -HELLSING - Dark Horse - Kohta Hiano -BLACK LAGOON - VIZ Media - Rei Hiroe Category 20: Best Manga - Comedy -FAIRY TAIL - Del Rey Manga - Hiro Mashima -TOKYO ZOMBIE - Last Gasp - Yusaka Hangkuma -KITSUNE NO YOMEIRI - Kodansha Co., Ltd. - Takagi Satoshi Category 21: Best Manga - Drama -MONSTER - Viz Media - Naoki Urasawa -KITCHEN PRINCESS - Del Rey Manga - Miyuki Kobayashi - Natsumi Ando -GHOST TALKER¹S DAYDREAM - Dark Horse - Okuse Saki - Meguro Sankichi Category 22: Best Publication -Shonen Jump - VIZ Media -Style School - Dark Horse -Shojo Beat - VIZ Media Category 23: Best Full Motion Video in Video Game - AFRO SAMURAI - Namco Bandai -FINAL FANTASY IV - Square Enix -LEFT 4 DEAD - Valve/Electronic Arts Inc. Reactions could be found on About.com:manga Anime Vice Comics Worth Reading

*

More of a poll than an award, but Oricon publisher's their list of responses "Which manga would you like to see turned into live-action?" 1 Slam Dunk 2 One Piece 3 Kimi ni Todoke 4 Bokura ga Ita 5 MONSTER 6 Gintama 7 Ouran High School Host Club 8 Tenshi Nanka Janai 9 Fullmetal Alchemist 10 JoJo's Bizarre Adventure When asked about the most entertaining manga the results were 1 One Piece 2 DragonBall 3 JoJo's Bizarre Adventure 4 Golgo 13 5 FullMetal Alchemist 6 Slam Dunk 7 Fist of the North Star 8 Hunter x Hunter 9 Kochira Katsushika-ku Kameari Koen-mae Hashutsujo 10 Doubutsu no O-Isha-san 11 Kuso Miso Technique 12 Gintama 13 Detective Conan 14 Nodame Cantabile 15 Sayonara Zetsubou-sensei
Event News
The Fire Emblem footprint experience Anime Boston to promote Fire Emblem: Shadow Dragon game for Nintendo DS/DSi. Booth numbers 521, 523, 620, 622 will have the interactive, life-size display, featuring the world of Fire Emblem.

*

Upcoming Anime Hell presentations include Anime North - May 23nd Anime Boston - May 22nd FanimeCon - May 22nd Animazement - May 22nd Project A-Kon - May 29th

*

Cinefamily's June comedy line-up include "Far East Funnies" in their Friday Midnight Show 06/05: Funky Forest: The First Contact 06/12: Hausu 06/19: Zebraman 06/26: God of Cookery There's no deeper meaning, no thesis here. Just four flamboyantly funny films from the Far East. And we're not talking subtle restrained humor a la Ozu, or quirky rom-coms by Wong-Kar Wai wannabees. We're talking wild, SFX ridden gag-packed sillies, each with a strong dose of parody and perversion, culled from their own unique brand of pop culture detritus--cooking competitions shot like kung fu movies, nonsensical Asian superheroes in the Ultraman mold, Japanese schoolgirl surrealism, and....and....I don't even know how to describe Funky Forest: The First Contact. Just come every midnight and laugh your ass off at these imports from the East.

*

Anime Expo announced Kari Wahlfren (FLCL's Haruko, Kagami in Lucky Star, Saya in Blood+, Robin in Witch Hunter Robin, Fuu in Samurai Champloo) as an official Guest of Honor at the anime and manga convention held July 2-5, 2009 at the Los Angeles Convention Center. The event will also be working with Funky Fresh Cosplay Group to host AniMaid Café, its first Maid Café.

*

Evangelion 2.0 will screen at the 2009 Animation Film Festival in Bonn, Germany, that runs from July 31st to August 2nd

*

Anime Almanac reports from Sakura Matsuri 2009 more here
Manga Creator News
Feminist manga creator Murasaki Yamada passsed away on May 5th at age 60. Political/military manga author Kaiji Kawaguchi has put Zipanga on hold due to an arm broken in a bicycle accident.
Not Coming To North America
The Studio 4°C animated Sakura short that was attached to Street Fighter: The Legend of Chun-Li's Japanese theatrical run