The Summer is heating up, and that means blockbusters, festivals, premieres, and trailers! RLJE Entertainment have just released the trailer for the new thriller SYMPATHY FOR THE DEVIL, starring Nicolas Cage (MANDY, CON-AIR) and Joel Kinnaman (THE SUICIDE SQUAD, ROBOCOP (2014)). Directed by Yuval Adler (THE SECRETS WE KEEP) and written by Luke Paradise (THE PRODIGAL), the film features a red-clad Cage carjacking Kinnaman before he can get to the hospital for the birth of his child. Cage toys with his captive, using the innocents around them to bend him to his will and fuel his sadistic game. For what purpose, you may ask - the film will reveal.
I love a good Cage performance and he appears to be having the time of his life in this adventure, chewing through the scenery like a maddened Pacino in THE DEVIL'S ADVOCATE. The film seems to be a fun perversion of the COLLATERAL storyline, with Cage and Kinnaman swapped out for the Tom Cruise and Jamie Foxx roles, respectively. The trailer seems to show that a fist fight between the two leads will help close the film, but I love that the narrative implies that the roles of protagonist and antagonist may not be so clear. Is there a reason Cage's devilish dangerman chose Kinnaman's car, and what does he know that we don't?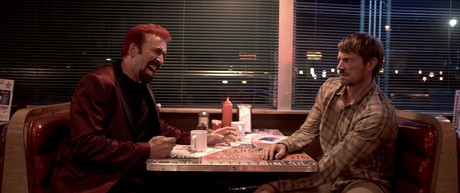 SYMPATHY FOR THE DEVIL will release in theaters on July 28th, 2023, the same day as THE HAUNTED MANSION. Which one are you most interested in seeing?
Until next time, always check the backseat!
-McEric, aka Eric McClanahan-