Hey everyone. Capone in Chicago here.

At the beginning of this decade, 26-year-old actress Danielle Macdonald packed up her belongings and moved from her native Australia to Los Angeles in the hopes of finding acting work that she wasn't finding Down Under. She got a one-shot on "Glee," was cast in the Brit Marling-starring, eco-terrorist drama THE EAST, and worked on and off since then doing bit parts in everything from "Pretty Little Liars," 2 Broke Girls," and "American Horror Story" to Clark Gregg's TRUST ME and Amy Berg's EVERY SECRET THING. Little did she know two years ago when musician-turned-writer-director Geremy Jasper cast her as the lead in his feature debut PATTI CAKE$ that her life as a virtual unknown would change.

After more than a year being workshopped and rewritten as part of the Sundance Directors Lab, PATTI CAKE$ became the story of a lonely but confident, plus-size, 20-something woman from New Jersey whose dream is to become the next big hip-hop sensation. In many ways, the film is a reality-based fantasy piece; in other ways, it's the story of anyone with a dream or the desperate urge to escape their surroundings for fear of being suffocated by them. Macdonald is extraordinary, as she transforms from the browbeaten daughter of a failed rock singer (Bridget Everett) to rap goddess Killa P with the help of a few follow outcasts in the community. The film is a bonafide crowd-pleaser with pandering, and it will absolutely make you feel great about the world, if only for a moment. I interviewed many of the key creative folks that made PATTI CAKE$, including its breakout star Danielle Macdonald. Please enjoy…





Capone: I saw that Variety put you on "10 Actors to Watch for 2017" list this week. This all has happened in the last 7-8 months since Sundance, and suddenly you're everywhere. You all have been working this movie really hard. Are you excited people are going to get to see it finally?


Danielle Macdonald: Yeah, I'm excited for it to just like release into the world, let the baby fly kind of thing. It has been a part of my life for three years, so it's been a long time coming. It's nerve wracking that it's finally getting out, but at the same time, it needs to go out at some point. I'm ready for it to, for sure. Yeah, it's like giving birth. [laughs].



Capone: But you're in labor the entire time you're pregnant.



DM: [laughs] Yeah, it's been like, it's been a few months, but not in a bad way, in a good way, in a great way, it's just full on.



Capone: Were you even able to enjoy your Sundance experience, or was there a point where you finally just snapped out of the terror and said, "This is good. People dig it."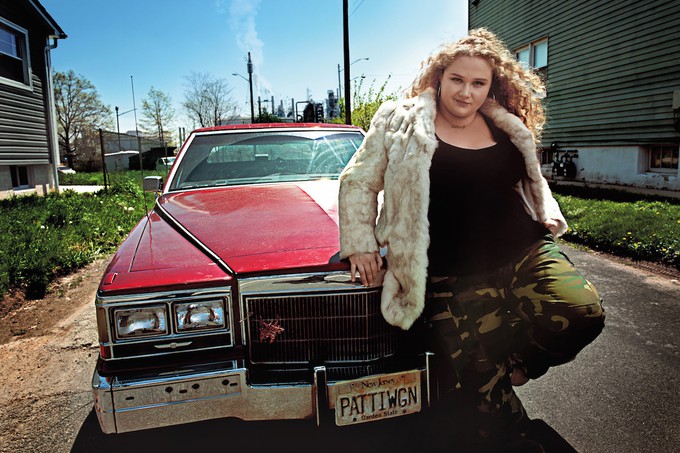 DM: It was overwhelming for sure. From the moment you got there, the film had made a couple of lists before we went to Sundance about what to watch, and I was like, "What? Why are they doing that? Nothing can ever live up to expectation. No hype. Not allowed." It was terrifying. You're just waiting for the first people to see it and you're like, "Oh, gosh. What if they hate it?" So it was really nerve wracking at first, but then it ended and the crowd really responded to it. It was terrifying being up on stage, but there was also a sense of relief that it was just finally out, because it had been two-and-a-half years of my life at that point, so it had been amazing to have people see it and respond well. And then after that, it was crazy because it was all a completely brand new experience for me, but at the same time, the cast was all staying in a house together, and we would stay up late and talk, and I remember we knew there was a bidding war going on. We're in the house and we're like, "Who do you think it's going to? How much?" It was really fun.



Capone: You've made movies, you've been on TV shows before, you know that you don't get to spend that amount of time working on one character before shooting starts. Do you miss Patti, having spent that much time and energy inhabiting her?



DM: Yeah, yeah. It's funny, we worked on it for the workshops, and then I put it at the back of my mind for the next few months, because that was in the summer.



Capone: That's the craziest part about this is, you're doing this and then you go do other things, and then you came back to it.

DM: Exactly, exactly. It's constantly been that. So we just let it settle off to the labs, and Geremy did his rewrites and focused on that, and then I think in December 2014, that's when it was like, "I think it's time to start training with rapping." I was like, "Yeah. Let's do it." So he would send me a rap a week for the next year, or just over a year, and we didn't have funding at that point, and if he ever came to L.A., I would see him; if I ever went to New York, I would see him, which I think only happened once for me. So we just did that. We kept in contact via email; I would send him raps every week, hoping the movie was going to get made.

Then at the end of January 2016—we started filming the end of April, so three months before-that's when I was like, this is actually happening, and that's when I spent every day with Patti. That was like my whole world. But I got to know her really well, because then we'd finish, and I'd start doing other projects, and then we had to come back for reshoots. And then I did other projects, and it's now we're recording and doing an album, now we're doing a music video, and now it's coming out finally.

Capone: I felt bad that someone asked you rap last night, but the minute you launched into it, she was back in the room, she was alive again after however many months of you not being her. It was kind of exciting.



DM: Sometimes I do, sometimes I don't, which is very weird. It depends. It's not me. It's so not me that it's scary, but last night, there was such a good vibe with the crowd, I think I just felt a lot more loose, so I was like, "Why not? I'm just warning you all, I might suck. I haven't done it in a while, it might not sound great, but let's just do it for fun." And it was fun. They were all clapping along; it was great.



Capone: You've talked about the regimen you went through to learn to rap, but tell me about learning to be a woman from Jersey. There's an attitude difference. Tell me about that aspect of getting ready to play Patti.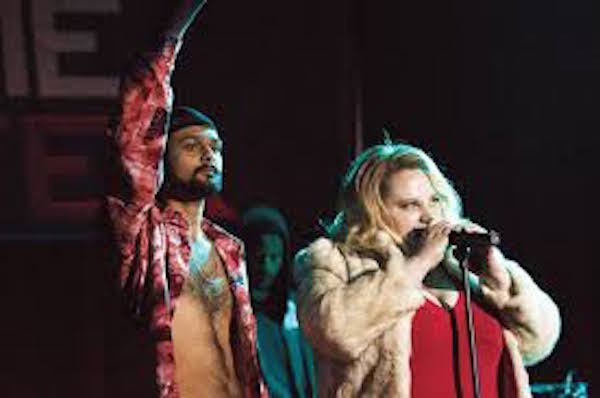 DM: That was a whole other process, the accent really helped a lot. That was where the accent, the wardrobe, and walking differently, and listening to music, walking down the street in my Timbs, I was like, "Okay, I'm feeling this now, feeling it a little bit more." But that was a real hard part for me. The body language was hard for me. I'm half Italian, so I use my hands a lot. I'm clumsy and not necessarily aware of my arms and legs when I'm walking, whereas Patti is very smooth, and that is very different from me. So that was very difficult for me to film the actual doing.

There's a sense of swag in the way she walks. I was like, "I can't do that. I'm not cool enough." But you have to find that part of you. And the attitude, I can be very defiant if I want to be. I'm very stubborn; I'm a Taurus [laughs], but my parents know that about me, and I think that that helps, because I know what it's like to be headstrong. So I definitely don't act like Patti or react like Patti, but it was using my own stubbornness in a different way.

Capone: Last night was the third time I watched the film, and the first time I thought this was a film about chasing your dreams. But the second time, I'm said "No, she wants these dreams to come true because she wants to get the hell out of there." This is a movie about a woman who wants to escape this place. Last night Geremy brought up the Bruce Springsteen attitude of getting out, and of course much like Bruce, Patti ends up finding the greatest comfort being at home with his family. Was that one of the things that's intriguing?

DM: It's funny, because where I grew up, I loved it. I didn't want to escape, because I love where I'm from, but I wanted to be out here because I wanted to act. So it's that weird thing of, I definitely felt my heart pulling in two different directions, whereas Patti is much more like, "Nope, I'm leaving." So, I could only relate to a certain extent of it, but at the same time, I think that she has a love of where she's from without realizing it. She wants to escape it really badly, but she's also completely set in her own ways and she is who she is because of where she is from, and there is such a warm hometown vibe to Jersey.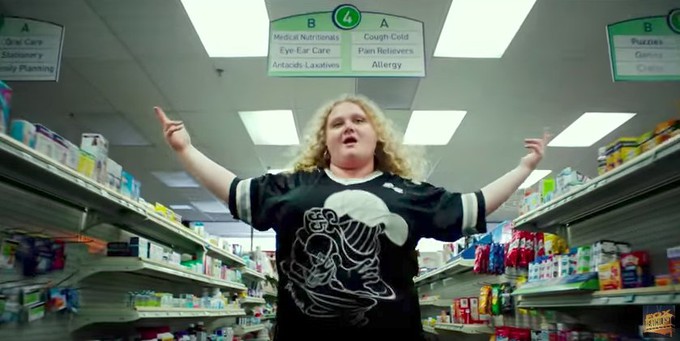 It's funny, because she does get shit upon by every one, but at the same time, there's also the fact that her best friend is there, and they know that pharmacy so well that they act like it's their own stage, and their lookout is where they go to clear their heads. They know their places in their hometown. So while they're dreaming of escaping, I think she's unaware of how much where she is from is actually impacting her. I think there is a secret love, just like there is with her mom. She thinks she's got this awful relationship, but they both stick together even with the hard times. So it's really what's going on underneath what she's saying, but it's also really interesting to me that she used the art form to express her need to get out, and that also drove her love for that. She's really complex, honestly. And that's the thing, human beings are. So it was about seeing things a million different ways, because everyone has feelings and thoughts, but then you have another million of them underneath all of that.

Capone: Your story is fascinating, because you came here to be a working actor. Was there nothing happening in Australia, or did you have it in your head this is where you need to be to work?

DM: I did have it in my head that this is where I needed to be to work, but that was only because there wasn't anything happening for me in Australia. We grew up with American TV shows and films. That's what really is the majority of what's on television. I think [Australian television] is a bigger industry now—I've been gone for seven years—but growing up, it was like you would have some of the Australian afternoon shows mixed with a bunch of American ones, and then the night time shows, it was mostly American.

I remember when I was in high school we were watching "The OC" and "Gossip Girl" too. That was what was on, so I knew that Hollywood was the center of the global industry, and I was like "That's where you have to be if you want to be able to have a lot of variety." So that has always appealed to me, and I think it appeals to a lot of people in a lot of countries, because American content is worldwide, it's the center point.

Capone: That had to have been terrifying, though, to pack up and come over here. I don't know if you had something lined up already. I heard a story about something you had been cast in, but you couldn't make it work because of visa delays?



DM: Yeah, yeah. I did get cast in something, didn't get my visa in time to do the show, but I moved out here knowing that wasn't happening because I got my visa too late so I was like, "Okay, I know it's not happening, but this is where I wanna be, and I have to start somewhere, and at least I get auditions in America." I didn't get auditions in Australia. You have to be in the game to maybe one day achieve something.



Capone: You talked last night about how terrified you were that you actually realized you had to make this rap thing happen. And that was after you packed up everything and came here. Is fear a motivator for you? Do you think, "If I'm scared of it, I should probably try to do it"?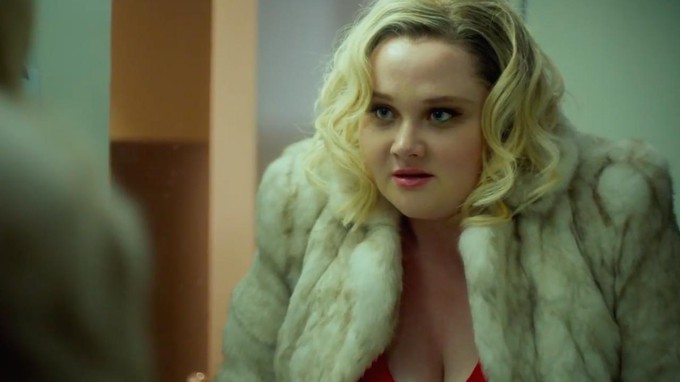 DM: Yeah, it is. That is true. Definitely. I like challenging myself, I like doing things that scare me. I'm terrified of heights, and there are some things I will never do, but then there are some things where I'm like, "This is really high and really scary, but I'm doing it anyway."



Capone: I can show you a building here [pointing in the direction of the John Hancock Building, which is across the street] you might want to go to the top of.



DM: Yeah, see, I'll go to the top of a building, but I'm not going to lean against the glass. You know what I mean? I don't understand that [laughs]. I'm like, "What are you doing? You're insane." There's zero appeal. I'm like a good balance, and it was like "I want to act, and I love this script, but this character is terrifying." But you have to take advantage of every opportunity, and it was an amazing opportunity; it was just going to be absolutely terrifying and a lot of hard work and a lot of fear of failure and judgement, but what can you do? That's life. You've just got to do it.



Capone: I don't think when I watched the film for the first time that I knew that Cathy Moriarty was in it, and she's such a gift to the film and to your character. What did you learn just from being around her for that time?



DM: She's amazing. She's one of those very warm people that just grabs you and hugs you, and you're like, "I'm so comfortable with you already." And that is amazing. So she made me feel just very safe whenever I was working with her, and we could joke around on set. She would always lightened the vibe, even if there was a heavy scene, it's like, "Well that was heavy!" You know? It's like she went straight into a joke afterwards and brought up the mood and was just a genuinely good person.



Capone: Well best of luck with this.

DM: Thank you. It was great talking to you. I hope I get to come back to Chicago.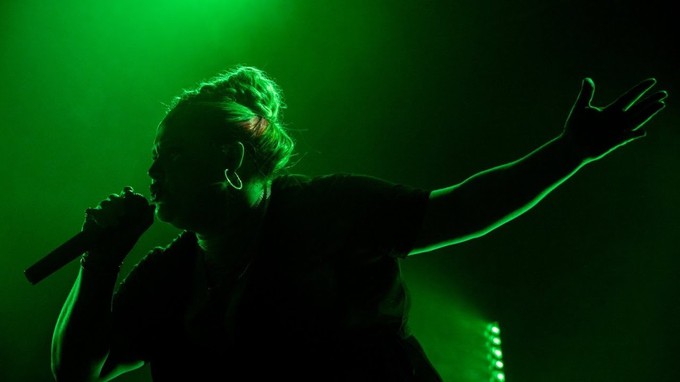 -- Steve Prokopy
"Capone"
capone@aintitcool.com
Follow Me On Twitter