Hey folks, Harry here... Borys Kit broke the news that Stephen Daldry is set to direct the OBI-WAN KENOBI Star Wars story film currently in development over at Lucasfilm. This delights the living hell out of me. Ever since they announced off-saga Star Wars films & ever since Ewan MacGregor has been running about proclaiming he'd love to do more with Obi-Wan. I've been dreaming of THE BALLAD OF BEN KENOBI. Now, I don't know about you... but when we see the desert hermit emerge making scary sounds to get the Sand People to fuck the right off. He's in traditional Jedi Robes, Light Saber at his side... Seems for someone in hiding, he's looking EXACTLY LIKE A JEDI.
Meanwhile we know that he no longer goes by the name of OBI-WAN KENOBI - he's become... BEN KENOBI. At the end of REVENGE OF THE SITH, when Ewan's Obi-Wan gives Baby Luke to Joel Edgerton's Owen Lars... Well, something happens between that moment and STAR WARS. There's a good 17 years or so that goes by, where he assumes the name of Ben Kenobi - and On Stage performer, crooner and general entertainer of Tatooine upon the Outer Rim - well that'd be fine by me.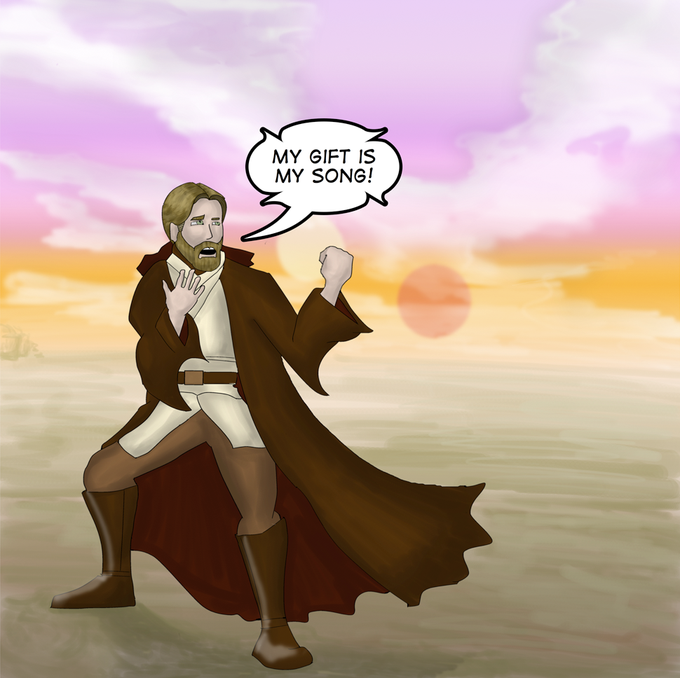 I'm only barely kidding here. I'd love a different tale. When Yoda told Obi Wan in the last season of the Clone Wars that he has some homework for OB1 - which has to do with spiritual survival and Force Ghost preparation, we could go there. But I'd prefer something less actiony and more loving. Now, not only did Stephen Daldry do the feature BILLY ELLIOT, but he won a Tony for the Broadway Musical version of BILLY ELLIOT... and he was announced to be directing for Universal Studios, an adaptation of WICKED for film in 2019. No word on what happens to that - or the time schedule for the OBI-WAN feature. We know that they do not have a script yet, that Daldry will be working with Lucasfilm's Story Team - and if you watched the most recent STAR WARS SHOW - you'll hear how Rian Johnson worked with them.
Anyway - this is potentially fantastic news!
Keep it cool,
Harry