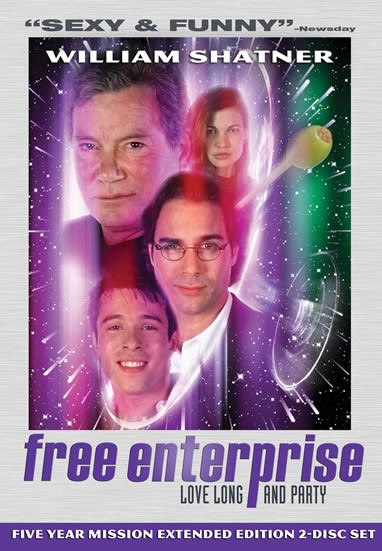 Seems only appropriate that in the era of BATMAN's 75th Anniversary…on the month of San Diego Comic-Con (which I believe is the largest Geek event in the world?)…FREE ENTERPRISE is be angling to make a return, this time to the small screen.
For those who've never heard of FREE ENTERPRISE, it's a 1999 film which may well be the most truthful exploration ever of, well, people like the folks who read AICN. And all other Geekily trafficked sites. The kind of folks who dream nerdgastically - and go to Toys 'R' Us on a Friday night to check it its newest offerings. FREE ENTERPRISE is a film which I've used time and time again to induct my ladies-du-jour to Geek culture. If they understood the film, they understood me…plain and simple. So, why bother to slog through a protracted and peril-filled learning curve?
FREE ENTERPRISE's creators, Mark A. Altman and Robert Meyer Burnett (Supreme Overlords of the Geekscape) have reunited to bring us a fresh iteration of their beloved concept. To this end, they're looking to Kickstart a pilot for a new series.
Snippets from their press release reveals more of their plans…
FREE ENTERPRISE – THE TV SERIES features anall-new cast of characters and a coterie of famous nerdlebritiesthat they will encounter in their travels. Retaining the wit,fun and genre savvy of the original film, the FREE ENTERPRISE-based TV series, will have you loving long and partying like it's 1999.
[EDIT]
Joining the FREE ENTERPRISE TV SERIES team will be EmmyAward-winning comedy director (andFREE ENTERPRISE fan) DAVID ROGERS,who has worked on such series as SEINFELD, THE OFFICE and is currently a producer and director on Fox's critically acclaimed THE MINDY PROJECT.
[EDIT]
In addition to visiting the FREE ENTERPRISE page at kickstarter.com, you can also follow ongoing developments on Facebook at GEEKS-TV SERIES.
So, if you haven't seen FREE ENTERPRISE and have read this for - I implore you to at least check it out. If you have seen FREE ENTERPRISE and have read this far? Jump on over to Kickstarter for more information on contributions and incentives, and to learn more about what The Powers That Be have in mind. I can think of no better way, really, for Geeks to celebrate their own origins and current state of Geekdom than to help Burnett and Altman show the world…in their amusingly accessible and often poignant manner…what it truly means to be people like us.
Let's help 'em make it happen…
————
Glen Oliver
"Merrick"
- e-mail
- Twitter