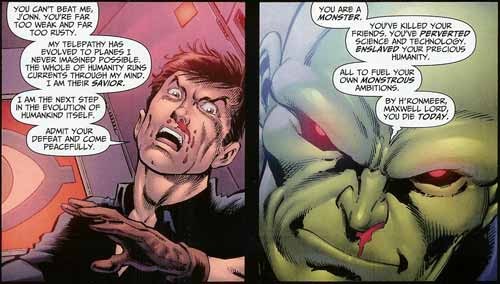 In the breakdown of Warner/DC's upcoming slate we got yesterday, we learned that they're fasttracking a JUSTICE LEAGUE movie for 2017, only a year after BATMAN V. SUPERMAN. Aside from Superman, Batman, Wonder Woman, and Cyborg, we've been led to expect that Green Lantern, The Flash, and Aquaman will fill out the JLA roster of Snyder's third DC flick.
But wait!
No Martian Manhunter in JUSTICE LEAGUE? Not according to this agency grid, which lists DARKSEID as the villain... pic.twitter.com/lLwFwkXLkv

— Jeff Sneider (@TheInSneider) June 12, 2014
According to this snippet of a casting call, Snyder and company are looking for actors to play J'onn J'onnz a.k.a. Martian Manhunter and Maxwell Lord IV. For the uninitiated, Manhunter is a longtime mainstay of the JLA, and Lord played a crucial part in the formation of the team before becoming a cyborg and, later, a superhero-murdering villain.
Manhunter is a challenging character to pull off, and I'm sure that whatever script is currently on Warner's table is far from set-in-stone, so it's possible neither J'onnz or Lord will end up showing up in the already-cluttered JL movie. But if this ends up coming to fruition, we're going to see a massive green Martian fighting for humanity alongside Supes, Bats, and WW in a massive big-budget tentpole three years from now. So, fingers crossed!
Do you need Manhunter and Lord in the first JL movie, or is it sounding like this universe is getting a little too crowded too quickly?
We can apparently expect JUSTICE LEAGUE in May 2017.
-Vincent Kim-Zahedi
"Papa Vinyard"
vincentzahedi@gmail.com
Follow Me On Twitter