Papa Vinyard here, now here's a little somethin' for ya...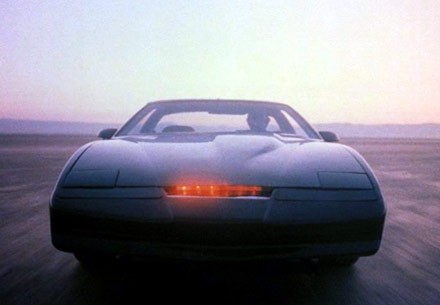 There's a remake of KNIGHT RIDER being developed over at The Weinstein Company, written by Brad Copeland (WILD HOGS, YOGI BEAR, last year's COFFEE TOWN). The rumor going around today, courtesy of Schmoes Know, that the Weinsteins are looking to get Chris Pratt and Danny McBride to headline the feature-film reboot. This would imply that they're going the 21 JUMP STREET/LAND OF THE LOST route of taking the original franchise and doing something a little more meta and outwardly absurd with it.
No word on who Pratt or McBride are playing, but I don't think it's a stretch to say that the leading-man-handsome Pratt will probably taking over the role of Michael Knight from David Hasselhoff (and Justin Breuning), leaving McBride to play Kitt (although Pratt just kicked ass with his LEGO MOVIE v.o., so anything's possible). The idea of the pair bickering in a super-powered car while evading and/or chasing bad guys sounds pretty cool for a reheated 30+ year-old property, no?
We'll see the level of truth to this rumor sooner or later, but does the idea of a Pratt/McBride KNIGHT RIDER flick get your inner '82 Trans Am all revved up?
-Vincent Zahedi
"Papa Vinyard"
vincentzahedi@gmail.com
Follow Me On Twitter